One week in Istanbul – 1. part
Find our home in Istanbul – not easy…
Arriving to Istanbul was not that hard that we thought. The traffic is acceptable, the only thing you need is to flow with others. This is the key element of driving in Asia I can say. So do not be bothered by nothing, even if you see a burning car.
(watch your video about arriving to Istanbul here!)
Our last minute host were Kivanc and his girlfriend in a lovely flat, at floor -2. :) Big thank you for them for hosting us, since find a CS host in Istanbul was literally impossible for us!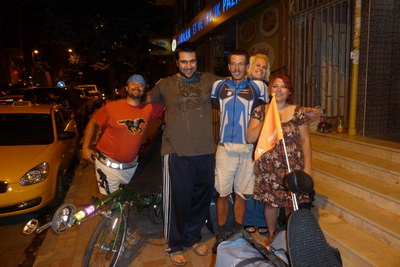 At the morning we successfully overslept, so we had to take a taxi to Sultanahmed, to the Iranian Embassy for applying our visas before the Embassy closes down. Unfortunately missed the Embassy, because the closing times is not 12:30 as we know it from Lonely Planet forums, but 11:30, so we have no other chances than try our luck at Monday.
Friends from Nigeria – At the Blue Mosque and the seaside
We get two really kind new friend, Thomas and his mother at a park, where we tried to use Public free wifi.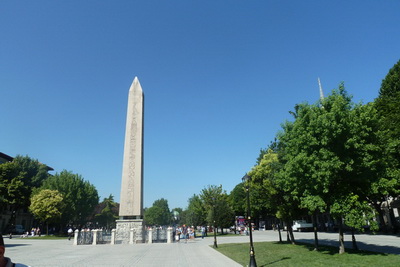 Since Thomas mother was never been in a sea before, I grabbed her hand, and "forced" her to put our feet into the water. She liked it!
At Mavi Guesthouse, following the paths of the Blazing Saddles
We still had no idea, where will we sleep, since no CS accepted us so far.
We get a tip in a hostel that we should try the Mavi Guesthouse. This is a classical backpackers hostels with a big and crowded dormitory at the up-most story. (Small rooms were expensive for us.)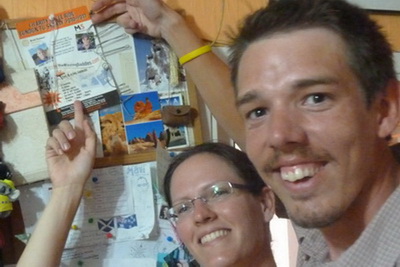 We were so happy, when we accidentally found The Blazing Saddles fliers on the wall. These guys lived at Arpi's place in Budapest, and now here, we sleep at the same place.
"The Boat That Rocked"– Couchsurfing party on the Bosporus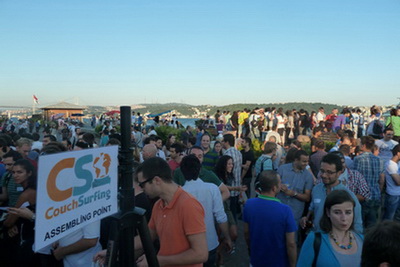 In these days were one of the biggest CS party of Istanbul, a boat party with 400 CS members on the Bosporus between Europe and Asia – this is something what we can not miss!
A good news: we get a host, Ali, and he said we can meet on the boat. OK…. :)
To show, what kind of man we get at the last minute, here you are some short lines from his CS profile: "I'm a deeply disturbed, horny, drunk egocentric pervert with violent intentions and no brains or sense of humour. I'm xenophobic, 
homophobic, and I use CS solely to satisfy my sexual needs and to practice my axe-wielding/chopping skills. I'm very short tempered when I'm hungry, I smoke like a chimney, I can't socialize when I'm sober, and I have no idea why people write me positive refs." – by the way he has just 80 positive references…
Home Sweet Home – with our Ali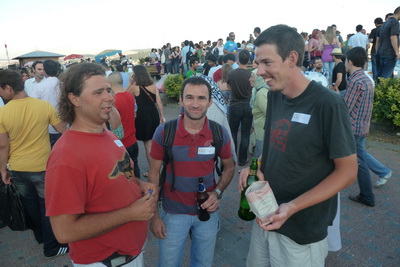 Dani and Arpi with our crazy Ali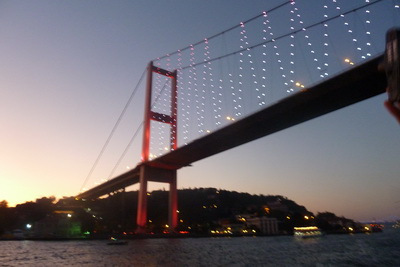 The rest of the days we spent at Ali's place, not moving anywhere. Well, the  only thing we had to arrange was the visa for Iran.

Categories:
Europe, Turkey
Ali, Blazing Saddles, Boszporus, buli, Couchsurfing, hajó, Isztambul, isztambuli közlekedés, Kék mecset, Mavi Guesthouse, tengerpart, Turkey