The summary of the year 2012
Let's see what happened with us in 2012. Eight countries, no punctures, countless friends, 5816 km on bicycles, 326 km on foot, 9 km in kayak, and we haven't counted how many on trains, buses, boats and sadly on planes too. Anyway, it was a much more exciting and amazing year what we could image, and we met with countless amazing people and seen wonderful things.
Pakistan, we'll never forget you!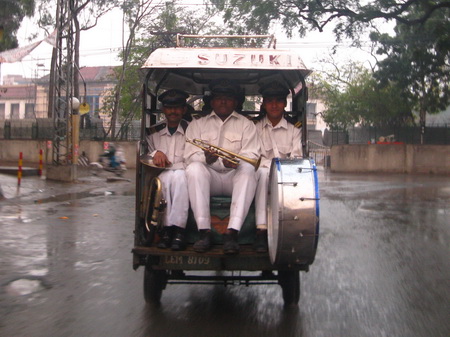 One year ago we were in Islamabad, Pakistan. We have cycled on the famous Grand Trunk Road to Lahore and we had amazing host all the way and also in Lahore. Cycling on the GT road was fun we have seen a lot of interesting vehicles, although sometimes we had to force ourselves to feel it a nice ride. At the end, we figured out, we ask first, before they ask us "How are you?". In Lahore, Noor Ali and his brothers were amazingly kind with us, they hosted us, fed us, entertain us, they took us to the Wagha border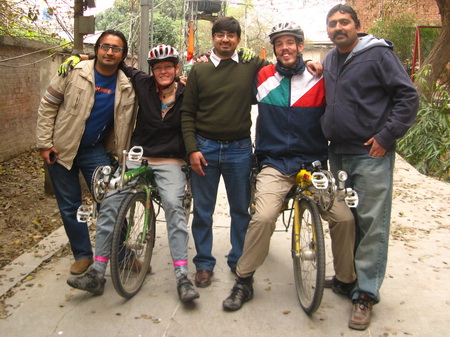 and Noor Ali also took us to his workplace. He is the man who designed and implemented the new lightening of the Lahore mosque.
In Pakistan, people are just crazy about hospitality. After one more year we still seriously think about returning to Pakistan and Hunza for a half year. Maybe a few years after finishing this around the world honeymoon, with kids and grandparents… :) That would be amazing! :) We feel it is a shame that the most of the western people think about Pakistan as "terrorism" and "talibans", while this is one of the countries where we met the most incredibly hospitable and friendly, open-minded people on our journey.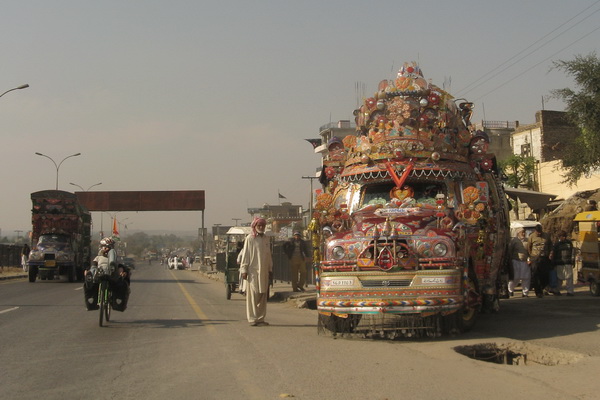 India – The Incredible
Next, in Amritsar we stayed in the Golden Temple where we enjoyed the friendly Sikh's hospitality so much. In Hoshiarpur we stayed with a family, where the husband, Raman has great enthusiasm about cycling, so we ended up in a cycling festival (like Critical Mass) what was also the foundation ceremony of a new cycle club – all inspired by us, as he said, but we know that it was him. We made a detour to McLeod Ganj by bus, stayed one night in Chandigar and then we ended up in Delhi, where we stayed with a crazy-amazing man, Chandan. His life story is more interesting and inspiring than the story of that kid from the British/Indian movie called "Slumdog Millionaire". We are so glad to know him as well as many other amazing people we met on this journey.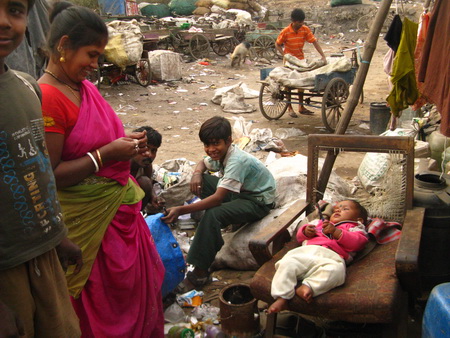 Gabor, who is maybe the most travelled Hungarian backpacker, has been in Delhi at the same time like us, so we could meet and he took us with his Bengali CouchSurfing hosts to a Bengali slum, as they said, the poorest slum in Delhi. Yet, it was a great experience! Those people were happy and friendly there, they did not look unsatisfied at all and nobody begged from us. They said they came from places where they had nothing to eat at all. Here, they can collect the garbage from the streets of Delhi, separate it, sell them for recycling and make their living out of that money. Actually they clean the streets of Delhi from that tremendous amount of garbage, without them the whole city would be a hill of waste.
We have left the bikes in Delhi and we made a 2 months detour by train and bus all around India. Of course we visited the Taj Mahal, then Jaipur and Amer, where we really enjoyed the walking on the wall, and Zita fell in love with the elephants. She spent so much time with them and once she rode her most favorite elephant, called "Laxmi". In Pushkar and Udaipur we met some very nice Hungarians, spending time with them was really great. The Holy festival reached us in Aurangabad, a pretty untouristic place compared to other places in India. They put lot of colors on us, sometimes a bit aggressively and it was painful, though at the end, it came out as a positive experience, only because we wanted to feel this way. :)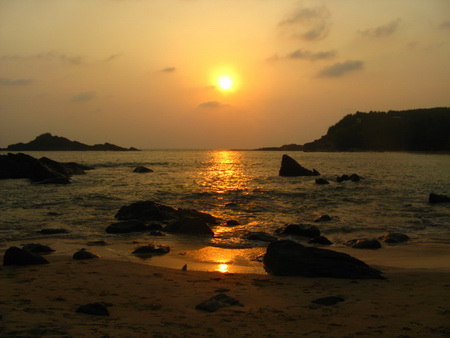 The next station was Goa, where we got some resupply of Hungarian tastes by Eszter. She was very kind with us and brought some food and friendship from Hungary to those beautiful places and days. After Goa, we took a holiday in Gokarna, going nowhere and doing "nothing" for five days in an incredibly wonderful beach bungalow for almost no money. We could spend there within our tight budget every day and we lived like kings.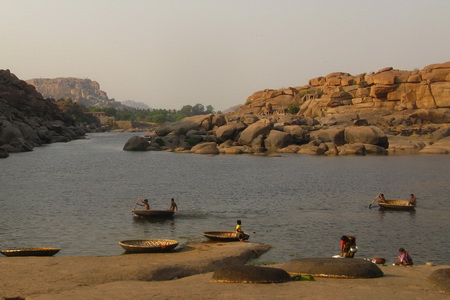 But the adventure must go on, so we hit to road and reached Árpi's personal favorite, Hampi. Amazing nature, huge rocks like bricks dropped on each other by gods from the sky and temples were around everywhere… We hired a bicycle there and went around all the places, we enjoyed it so much, although we have been attacked again by a spontaneous local Holy Festival. From heaven we fell into hell just in a second when they put colors on us wearing our only clean clothes. However Zita washed our clothes in a river and we forced ourselves back into good mood and continued. This is India, it's Incredible – in both ways… :)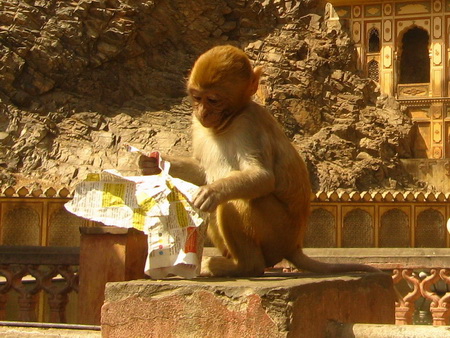 We got an invitation to Bangalore by Csaba, a Hungarian IT guy, outsourced to teach there. We visited Mysore together and then by his kindness and his coupons, we stayed one night in a five stars hotel. We ate up all the cheese at the breakfast. :) In Kerala, we stayed with a Hungarian family, Viki, Laci and Jojó. They are crazy in the best way, Jojó is 6 (now 7?) years old, but she speaks Hungarian, English, Hindi, and Malayalam. We had some really great time with them and probably the best party we have ever had in this trip so far.
After a short daytrip to the southernmost tip of the Indian Subcontinent in Kanyakumari, we took a night train (as we did almost all over in India) to the next city, Madurai, where we visited the famous temple complex and met again with Eszter, and this time also with her father. We almost missed the next train or at least we thought because we did not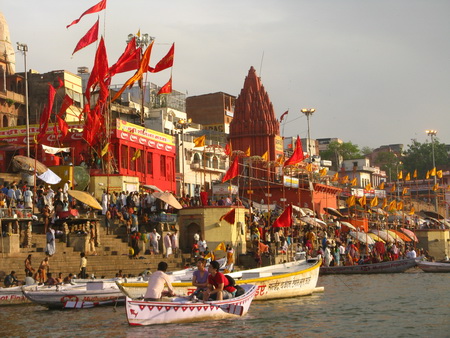 know that there are 400m long trains departing to Chennai in every 10 minutes. :) Traveling by train in India is an experience. After spending some time in Mammalapuram, we had a 40 hours and 2000+km train journey to Varanasi, one of the dirtiest and most incredible city in India. Getting up early morning and taking a boat trip on the Ganges at sunrise worth the short sleeping very much. Two more days of constant "Hello my friend / Hello Coconut / Some smoke / Rickshaw!?" followed in the otherwise amazing Kajuraho with the thousand years old temples with erotic carvings, and then we had some other night train experience and ended up again in Delhi, in the shelter of a great friend, Chandan. This time we have met with Rita, who is Arpi's brother's neighbor, just on her way back to Hungary after a few weeks of trekking in Nepal, she also brought us some resupply of palinka (for Chandan's great joy!) and Hungarian sausages.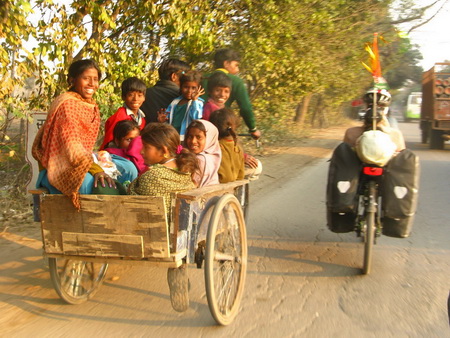 We used a very cheap travel bag for these two months of "backpacking". We bought them in Jaipur because they had the text on their sides: "Hello Journey". It was a very weak marketing that we liked very much. That is why we always say "we hello journey-ed around India". Traveling like this was not much easier than cycling, because the train took us only to the touristic places where the Indian folks already were waiting for us (and our money) very much, trying to sell us every item and service they have in every single minute what we spent on the streets of this crazy circus called India. Traveling by bikes in India was a different experience but some way it was also a hassle, because of the reckless traffic and constant tooting. But at least by bicycle we managed to find the true hospitality again and we stayed with families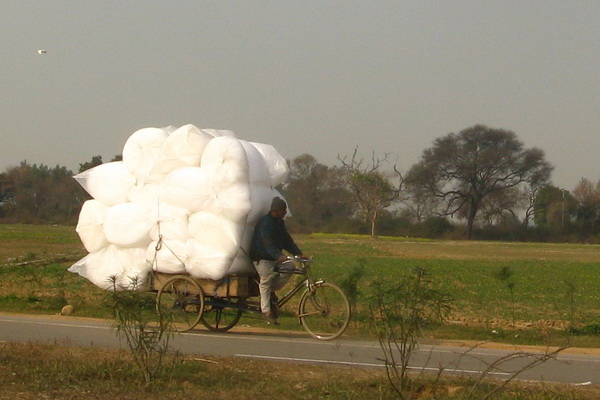 where there was no interest in our money, just wanted to know more about us, about our country and culture. This was very nice and this way we ended up in a wedding on the way to Nepal.
India is a truly crazy place, it is really incredible in both way, and spending 3 months in this country at the very first time in our lifes was maybe a bit more then we could stand, so we run out of patience too early, and this way we got mixed emotions about this country. We hated and loved it! We hated the scams' and sellers' constant bothering, the traffic, the dust, the crowd and the honking, but we loved the diversity of cultures, the otherwise amazing people, and the facionating scenery. And we have survived India, so at the end, we must say: it was great! :D
In Nepal, closer to Heaven
Arriving to Nepal was like arriving to heaven: there were no cars, no motorbikes, no trucks and no buses on the road, just a few police car and cyclists. It was almost unbelievably peaceful and we had great joy on the roads – cycling in
Nepal was infinitely easier comparing to India. After a few days of this joy, we realized why: there was a countrywide strike in Nepal that time: no motorized vehicles allowed on the roads. If the strike organizers found any of them, they stopped and destroyed it by burning them. For backpackers it can be a real nightmare but for us, it was an unforgettable experience. Finally we could peek some rhinoceroses in the Bardia National Park…
The next part written to the Ortlieb 30 years story competition, where Zita finished in 7th place with her Pamir story and won a 2 seats floatable canoe. :) Hurray, now we can paddle through to Oceans, don't need expensive flights! :D Árpi's story hasn't finished in the first 30s but now you can read it and see how bad it was. :) Thanks for Julia for the corrections!
When the pain is worth it
After 80 exhausting kilometers and climbing numerous hills, we have set camp in the evening somewhere in Western Nepal. Around midnight, I got up with terrible pain in my back. After two hours of acute suffering, the pain moved under my belly on the left. At least it's not my spine! But still, the pain didn't disappear; I started to vomit and shiver,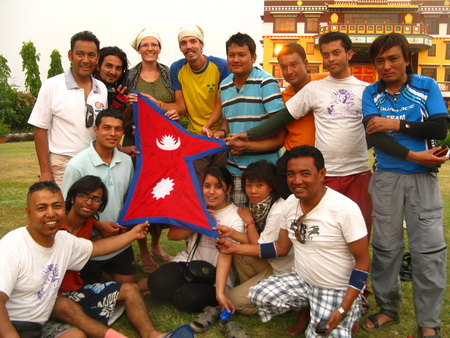 I thought I had eaten something poisonous and was going to die right there in front of my wife during our cycling honeymoon around the world.
There was no signal for mobile phone and nobody was around us, only some cities hundreds of kilometers away… My wife tried to find a painkiller, but she couldn't. On my knees I started to feel sorry for her, my family and friends because they were going to loose me. Around 3am I asked my wife again to search our eight Ortlieb panniers for a painkiller. I recalled a painkiller we got in Pakistan. Finally she found them in my front right pannier, behind the inner packet. We hid the drugs there because of the border customs. Soon the pills took effect; I laid down and fell asleep immediately. By next morning the pain was gone but since we were still worried, we started hitchhiking with the two fully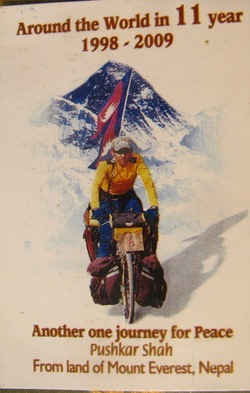 loaded recumbents to the next hospital in Pokhara, approximately 300km away. That day we got only halfway and stayed in Butwal. Next morning the restaurant guy informed us about the events in the neighborhood: "Today is Buddha's birthday and his birthplace, Lumbini is just 40km away. Oh, and by the way, the famous Nepali world cyclist, Pushkar Shah is going to finish the 'Tour de Lumbini', a 3 days cycle journey from Kathmandu to Lumbini, with a group of 40 fellow cyclists." Since I was still quite well we took this news as a sign from above and decided to visit Lumbini to meet Pushkar.
His story is more extraordinary than anything we have ever heard. He promoted peace with his cycle journey around the world. He set out with a strict plan: 11 years and 150 countries! He had no savings to do this, he started with 100
Rupees (less than 1 Euro) that he got from his mother. When he returned after 11 years, 150 countries and 390.000km of cycling, he gave back the same 100 Rupee note to his mum and climbed Mount Everest with the 150 flags. Meeting him was the most inspiring day so far in our journey. It would not have happened without that terrible pain and the painkiller at the bottom of my Ortlieb pannier.
In Pokhara, we got the diagnosis of a kidney stone from a Hungarian doctor, a kidney specialist. What a coincidence, meeting a compatriot here in Nepal!
Thinking about death and meeting with Pushkar had taught me that at the end you won't remember the pain and the bad things. The only thing that matters is to enjoy every moment of your life and spread this joy.
In Pokhara we also met some of the most successful Hungarian mountaineers, they just arrived back from the Annapurna I. We sadly got the news that they lost one of their mates on the mountain. Tibor was probably killed by an avalanche at the most dangerous part of the climbing route. Although we haven't know him personally, this news was shocking for us too because we had cheered for their success and safe descending very much and looked forward to meet them. Thinking about his death made us realize that death must be the part of life, that is the ending, it will came for sure – and if we think this thing over, it makes us living our life more fully than before.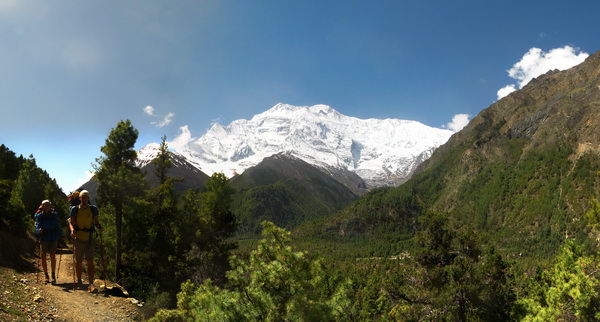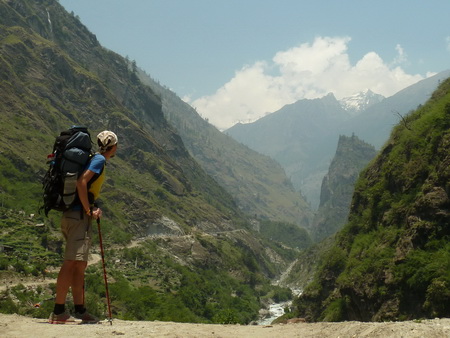 We had these thoughts already on a long-long trek, on the Annapurna Circuit. The mountaineers inspired us to choose this route for treking. We are grateful for this, because at the end, we have trekked 27 days and 326km around the Annapurna range. It was our most amazing trekking experience ever, those mountains and villages are wonderful out there. In Manang we have celebrated Árpi's 29th birthday, it was a high mountain birthday with Thijs and Dean, two friends from the trek, and Brad Pitt. :) Okay, Brad was only in one of the two countryside cinema halls what they had in that village at 3850m above sea level. It is not a multiplex, but as a "cinema", it is authentic to the area: In the cinema "hall", there are yak furs on the seats and a stove in the middle of the small room. We have seen the Seven Years in Tibet. We could easily believe that the filming was made in these places around with these people somewhere nearby.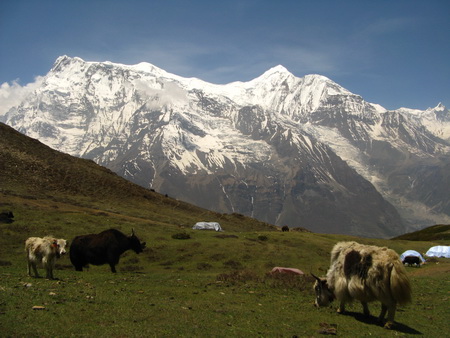 We had a few shots of the local rice spirit and due to the drinking on high altitude, a little hangover next day but still we visited the hundred rupees necklace guru, a 96 years old lama, who lives under a cliff at 4000m with his 69 year old daughter. In the next days, first we hiked up to 4600m to the "Ice lake", where we had an incredible view to the opposite side of the valley, onto the Annapurna range. At the lake we met some beautiful animals, yaks and horses. The next acclimatization trip was the 5000m high Tilicho lake, it was a longer and harder one, but it did also worth it. Zita found the rocks amazing at the "landslide area", and we got even more confidence at this high altitude, so we headed to the highest pass, the Thorung La.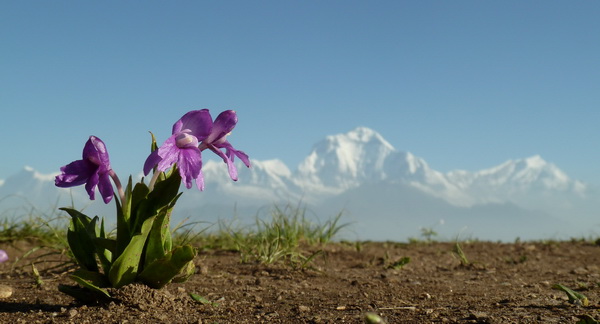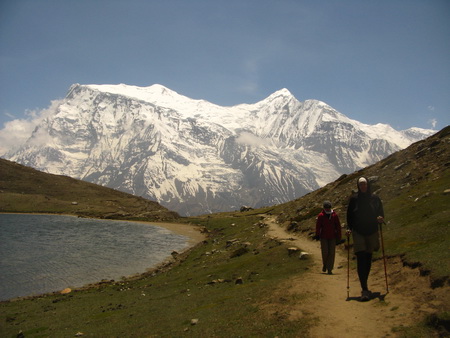 Two days later we slept at the 4850m high "base camp" and then climbed up to the 5416m high pass. Since it was off-season, we had the chance to celebrate by ourselves for an hour. These were the great moments before we have started the even much harder descending to the 3700m high Hindu/Buddhist pilgrimage village of Muktinath. At this place we could see jeeps and motorbikes again, and this has ruined the feeling what we enjoyed so much at the first part of the trek. We haven't seen any motorized vehicle in the first 17 days of the trek (okay, there was one small plane on the sky and one caterpillar building the road but otherwise there where only 3 kind of traffic on the road, what was usually only a pathway in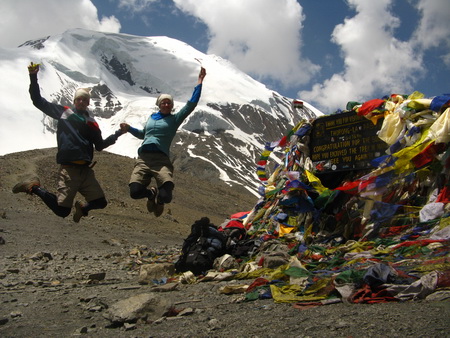 the pure nature: hordes of donkeys, packmen for cargo and we, the tourists. After the pass, at the west side of the mountain there were wide enough roads for jeeps and motorcycles, so everything has changed and the magic has disappeared. But still we were able to enjoy the walking very much, so we continued. We have celebrated our one year anniversary of our wedding here, then we soaked in the hot thermal water pools of Tatopani (tato=hot, pani=water in Nepalese), and climbed back to Gorepani, visited the viewpoint at the Poon Hill at sunrise, when the sun came out just exactly behind from the "fishtail" mountain. It was magical. From here, we have descended more then 2000m to the endpoint of the trek, where we finished our most wonderful trekking ever.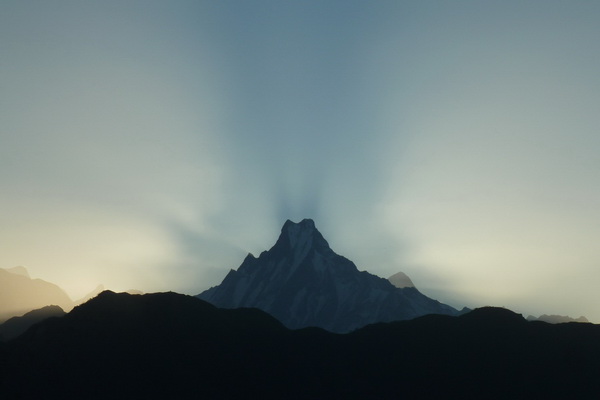 From Pokhara to Kathmandu it was a really hard 4 days ride with a lot of up and downs, the hardest part was just before the capital of Nepal. By that time the strike was over and we had also some crazy traffic. Kathmandu has the only traffic light in the country, though that one was also out of order. The city itself is crowded and dusty but because of some friends we felt ourselves like home. First of all, Pushkar Shah's cyclist friend, Madhukar, who gave us shelter next to his family home and restaurant. He is a passionate cyclist and a really good guy, he helped us a lot and we have great time with him and his family. Arpi and Madhukar also went out together for morning runs.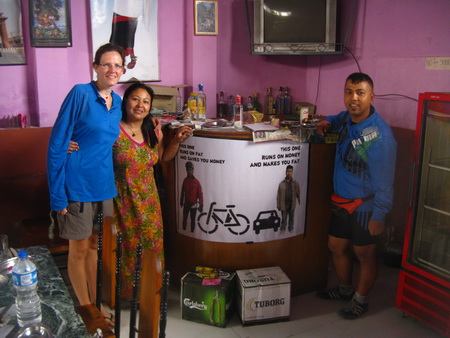 In Kathmandu we met up quite a few other Hungarian travelers. We ended up celebrating Ákos's birthday in a casino where only foreigners were allowed to enter. (What a smart rule!)
There were free drinks and dinner, all we had to do was to lose a bit of money – what we haven't managed, so at the end it was a great party with complementary haircut and massage! In a Casino… Crazy! :) Thanks to Eszter, Gyöngyi and Ákos this was an unforgettable night. After giving up waiting for more days for our package to being delivered to Madhukar's address, we hit to road again towards east. We have crossed totally non-touristy mountainous areas,
where there was only a small gravel road, occasionally incredibly steep so we were only able to push the bikes. One by one, pushing one bike by two of us together with Zita. There was a day when we were able to cover only 24km – that was probably one of the hardest days of our journey ever and also one of the most wonderful. We have seen the real countryside life of Nepal, and we started from a teacher`s house then ended up in a bamboo hut near the road. Next day we crossed the pass and reached the flat low-lands of the south side of Nepal. From there it was easy to cover 80-100km daily to exit the country back to India.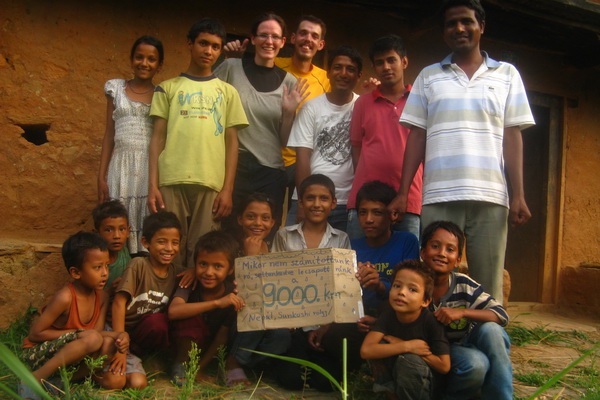 Darjeeling – Sándor Kőrösi Csoma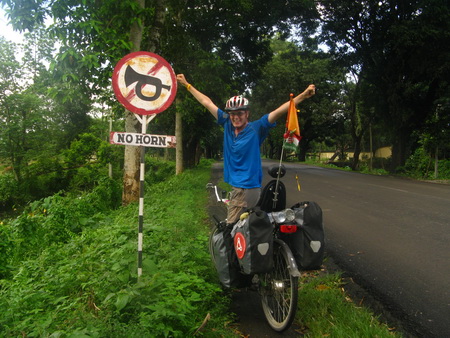 Arriving back to India after 2.5 month of Nepal was one hit to the body, although we had 3 months experience of this incredible country already. Though it did not matter, we went crazy very soon because of the honking, reckless traffic where people neglect any of those rules what we follow back in Europe. Árpi has almost had an accident but finally we arrived safely to our host, Arup. He helped us in many ways, he was very kind and inspired us very much. He said that we should write and publish our adventures in a book, and we should mention everybody we have met in the book, so you guys will definitely buy that book. :) So, what do you say, will you? :D I haven't forgotten your idea, Arup! ;)
Meeting with Arup and his family was amazing but this was not the only reason we visited Siliguri.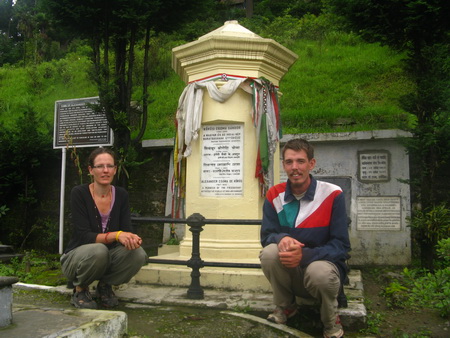 Near this town there is the famous hill station called Darjeeling. For Hungarians, this place is very special because there is the tomb of a very famous Hungarian discoverer/traveler/linguist Alexander Kőrösi de Csoma. This man has set out from Hungary on his own in 1820 hoping that he would able to trace down the origin of the Hungarians in the world. He has never managed to find our origin, but after studying the local language in Zanskar he made the first English-Tibetan dictionary. Later on he compiled the Tibetan grammar and now he is known as the founder of Tibetology. In Japan they made him bodhisattva, so he also became the very first "Buddhist saint" who was born in a western country. His life and work is truly fascinating and inspiring, so as Hungarians traveling near his tomb, it was a must for us to visit and give our respect to him.
Bangladesh – Crazy dense crowds of smiling happy people
It is really hard to write about this country because in Bangladesh we had so many unforgettable friendships and moments full with incredible joy. When thinking back, we also can recall a few dozens of our very best experiences from Bangladesh. Although we also has far the most hardest times because of the population density and the rate of illiterate curious crowd of people who has just no any idea about private space. They came so closely to us we were almost unable the take a breath, they stopped the air from moving so it became hot and they also blocked the traffic on the road, so all the drivers started to honk –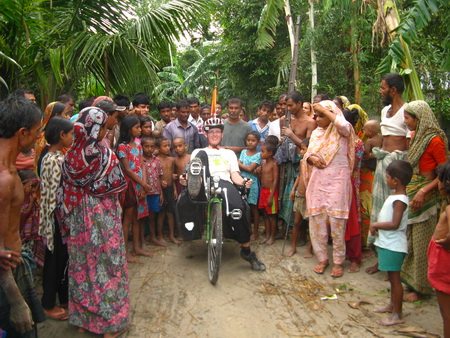 and they have very loud horns and we went really crazy sometimes and a few times it happened that we made things we regretted by now. Every time we stopped for eating/resting/toilet, there was this crazy crowd gathering around us. We thought the monsoon and the Ramadan will be our biggest "enemy" but these where nothing to mention compared to the curiosity of the local people. Anyway, it was a great experience what went far beyond our stamina and it was a great lesson to learn. By the way, all these people were nice too, they have just never ever seen European people, neither recumbent bicycles… :) It is strange to say that but still we consider all these as the greatest hassles we ever had.
Friends in North-Bangladesh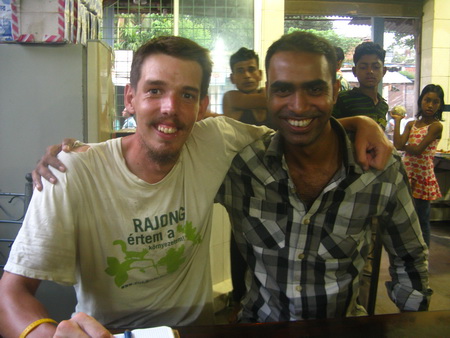 In Pattgram, Árpi got sick with fever so we stayed there for a few days. These days were nice thanks to Bappi, our first Bangladeshi friend, who helped us to buy sim card for internet. He speaks really good English and he told stories about his life and his country what we enjoyed very much. On the way to Rangpur the fever came back so we stayed with a super nice teacher family, we participated a wedding in their courtyard. Though next day the news about the hosted strangers spread around the village and a couple of hundreds curious neighbors appeared in their garden, waiting for us to come out and show ourselves. Well, some of them could not wait and they just came into our room. At the end, the family got frightened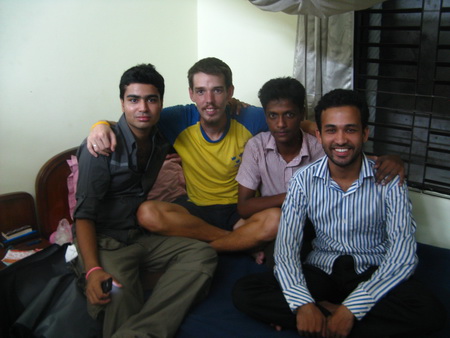 of this issue and (because most of the people in the crowd were illiterate people and their behavior was not unusual), they sent us away in a very, very polite way. We understood the situation and left their house and we were not angry on them at all.
This day we reached Rangpur, where Árpi got even more sick and he was cured for 5 more days. In the meantime we got some very good friends in Mahid, Shah Alam and Pallab. They were crazy about hospitality, they showed us around and also helped us to find a hospital. After Árpi got permanently cured, we hit the road again for a nice two days ride to Bogra. On this leg, we had a small and lucky accident when Zita had to break suddenly as one motorcyclist turned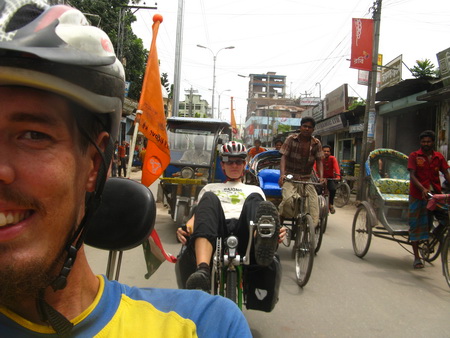 out to the main road in the front of her. During this, there was a curious motorcyclist behind her, driving too close to her bicycle so the guy has run into Zita's bike, hit the rear rack and all the panniers on the right side. We very extremely lucky because Zita has managed to stay on the bike and had no injuries. The rear lamp at the rack had some minor damage but the panniers stayed undamaged. While we checked if we had any damage we tried to introduce the guy to the idea of breaking distance but he just kept pretending that it was not his fault all, so we started to talk about police and took photos of him and his plate number. Then he run away unexpectedly … Were we too harsh and strict?
Char Battia
In Bogra we had some beautiful days, we visited an island on the Jamuna river. In this island, called Char Battia, there are 4000 people and they are the poorest of one of the poorest countries of the world. They have no space on the mainland so they keep living and moving on these always moving islands. If the ice melts too quickly in the Himalayas, huge floods can come in these lowlands and whole island can be washed away, killing the animals and the people who live there or in a better case force them to move away and find a new place to live. Some of these people have to move 7-9 times in their life because of these floods. We equipped ourselves with some books and first we visited the only brick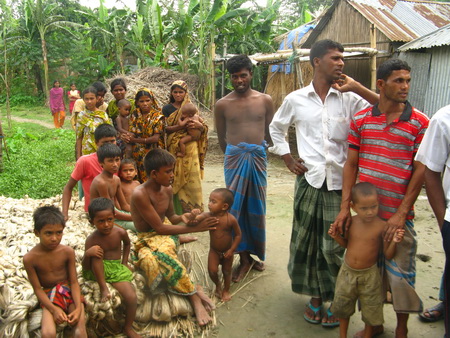 building on the island: the schools. After having a chat with the director of the schools, we have been guided around the homes and houses of the island by a volunteer guide, who belongs to the island and speaks quite good English. We were surprised when it turned out he knew the capital of Hungary and recalled the name of our most famous football player ever, Puskas. We were also amazed about their agriculture. They grow jute and they showed us the whole process, how they harvest, how they put the plant under water to make it rotten, so then they can pull out the fabric from the middle to dry and sell it (they make bags, different materials from jute, Bangladesh is the largest jute producer of the world), and dry out the shell also to use it in their dig stoves to make fire for cooking.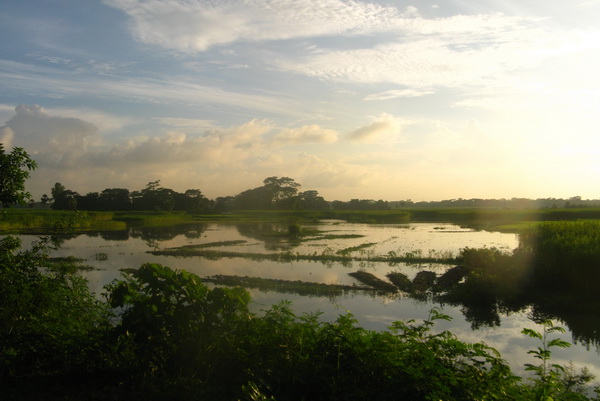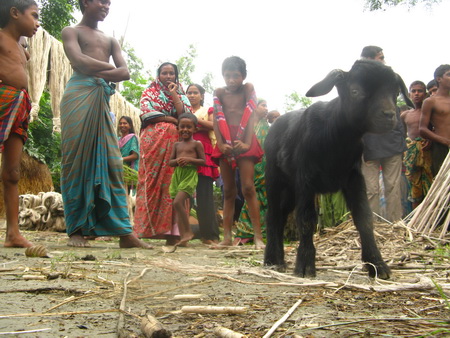 They were very kind with us, they haven't showed themselves poor, they did not beg at all, even they offered us different kind of fruits to take. And they were very much happy and joyful all the time and it seemed it is not only because of the two strange guests on their island. And we called them "the poorest of the poorest", but they were not. Being poor is just an idea in a way, it's a mindset. Seeing them having no more than just a lungee* and a single hand tool to cultivate their lands, while they were able to smile happily when they showed us around. Maybe we really don't need too much to be happy and satisfied. Visiting Char Battia was a great experience what we will never forget.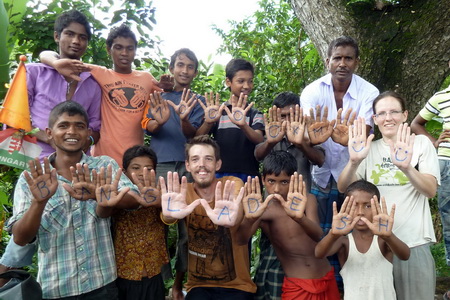 *The "lungee" is their traditional dress. It's like a skirt, in Bangladesh every man wearing this. Since then we also have a lungee, it is a comfy indoor wear, Arpi loves it.
Sundarban National Park
After Bogra we had a few days of eventful cycling, we were helped by Mukta Roy's family in Sirajganj and hosted by an NGO and met with lots of nice people. We passed by amazing jute fields and mind-blowing sceneries as the roads got quieter when we rode more and more south. Our destination was Barisal, where we took a bus to the Bagerhat mosque city. This is a nice area of historical buildings, where we had a nice day. Arpi had the luck to play one hour football with the local kids. The halftime was the song from the nearby mosque when all the kids stopped chasing the ball for that minute. In the next days we went to Khulna and Mongla to find a boat to the Sundarban National park.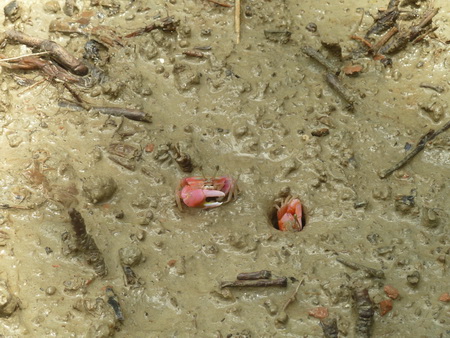 It is said that this is the biggest mangrove forest in the world. We have visited it in a day trip, it was quite expensive and we are sure we have been ripped off but now there is nothing to do about it just learn and remember the lesson. Anyway, it was an enjoyable day, luckily we haven't met with the majestic royal Bengal tiger but we could see Gangetic river dolphins and we most enjoyed the small asymmetric crabs in the slime. They were so cute as they were watching us with their foldable eyes on sticks – this makes them able to easily fit in their cavity. After being on the road for more than a year, we were able to slow down and catch these little wonders of nature and life.
Dhaka, the Chaos Capital of Asia
In Barisal we were invited for breakfast, lunch and dinner several times by the nearby Christian sisters and they also helped us to find a cabin for a "rocket", which is a ship cruising on the Ganges (what is called Padma in Bangladesh). During a night, we arrived to Dhaka, the "Chaos Capital of Asia", as the Bradt Guidebook says. We agree with it, it was really crazy and smoggy, but thanks to Prodip, the leader of the Bangladeshi office of an NGO called World Concern, we had a cozy home to stay and some of the best friends in Bangladesh. We visited the zoo where we could see a smoking chimpanzee, and in the NGO office, we met with David, who taught us a very popular Bangla song from the 80's, the Bondu Tin Din. Later, we learned to
sing (and even the meaning of) the song. Singing this to any kind of Bangladeshi people made them incredibly happy and never stop smiling or sometimes singing the song along with us. The 30+ year-old rickshaw riders' top favourite! :) Still, when we listen this song, it's always makes us smile, as it remind us to those beautiful people and days we had in Bangladesh.
With our Burmese visas in our pocket, we left the crazy capital by boat to Chandpur, where we changed to train with a "small accident". We lost each other, because the train started moving as we were loading up our bikes and panniers. Arpi's stuff was already on the train, so he jumped up so as not to leave them unattended, and Zita was left on the platform. First we got frightened, but then we figured out that the train would come back to that station within 50 minutes, and then we can go on together again to Chittagong, our destination.
Chittagong Hill Tracks – A detour what worth it
This city is maybe even more crazy and polluted than Dhaka because they let in the trucks to the centre and there are a lot of unpaved roads. Anyway, it was just a starting point for us to make a detour to the Chittagong Hill Tracks, one of the two hilly areas in Bangladesh, where different "hill tribes" live. We made this circle with only 2 panniers on each bike to make it easier because of the hills. It proved to be a really good idea, because there were several days with no flat moments, just ups and downs all the way. On the second day Zita had high temperature so we decided to stop cycling and cure her. We got immediate help from Labre, a very nice Buddhist man with great heart and an amazingly nice family in a cozy home.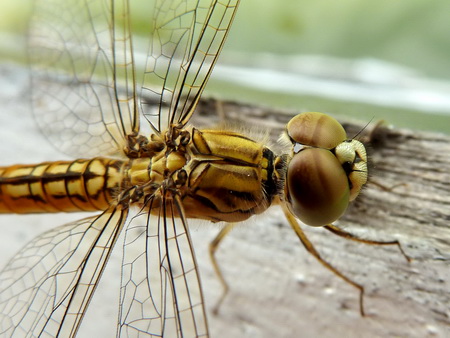 We stayed with them for 3 days and they wanted us to stay with them longer after Zita had got recovered and the rainy days were over. It was so nice to stay with them, see their home and their way of living and thinking.
We had some technical issues and one night spent in the countryside, in a jewelry shop that was actually a bamboo shack, Arpi had to disassemble the gear shifter. Luckily we have found the user's guide for the Rohloff on the Internet (there is slow and cheap 2G coverage almost everywhere in Bangladesh), and with that we were able to take it apart and clean it. The next day Arpi was able to shift the gears again,
and we made it through the last hills to reach Rangamati. That one is again, a wonderful place. There is an artificial lake made by a dam, by the damn human. Thanks to a boy who pointed a plastic toy gun at us on the street, we have met with Ismail and his family. We went on a boat trip with them, having nice conversations and visiting a secret waterfall.
Back in Chittagong, we stayed one night with Tanchangya. He cooked us a nice dinner and helped us to buy some spare parts for the bikes.
Cox's Bazar – The Longest Beach on Earth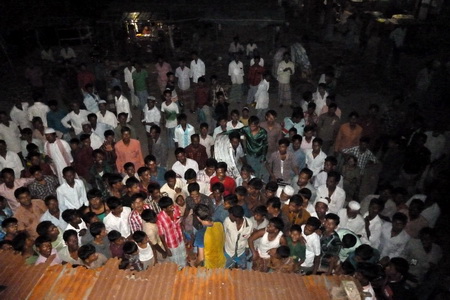 From Chittagong we took some byways and it was fun for a while but then it became very much tiring. We had our hardest day when we both lost our patience, and we were shouting with the crowd following us and constantly screaming and taking photos of us with their "smart phones". People do have touchscreen phones in Bangladesh! Once Arpi had an accident. A motorcyclist, while avoiding the potholes, pushed him from the side and made him fall. At that moment Arpi went too much angry, and started to run after the cyclist. It was a mistake, leaving all the bike and stuff unattended in the middle of the road. We did things we regret now; we really went too crazy because being on the road is just too stressful. Honking, hordes of people following us on the road,
and when we stop, there is a couple of hundred (not joking!) people around us within a minute, everywhere, every time.
We don't know how, but for the next day we were able to calm down, and we had a very nice and adventurous day, maybe the most beautiful on the roads of Bangladesh. We got up early to avoid the crazy traffic, and we could see a rainbow in the morning. Then we had to cross a very narrow bamboo bridge, which the locals helped us to get over with all our stuff. In the afternoon, we reached the pier to the ferry to get to Cox's Bazar, but actually it was only a small "jetty", a motorboat. At Cox's Bazar, there was a crazy crowd of passengers at the "boat station", which was in the middle of a muddy area. The only way was a corridor of boats in the mud, so we had to carry all the 8 panniers and the two bikes through these boats in that crowd…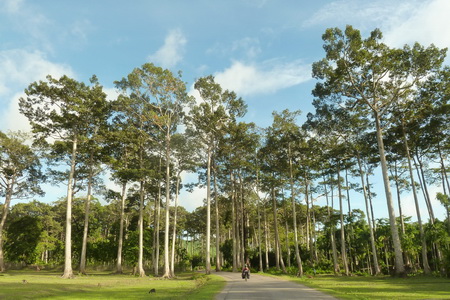 We thought we will never finish, but we did and we found a nice accommodation near the Christian Church with the help of Prodip.
They say Cox's Bazar is the longest natural continuous sandy beach on Earth. We don't know what the truth is, but we can say it is beautiful and very popular among Bangladeshis. From here, we cycled even further south, we had an amazing 82km ride in one day on the coastal road, it was the most peaceful and easy ride we had in Bangladesh. Near Teknaf we crossed a wonderful forest, where they let the trees grow even in the middle of the road. This was again a wonderful ride and with much less traffic compared to the other parts of the country. So if you are wondering about a cycle tour in Bangladesh and you want to avoid all the hassle we had, cycle only this part and have more fun and less hassle! And keep reading because the best is just to come! :)
St. Martin Island
From Teknaf, the southernmost tip of the peninsula, we took a boat to St. Martin Island. This is a small island, the only coral reef island in Bangladesh and habitat for only 5000 people. We had a really great time here, as the Eid holiday just ended when we arrived and the crowd of people had just left the island when we arrived. We met with Sukur, a 12 years old rohingya refugee kid; he was the only person who spoke good enough English to help us, and he was happy to help us and improve his English. The last night we found out that he had learnt all his English from foreigners because he had never been to school, as his family can't afford it. We asked how much it is, and he said, a thousand takas for a year. This is maybe 10 Euros… We decided to pay his school next morning right to the director of the school to make sure it will go to the right place,
because he seems to be a smart boy who deserves it. Sadly in the morning we had to escape from the island. Sukur informed us at our hotel about the situation: because of the bad weather, the last boat – maybe for a week – departs the island within 30 minutes – not in the afternoon as we had known it before. We packed quickly and went out to the shore since that was the only way out from our hotel. It was high-tide that time, so actually we had to load the bikes just right next to the sea. One big wave just suddenly washed our legs and the wheels of the bikes and grabbed one of the panniers! :o There was no time to get surprised, Arpi jumped right for the pannier and took it back from the water. That was the one with Zita's passport; luckily it didn't get wet inside at all. Somehow we reached the boat at the very last moment, and waved back to those groups of kind people who made our stay unforgettable in this cozy, friendly island. Here, there were no cars,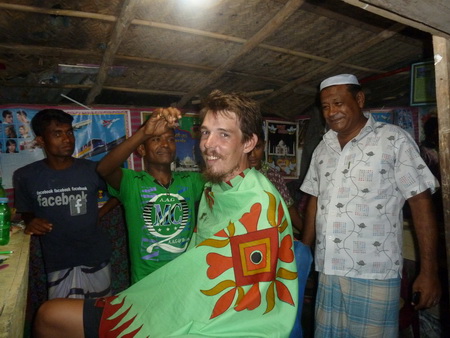 no motorbikes, and no rush at all, and we always had nice conversations with the locals in the small tea shops at the bazaar. By this time we already knew maybe a hundred words in Bangla. "Camo nacho? Balo achee, cubee baloo!" :) The funniest was the only barber in the island, a friendly deaf-mute guy, who really wanted to do Arpi's haircut. We went in his shop that was the only one with electricity so it was like a theater. Everyone from the neighbouring shops came out and watched the show. Can you imagine a deaf-mute Bangladeshi guy showing us that Arpi is going to be very handsome on his motorbike after this haircut!? :) We have no motorbike, but it was worth the experience, he wanted to shave Arpi's nose and forehead while the island's only police officer assisted all the performance, what we enjoyed very much.
Teknaf – the Rohingya refugees and the border crossing issues
Arriving back to Teknaf, thanks to Harun, a Rohingya refugee, who works in a restaurant, making the best randoori ruti in the country, we visited a rohingya refugee camp near the city. The story of the Rohingyas is very sad. They are a Muslim minority in Myanmar, pursued by the Buddhist Minority of the country because of some crazy propaganda made
for political reasons; they have no citizenship in that country, neither in Bangladesh. Here they are only refugees, with limited rights and only have an ID Card issued by the UNHCR. In Bangladesh, they have many other issues and there are already much more people living in the area of the country than sustainable. So Bangladesh can't really welcome the Rohingyas and they can't go back to Myamnar either because they are pursued there. So they are stuck in this edge of the country in these refugee camps. It's a really sad story; we have no idea what the solution could be. Why do these people have to suffer?
We had our own problem too in Teknaf: we were not able to cross the border. Officially it is impossible but we know somebody who had managed to do it before, so we tried. Actually it could have been possible also for us, but the Rohingya situation got worse again in those months when we were there, so they became stricter because of this.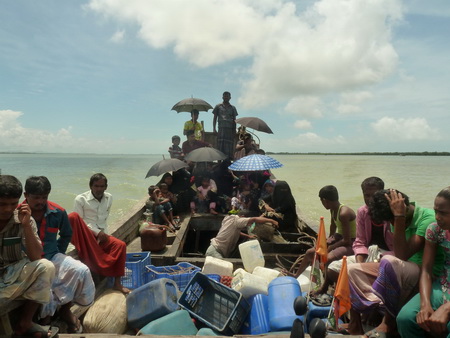 We really tried everything at every border crossing station, we became good friends with the border guards, they escalated our issue to chief officers, gave us tea, lunch, made phone calls to the Burmese side, but it was not enough, they refused us to enter their land, so followed by apologies but the Bengaly border guards didn't let us out from their country. Bangladesh wanted us to stay, but we really wanted to leave, we already had our guidebook, the local currency, our plans and dreams for the next country, for Burma, but it seemed we would have to make some huge and expensive detours in order to get in, because it was impossible to enter on land.
Sadly we had to realize that we will have to fly, the first time in our journey. For more than 10.000 kms we were able to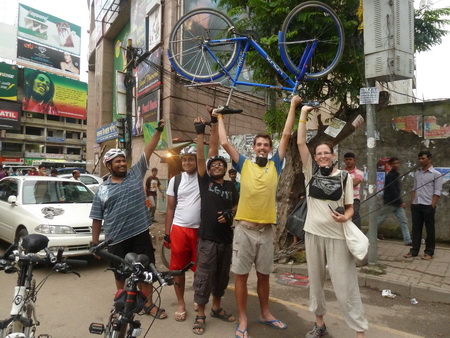 avoid this and travel purely on land, mostly by bicycle; but now we had to accept: we must go back to Dhaka, extend our visa very quickly because it was already expired, and figure out how to get to Myanmar, and buy those damn tickets and fly! It was not easy, but we made it. The Biman Airlines, Bangladesh's national airline sponsored us by letting the bicycles travel for free. Many thanks to them, financially they gave us one month to our honeymoon with this. While we were in Dhaka 2nd time, we have met with some young cyclists, they have cycling on modern bicycles, for fun and for being enviroment-friendly while they could afford a taxi or rickshaw, but they chose the bikes. We encouraged them to do the bike lifting on their monthly Critical Mass event, as we used to do it back in Hungary.
Myanmar (Burma)
In Bangkok, Thailand, we spent 6 days between our two flights. During this time we managed to get two backpacks and find a place for the bikes. We flew to Myanmar from Bangkok because there were no direct flights between Bangladesh and Myanmar.
We landed in Yangon; we enjoyed this city very much, and we stayed next to the Sule paya, a huge golden pagoda in the center of a big roundabout. The downtown was very interesting, the rickshaws here are different: they are normal bicycles with a 2 seat sidecar. Both passengers sit parallel with the rider, but one of them sitting backwards. :) There were a lot of other interesting things, as everywhere in Asia, the market was mind blowing, a different world, different people, just amazing. We wish racist people would have a trip around some countries to make them realize about the diversity of people and cultures.
The same is true for nature, the more diverse the better. And both are being monoculturized by the globalization. We don't say globalization is bad in every aspect, but it has some serious bad effects on nature and the human kind.
Anyway, we left Yangon after a few days and visited Bago, where we immediately got "stupa-itis". This is an unserious sickness people can get in Buddhist countries like Myanmar, especially if they visit a lot of stupas in a single day. :)
Next we hiked up to Mount Kyaiktiyo, where the famous Golden Rock stands on a cliff. This is a huge, 240 tons rock, standing on 1 square meter on the edge of a cliff. They have covered it with gold leaves and built a stupa on the top, so now it is well balanced by a piece of hair of the Buddha. The rock was really beautiful but what we enjoyed even more was the 18km hiking to this place.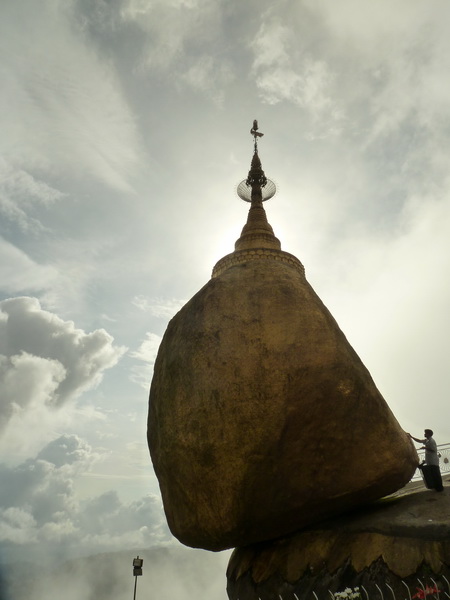 We walked through amazing small forest villages where the local people invited us and we were lucky to see how they live and how they build their small houses almost purely made from bamboo. Bamboo is an amazing tree; it is possible to use it for almost everything. Arpi has got so crazy about bamboo that he wants to grow it back in Hungary because it can also be a very sustainable kind of construction; we are not sure if it can grow back home or not, since we have a quite different weather pattern. Anyway, this trek amazed us very much; we like to see people living a happy and simple life.
From the Golden Rock we went back to Bago, and bargained for a bus going to Kalaw. This is a trekking center, where you can join groups led by a guide. We did so, and for 10000 kyats (appr. 10 Euros) we had an English speaking guide, meals and accommodation for a day. We went for a 3 days trek to the famous Inle-lake. We had so many rainy hours, leeches (Zita had 11 bites on her leg in a single day), and a lot of fun. We could see a lot of the small wonders of nature and heard a lot of crazy stories from our guide, Monsan. He has been bitten by a cobra, broke his shoulder while carrying 40 kilos of potatoes for 400 kyats per day, learnt English from foreigners when he was a cook on the treks, and now he has become a guide. He can build a bamboo house in only 3 days with 2 of his friends, and then the house will stand for 7 years before it gets too rotten. 3 days!!! We, super smart Western People are usually working for a life to pay all the mortgages and own a house. Are we doing something in a very wrong way? :)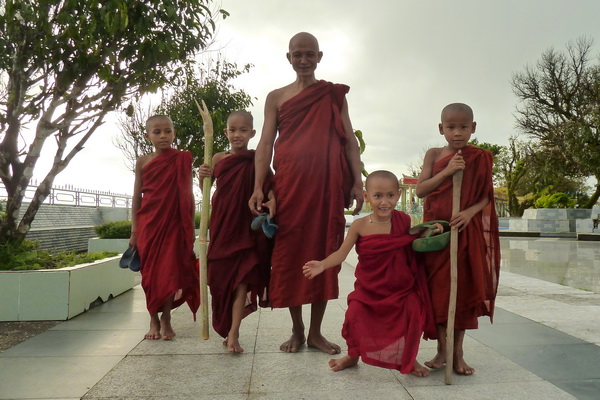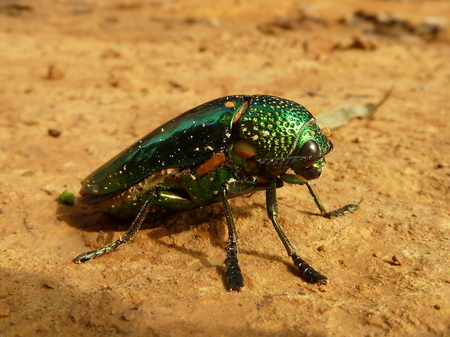 At the end of the trek, we have arrived to the Inle-lake. On this lake, the people grow vegetables (mostly tomato) on floating gardens, living in stilt houses, and rowing their boats with their legs so they can use their two hands to handle the special cone-shaped fishing nets. It is like a wonderland, there are pagodas on the lake, and a 5 days market, rotating between the villages every 5 days. One day we hired a boat with some of our travel mates and went out to the water. We could see the traditional fishermen and we visited a real countryside market. There where buffalos and carts resting in the parking lot, which was actually a nice field. The market itself was almost like hundreds of years ago (probably…) and we enjoyed it very much,
we could see a blacksmith working and local women in traditional dresses selling fruits, vegetables and betel nuts. On the lake we visited some other places, pagodas and houses where local people were weaving clothes and making cigarettes. One of the pagodas we visited was called "The jumping cats' monastery", where the Buddhist monks teach cats to jump over a ring that they hold in their hands. They can show this performance for some donations "for cat food" of course. Sadly, the leader monk of the pagoda had died a few months before so to show their respect they stopped making the cats jump since then. :) Still it was a wonderful place to discover, and we enjoyed this day on the lake very much.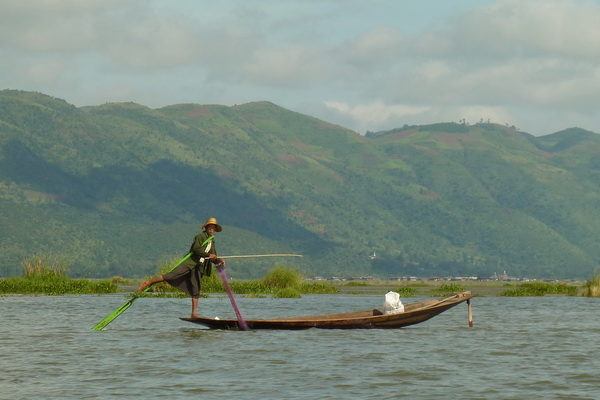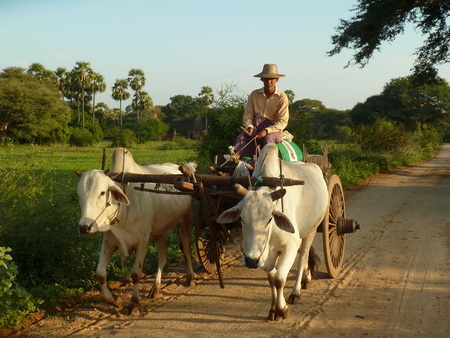 After the lake we visited the famous "Bagan", where there are hundreds of one thousand years old Buddhist temples in a few sq. kilometers. We rented two bicycles here and went around almost every day when there was no rain. Discovering these temples was a real joy, especially our "chasing the Sun" movement: almost every early morning and late afternoon we went out and climbed one of the stupas to catch a nice sunrise or sunset and take a few photos of it. By this time we already knew that we were going to publish a 2013 wall-calendar about our tour and about twelve Asian countries including Myanmar, so we were very keen on having a good, inspiring photo from this country too. Getting up early every morning for 5 days for this reason was a bit tiring but definitely it was a great fun.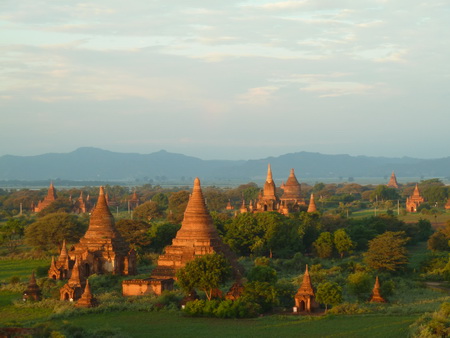 The Calendar has now been published and it was a great success, it seems every one of our customers likes it very much and we have already sold all of the 500+ pieces. It is in Hungarian, but it's just a calendar, the main thing is the photos and the inspirational quotes. You can have pictures about how it looks like.
We enjoyed Bagan not only because of the cycling and the temples, but also because we met with Minh-Yen and Wesley, a Vietnamese-Chinese couple living in Vancouver. We spent some really good time together, having interesting and inspiring conversations, and one day we cycled around the temples of Bagan together. In Nyaung U, there is a beautiful shiny golden stupa,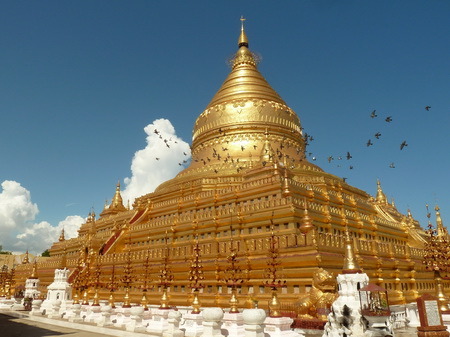 the Swezigon paya, and we visited the world only "thanaka museum", too. The thanaka is a Burmese national and natural, brownish make up, used by almost every Burmese women and children in the country. Zita had great fun with this material, she also started to wear this bright-brown thing on her face, and we found out it was really making her skin more healthy and softer. This thanaka is made from a piece of wood; by scraching it on a wet stone surface, you can get the liquid brown "make up". It is very interesting, and since Zita loves it and because it is natural, and it works, we loaded up with it. :)
Next we took a night bus to Mandalay, but it was hard to make ourselves understood by the bus crew: we would like
to get off the bus 20kms before the bus station in the city, in the middle of "nowhere", to walk to the (again famous) U Bein bridge in the middle of the night. Of course they were nodding and said yes to us, but when we were next to the bridge, they just passed it by at 90kms/h… In Asia, they have this crazy habit almost in every country: they just can't say no, even if they don't understand a single word from you, they just keep nodding and saying yes, so if you are not careful, every single time, they can lead you in a wrong direction or make some trouble for you. Anyway, we had the bus stop a few kilometers later and walked 5kms to the bridge in the middle of the night.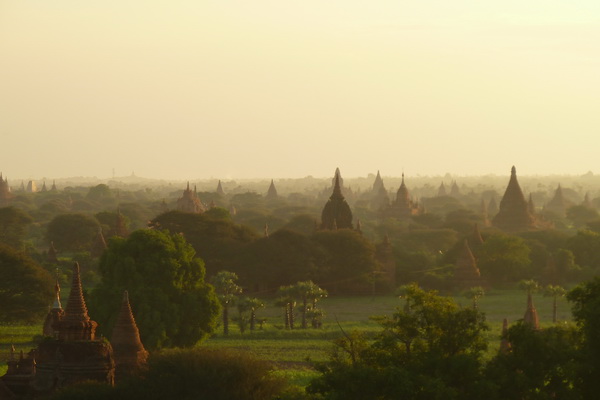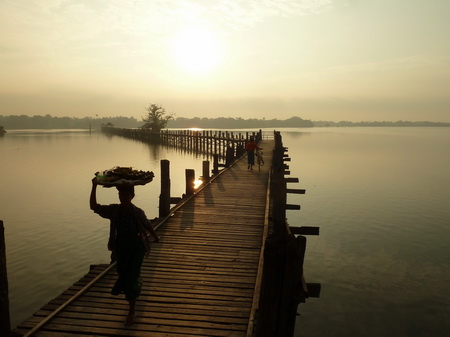 The U Bein bridge is a 200 years old teak bridge, standing on maybe thousands of teak stilts and it is most amazing in early morning, when the sun reaches the horizon and life starts to begin: monks walking over it, early morning gymnasts exercising, sellers carrying their stuff on their bicycles. It was really interesting and at the end we saw a duck-shepherd as he was moving his ducks onto the lake, while rowing his boat standing in it.
In Mandalay, we hired two bicycles again and we went around the city. There is a big, maybe 4 sq. kms large square shaped palace with a wide gutter around it, and there is a hill, where you can have a view to the whole city. Up there, after climbing maybe a thousand stairs (taking less than half an hour, not 2 hours as the rickshaw drivers had said it before,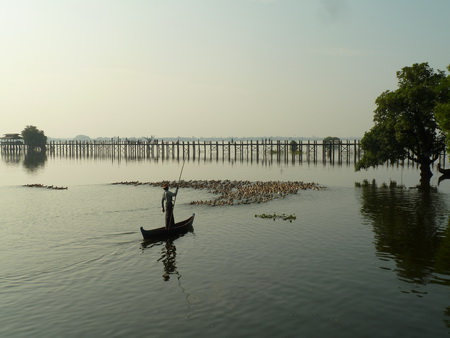 trying to sell a ride to us), we found a nice temple on the top with an incredible crowd of western tourists. We had no idea how they had got here since the long shaded stairway where we came was totally empty. Later on we found out: there is an elevator and also an escalator going up here from the higher rickshaw station, so people who have more money than time, don't have to use their legs at all to get up here. :) Anyway, it was very nice up there and we met some students happy to chitchat with us to practice their English. In the evening we visited a nice pagoda down in the city, and then had a dinner at our favourite place: the chapatti corner! We love Indian curry and dhal food and we found out the way they call the waiter in this street food corner: they squelch a kiss!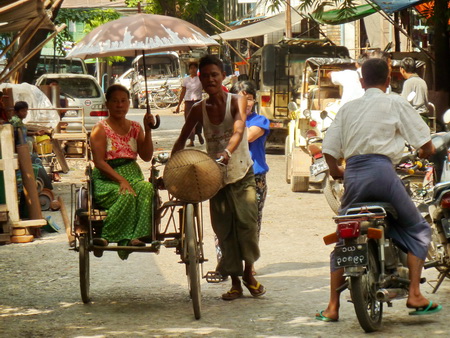 Yes, this is very weird, we had no idea why everybody was dropping kisses to the crew here, but they did, and Zita also tried it. The result: a waiter just came and asked us, what else do we want? :)
Our last place to visit before going back to Yangon was Pyin Oo Lwin, a hill station two hours NE from Mandalay, where there is the beautiful Kandawgyi Garden, a park that is taken care of very much by the Thais, and it is really amazing. There we witnessed a butterfly as she was taking down her ovules on a straw – while we were taking photos of this event. We could see bamboo forests, birds in and outside the "Walk in Aviary", and we smelled an orchid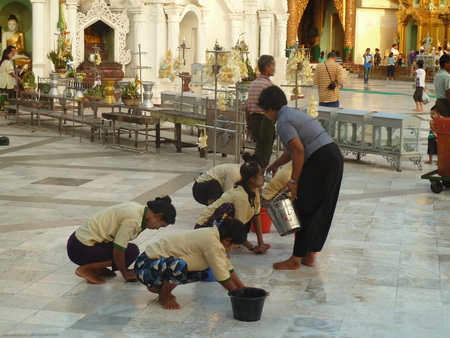 with vanilla fragrance as we walked around the lake.
Back in Yangon we had only one big duty left with Myanmar: visit the most famous place in the whole country, the Swedagon paya. It was really amazing, especially to see the life going on around the huge golden stupa, as we were waiting for the sunset to take the best photos ever for the calendar… Our battery for the camera had depleted, and we had left the backup on the charger in the hotel room. Nice… And this was our last night in the country; our plane was to leave next morning. There was no next chance! But we didn't get mad and angry, we found out we had more than enough amazing photos about Burma (Myanmar's colonial name) and we were better if we just enjoy the moments and not thinking about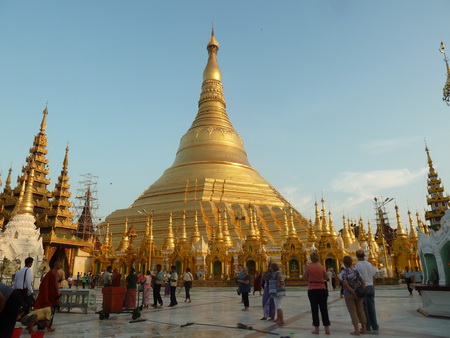 taking even more photos. At the end, we could not resist asking some fellow tourists to use their cameras with our SD card just to take one photo of the floodlit stupa with a completely dark sky in the background. This was how we met with Ben and Lukas, a good company for chatting all the way back to the downtown.
We realized we were staying in the same hotel as the French couple from the plane this way from Bangkok. And they picked the same flight with us on the way back too, so we shared the taxi both in Yangon and Bangkok to and from the Airport. :)
Back in Bangkok and North-Thailand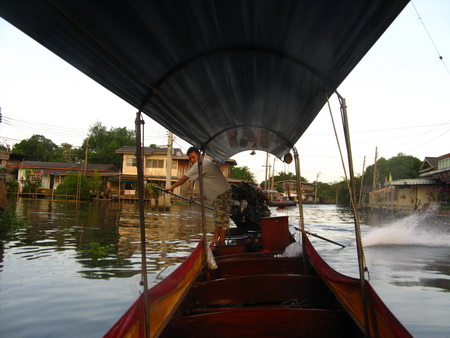 In Bangkok, for the 2nd time, we spent 20 days, as we had so many things to do and organize. First of all finishing the design of the calendar before publishing it. During this 3 weeks we stayed in 3 different places.
First with Attila in his apartment. It was amazing as we were able to use a swimming pool and a sauna nearby and Arpi was happy to go out for some running to the Lumbini park. During one of his runs he met with a huge 3m long lizard kind of animal. After this experience, he decided to stick with the paved promenades. :) Later Attila mentioned the great flood that happened last year (2011 maybe?) around Bangkok when a lot of crocodiles has escaped and
roamed freely around the streets, while some of the people were not able to go home only by boats for a horrible amount of money.
Happily Attila's kitchen is equipped enough to make pizza in the oven, so we made our pizza again to return his unlimited amount of kindness. Attila, thank you so much for everything, without you we wouldn't have been able to find a place and a way to finish our 2013 calendar! ;)
After Attila, we stayed with Goy who is a really passionate Couchsurfer so we had a few fellow surfers around all the time and that was really great. First the Spanish guys. They were making a multi lingual travellers dictionary. It' made in a small printable size with the most important words, and by now is available in 45 language,
but this number will grow as they promised.
Travellers, this is your stuff: http://www.hizkimizki.com :)
With Goy and her guests we went to a market and some nice canals by boat, which was really amazing. While we stayed with her, we also met an other cyclist, Dave from Australia. He started in Kuala Lumpur, is going to teach voluntarily in Cambodia then hit the road again until… who knows, maybe the Pamirs and Pakistan as he was very envious to see those photos of us.
But he is only 20 now so we were also jealous of him! :D
While we were in Bangkok, we visited the famous tourist ghetto, the Kao San road, where they sell fake driving license, teacher/student and press cards, and who knows, what else, that would be illegal in every western countries. Here, there is a police station just at the end of the 400m long street and they just do not care about it… It is a really strange place on earth and worth to experience it, even if you are not staying around (there are millions of budget hotels nearby), because from here, it is just a few minutes walk to the Royal palace and it's neighboring places.
If you are in the lack of time and/or money, we suggest you to visit only the Wat Pho and avoid the Wat Phra Kaew, as we found the Wat Pho much more nice and attractive, and it is also cheaper. On the Kao San Road and around these Wats, there were four of us including
Marika and Tibor, who were Hungarian budget travelers and CSers. They knew us through our blog were kindly support us by bringing some stuff from Hungary and at the top of this, we spent amazing an amazing meal together with beers and streetfood at the end. Thank you so much for your help and company, it was great to be with you!
3rd we stayed with James above their nice café shop. They were so nice to us again and they sold us their used toast sandwich maker, which we are still using happily half over SE-Asia. Since we miss these sandwiches so much (especially Arpi), they taste a little home to us, we are carrying this less-then-half-kilo toaster, so we can make our on hot sandwiches, in case we have electricity of course. Since cheese is rare and expensive in these countries, we usually do some kind of omlette with onion done without oil by our amazing sandwich maker. :) Probably we are the only crazy stupid cyclists around the world carrying an electric toast sandwich maker. :)
After spent 28 days with backpacking in Myanmar, then 20 days staying in the nice, well developed but big noisy and smoggy city of Bangkok we couldn't wait to hit the road again on our much loved recumbent bicycles.
From Bangkok we planned a little detour to Southeast-Asia: North-Thailand, Laos, Vietnam, Cambodia circle with a return to Bangkok as an ending. Keeping this in mind we left the half kitchen the tent one sleeping bag and some of our warm clothes in Bangkok, Zita riding with only two panniers now.
North-Thailand was nice and easy, but nothing interesting really. We were bit in a hurry because we had our visa almost expiring and two Cisco networking exams awaiting for Arpi to take them in Vientiane, Laos. As there are no
examination centers in the area we had to leave Thailand in time and there was also a deadline coming soon for Arpi's exams too.
After visiting Ayutthaya for a half day, we were just riding and riding 100+ kms a day in average and learning, learning, learning in the evenings… After a few days Zita has figured out that we can print out the study material and Arpi can learn the Cisco stuff while he is riding behind or in front her on the wide berm of the road. We tried it, and worked well. Arpi has crammed the material in a few hundred kilometer and looked forward to take the exams.
The best thing just came in Udon Thani. Here we were hosted by a girl called Best and her family and they were the best too.
The real best thing about the exams was that we figured out that these are online exams so we don't have a deadline to be in the university of Vientiane, and that Arpi was able to take them almost anywhere, anytime. As for this there was no reason to rush but the scenery was quite boring, the same industrial agriculture fields almost everywhere, so we don't regret anything now. We spent great two nights in Buddhist monasteries and rode about a hundred kilometer every day.
And finally, Arpi succeeded both exams which brought great happiness and relief so we were on the road again for 100% also in our mind.
Laos, the beautiful – The cyclist's paradise
Vientiane and Vang Vieng – Buddha Inside
From Udon Than it was just a 80km ride to the Lao border where on the arrival we bought our 30 days visa and the bridge fee (30+1 dollar). The bridge is called "Lao-Thai friendship bridge" – such a nice friendship when they charge you a dollar for crossing it! :)
In Vientiane, we had one of our best host ever, Hassan from Pakistan. He immediately made us remember back to the feeling of Pakistan even by the tastes as he brought us to an Indian restaurant on the first night. We had so many nice conversations and we were able to see an amazing Buddhist mass-praying ceremony just right next to his street. The people and their candlelights were all connected together by a mesh of threads above them. It was just purely amazing standing next to them and see all these happening in real life too, right in front of our eyes.
It was just like one scene from the Baraka movie, or from the Avatar. Ok, there was a Honda showing room in the background, but anyhow… :)
With Hassan we also visited the "Buddha Park", a small area with lots of interesting religious statue. There was even a big pumpkin shaped building with three floors representing Hell Earth and Heaven. We were able to climb above the Heaven, out to the roof from where we were able to see the whole park from above. It was an amazing few hours trip especially with the sun setting behind the Mekong river at the end.
In Vientiane we saw all the "must sees" but unfortunately I can't recall their names and since I'm writing I just can't afford to stop and check them on LP/Wikitravel. Let's say they were just nice and beautiful. A stupa as their national symbol also seen
on one of the Lao banknotes, a few temples which are museums now, and the Patuxai, an Arch, made from the cement that the U.S. gave them to build an airfield! :) So they call the Patuxai "our vertical airfield". How sustainable as no plane can land on it! :) While requesting the Vietnamese Visa at their embassy, we have met with Brant and Lauren, a couple travelling by bicycle around SE-Asia as a water-engineering project. They have just visited a permaculture farm for a 2 weeks course before we met, which we found amazing and makes us jealous. :)
After Vientiane we headed north. We went to Nam Gnum reservoir as the water dams are also the national symbols of Laos. They export the energy they gain from these, so they are very much proud of it and also, on one of the banknotes again, you can see a water dam! Damn weird for us, but not for them as they have their money for their development from these. Just develop in a good way, please don't follow us without considering everything twice, we have a lot of f*cked up things in the western world too, so please, I ask you again kindly, do not copy *.*! :) ("*.*" come from the IT, it means "everything" from the good old DOS world)
Our first stop was in Vang Vieng, it is a famous tourist place, famous for the tubing and parting, but we just went there because of the beautiful karst mountain scenery and to discover the caves. Okay, the chicken sandwich for less
then 1 euro was great but not the unlimited Friends episodes shouting from every restaurant's every screen. There in the streets where you can see 3 different bars, with the total of 6 big screen, with 3 different Friends episodes, on full sound volume… This is not that what we come to see in this amazingly beautiful valley! :)
After some rainy days we visited the Tham Phu Kham, a cave with a lying Buddha inside. We were so lucky, we were able to see the sun's light beams coming through a hole and shine the Buddha in the afternoon. Next to this cave there is a place called "Blue Lagoon", where you can jump into the water from a tree and a rope, having big fun with a few beers and smart & brave young westerners – if you are open to it. :) We found the Saelao, the neighboring eco-farm,
much more interesting. It's made by Bob, who was so kind to show us around. They teach English here and also grow vegetables and the most interesting thing here are the bio-gas fueled stoves. They collect all the shit from the animals (and they just built a human toilet into the system when we where there), fill up a dome-roofed underground concrete tank with it, and open the tap on the top of it. The gas comes through a tube just right into the stove in the kitchen, where they can use it for cooking. We were there smelled nothing bad and were amazed very much. They are looking for volunteers to develop the farm grow the vegetables and teach English for the local kids for free. If you are keen to help in any of these here is Bob's website: http://saelaoproject.com/
From Vang Vieng to Luang Prabang – Into the Jungle
From Vang Vieng, we hit the road further north we climbed a little pass and ended the day in Kashi. There we had an overnight of a Rolhoff bowden replacement session but at the end we managed to make it work again so it was a success and in the morning we were ready to beat all the mountains of Laos in all the 14 avalible gears we have. On this beautiful day, we met with Victor, a 20 year old Danish world traveler. After graduation he went Australia to work and hitchhiked around that continent. Then he decided to cycle back home to start the University in September 2013. He bought a used touring bike with all of it's mandatory stuff, and here he is, cycling home across Asia in his age of 20! It is so amazing if we think about where we were and how we thought about the world at the age of our 20. He will start the university maybe wiser then some of his future teachers! :) We always say traveling, and especially traveling on low-budget and cycle touring is the best school we have ever had.
From Kashi, the scenery became to the most amazing one that we have ever seen, and of course it started to go uphill. Up, up, up, endlessly. We have cycled together with Victor and found a "Hot Spring to soak in", but actually the hot was just warn because of the yesterday's rain. After having a lunch at the opposite side restaurant all of us decided against that bath, so we continued. After a crazy, steep downhill it continued uphill all day long. We finished in Poukhon, having dinner and stayed next door to Victor in a guesthouse. After Poukhon we had an even more hard day: ups and downs all day long, each 3-400m high, so at the end we climbed at least 2200m. It was still wonderful because the villages there had the cutest children on the world, the Hmong's children.
They are always waving and "Sabaydee"-ing to us – it was very inspiring. There were only one beggar group of these kids, probably because the tourist buses never stop between the cities in this area. Probably if we haven't started giving them candies, pencils and exercise books directly, probably they wouldn't have started begging. If you want to help them with these items give it to the teachers and community leaders, but do not give it directly to the children because this is exactly the way how they learn to beg – and since begging is not the part of their own culture, we should not teach them how to beg! :)
In the next stop we met a bunch of other cyclist, I cannot recall all their names, but we definitely remember Mary and Bjorn, they are writers/journalists from Las Vegas and Alaska. In the next days we met them a couple of times in Luang Prabang, having very nice and inspiring conversations in a particular restaurant with the most cutest puppy we have ever seen. But then, just after Mary and Bjorn has left Luang Prabang, we met with this crazy little dog, he is maybe even more cute: This video made in one of the beautiful temples of Luang Prabang.
This city is really amazing,
it's part of the World Heritage and we can understand why: it sits on a peninsula of the Mekong river and it has beautiful French style streets and amazing, shining Buddhist temples. When we were there, we went out for a day to some waterfalls nearby to celebrate our one and a half year wedding anniversary, and it was also very nice, though there was an annoying bunch of self showing young westerners, again jumping from a tree and rope to the water, but luckily as the sun has no more shining to the pool, they were no more strong enough for the cold and quickly disappeared. :)
From Phokoun to Phonsavan – The Plain of Jars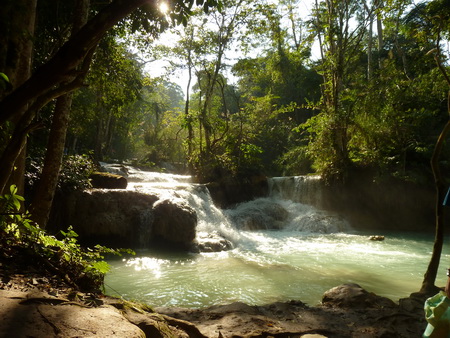 From Luang Prabang, we cheated a bit, took a bus back to the Phokoun junction because we didn't want to climb back all those crazy steep hills we have crossed on the way there.
The Phokoun – Phonsavan leg was maybe the most amazing of what we had in Laos, the scenery was amazing, and we had hard uphills only in the first part of the 145km. First day, we have met a group of 14 cyclist from Bangkok, they spent their holiday in Laos, on a crazy, super-light, net-framed bicycles. We had an overnight in a little Hmong village by the approval of the village leader – they were very kind to us, but we fall into the trap of the "yes-story" again: in the evening,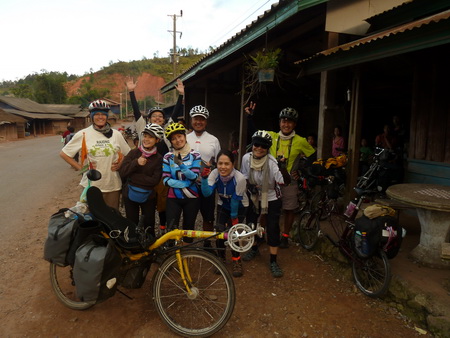 we asked the only English speaking man to ask the restaurant staff, what time they open and if they can provide a fried rice for breakfast at 6 am (this is not early in countryside). All the answers were yes, and when we arrived there in the morning of course they had no clue, what did we want… So there were no negotiation in the evening, it was just the yes story again, they didn't get what we wanted to ask just answered yes for everything even to our translator. Anyway, it was a beautiful day, with a late start and an arrival to Phonsavan in dark – we survived, so it is ok. :)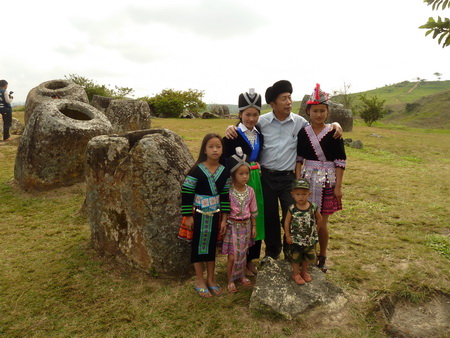 We met with a Polish motorcycle rider, Ryszard, who was so kind to give us his used Laos Lonely Planet book. He wrote a memo behind the cover and we did it too, and since then we have also passed it forward to a Vietnamese cycle tourer we met later. This is how the spirit of giving travel around the world through a guide book. :)
In Phonsavanh we visited the Plain of Jars, a field full with very old carved stones, each of them has a big pit on the top. They say nobody knows exactly who made them and why, but we do! People made these to contain the rainwater. :) It's is so obvious! Over here we saw a video clip shooting under the large tree near the jars, they looked so professional, but they haven't removed a huge waste bin from the background. When we asked, they said, this is okay. :) Maybe they sang that love song about the waste?
The Bomb village and the U.S. war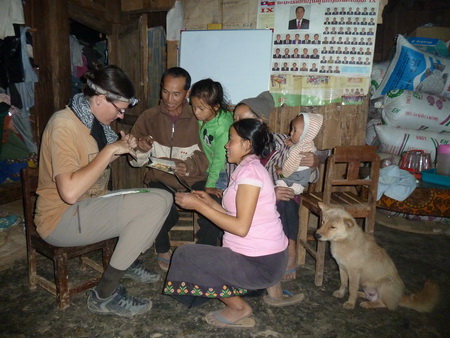 From Phonsavan we made to Muang Khan, it was an easy day with some joy in the beginning: first we have celebrated the 12.000km with a Hmong family in the front of their shop, the grandma and his grandson were just super sweet together. We don't know how and why, but all the people, children and animals are so sweet in Laos. How they can do this? :)
The same day we made a small detour: we went to see the "Bomb Village", a place where they dropped so many bombs during the U.S. War – They call the Vietnamese War "U.S. War" or "Secret War" because most of the people don't know that the U.S.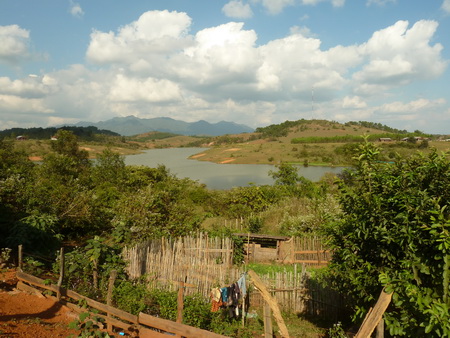 has also dropped hundred thousands of tons of bomb also in Laos. There were three main reasons:
1, the CIA has installed a secret airport somewhere near Vang Vieng, and they wanted to protect it since every 8 minutes in average a plane took of from that airfield.
2, the Ho Chi Min Trail went through also in Laos.
3, sometimes when the bombers failed to find the target and they were not allowed to land with bombs on the board they just dropped these bombs they were carrying on random ricefield's of innocent Lao farmers.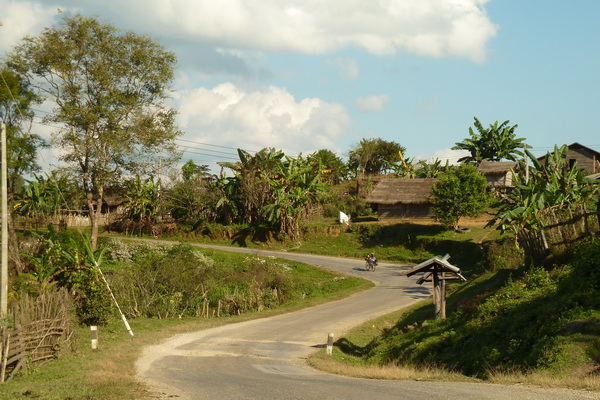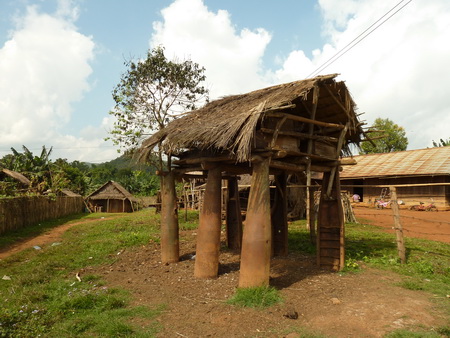 The most deadly U.S. bomb was the "bombie", a human sized bomb, splitting into 150 "bombie" in the air, each of these bombies blast into 30 little fragment, each can kill a people by itself.
Some of these remained unexploded, these are called UXOs, and Laos (and probably Vietnam too in an even larger scale…) suffering because of these very much. Even nowadays, each day in average one Lao people (mostly children as they are playing) die because of these UXOs. If the discovery and deactivation continues likes this they will still suffer like now for the next 150 years. Our message to the U.S. citizens: you should rise against your government to stop spending your tax money on war. As long as you are a working, a tax paying citizen of the U.S., you are the part of this war machine no matter what else your government's propaganda says, their ancestors has dropped tons of bombs on each Lao citizen
in average and they still make war from your money since it is a huge business. They should be making business on deactivation of these killer bombs, these are still killing people every day, while America goes on the next war. Of course in the name of "freedom" "liberation" and "protection", not in the name of killing people and make business. So disgusting, we could throw up from only the idea and we can't wait to reach the U.S. to talk about this personally and show to them how the Lao people built house tilts, soil cases and fences from their bombshells. Don't worry, we will do it just positivly, not with anger. ;)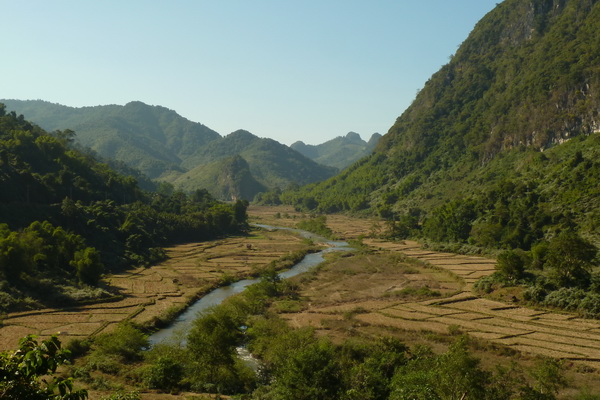 In the Bomb Village, we have seen that everything has a bright side: even if they would love to send back all the bombs to hell, they have a lot of metal to use and they do use the bombshells for a lot of different purpose.
After the Bomb Village we stayed in a schoolroom by our kind Lao helper who organized us this shelter in Muang Khan. In the next few days, we had really-really hard uphills, and is always comes together, the most amazing experiences. The Hmong villages were so nice, the people and their way of life, the scenery and these villages amazed us very much and filled us with inspiration what we really needed since we climbed at least 2000m each day.
In Xam Nuea, we were glad to find a working ATM, otherwise we would have been in a big financial trouble, but thanks to arriving back to "developed" city, and this cash machine, we were saved.
Our next stop was in Vieng Xai, a wonderful place again, karst formations everywhere around the village. It is famous because the Lao generals and leaders hided here from the U.S. bombing during the war years. They survived and the war has ended, probably because of the displeasure of the U.S. citizens (thanks!) and because
the makers already made enough business on war.
Lao is a communist country now, but the people are joyful and happy as almost everywhere in Asia regardless of the materials they own – since they don't need much they are just happy as they are. We hope they are prepared because "development" is coming into every little corner of this planet. :)
Anyway, Vieng Xai was just beautiful again, we cycled through a nice audio guided tour around the caves where their national heroes survived the war. Not only the generals but also the common people lived there, they had hospitals,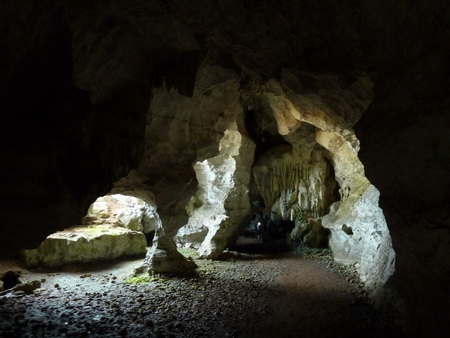 sleeping areas, warehouses and even a theater under the ground. They have farmed their land at night when there were no bombings.
Laos was a heaven for us, the scenery was fascinating, the roads were almost empty, usually paved enough for cyclists, and the people were amazingly kind and sweet. If you visit Southeast-Asia (or maybe it's true to whole Aisa) for cycling, you are probable going to have the most and best joy in Laos, we can highly recommend you to cycle this country because it is just amazing!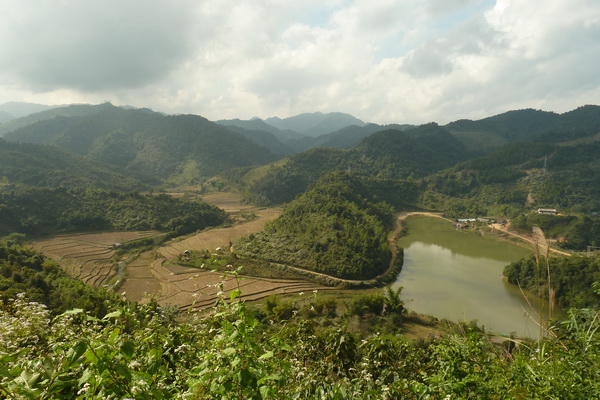 Vietnam, our 21st country! :)
"A truly happy person is someone who can enjoy the scenery on a detour."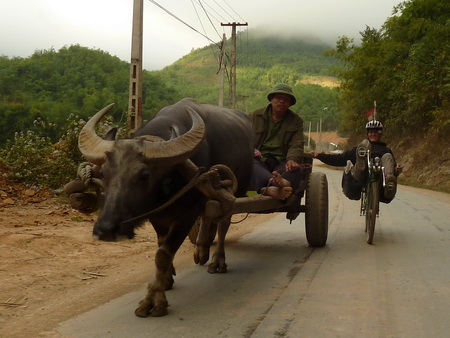 From Vieng Xai, it was just a couple of days out of Laos, before we have reached the border at Na Meo. First it was a shock being in Vietnam, the people never waving kindly and saying "Sabaydee" to us anymore, but shouting aggressively "Hello-Hello!". The border village was just full of dirt and waste – we know it is just the difference of cultures, but still, we can't switch our mind from one day to the other and found it pleasant even if we know that they are probably as nice as their neighbors. Anyway, it is not a big deal, we got used to in a few days and enjoyed Vietnam almost as much as Laos.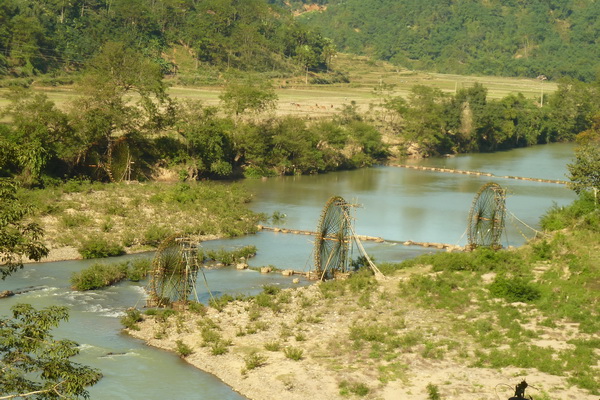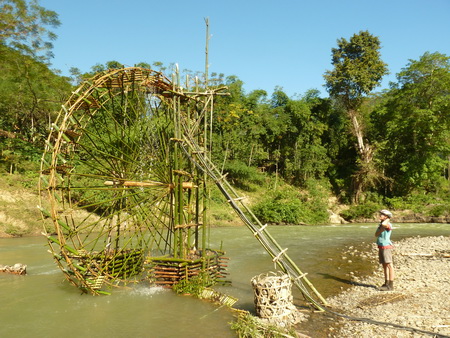 Since we didn't have a proper map we made a detour but now we say, it was totally worth it. This way we saw an amazing huge water lifting wheel mounted on a river that was made purely from bamboo. It use the power of water catched by paddles to lift the water high into bamboo tubes, so it can runs again in bamboo tubes to the higher fields to water them. Just amazing! Arpi was not able to stop staring at them.
Also because of this 50km detour we were invited to dinner by a family who owned a bakery shop in the village where we stayed that night. We tried to find a restaurant which we did but in all of them they just barbecued dog meat on sticks and we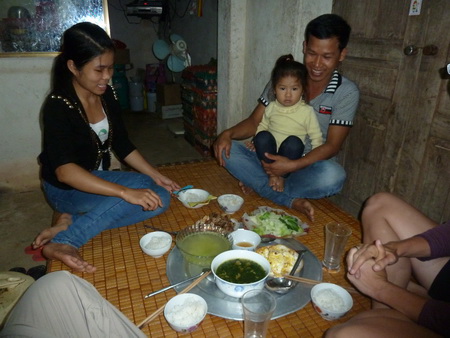 were not ready for this experience. Of course they laughed at us loudly, what they do every time and everywhere in Vietnam, no matter what happens. Even if you try to find your way or ask just a simple question, also if you are in trouble they laugh on you loudly. To be honest it's like they were on drugs or something. This may be natural for them, maybe this is the normal way of behavior but still, quite often we just found it very annoying. It is so strange because they also laughed at almost everything in Laos too, but over there, they didn't do it that often, and it was in a different way which is much more cute then annoying for us.
Anyway, Vietnam, as you can see on the photos is a country full of wonders, and we there must be a lot of nice people in Vietnam too,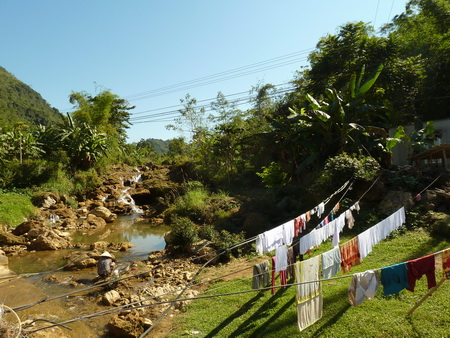 probably much more then in Laos, maybe because the population is 80 million here, compare to Laos, where they are 6,5 million. At the end we finally found a very nice family, where we didn't have to eat dog (yet?), or we just don't know about it. :) They have a small bakery and while we were asking about the foods, they have invited us for dinner in their home. Can you imagine the same in a Western country? Sadly, this is not tipical everywhere… Yet! :)
One day we met three other cyclist. René and Susanne are cycling from Mongolia to Syngapure, and Regula has joined them for a couple of thousand kilometers. René was the very first recumbent rider we met on the road so we only had to wait 12 thousand kilometer for this moment! :)
After a few days of cycling we reached Hanoi, the capital of Vietnam, and we spent there the rest of 2012 there, well, that eleven days what was left from December.
We celebrated Christmas in our tiny hotel room together with the bikes and a potted flower decorated as a Christmas tree by Zita's homemade ornaments,.We gave each other a few edible gift (western foods: muesli, chocolate, chips, biscuits), and skyped with our family. When we went out for dinner on Christmas Eve, the guys in the restaurant said that they have a "special homemade shot" for us. We though that it was going to be that terrible rice liquor what we tried on Arpi's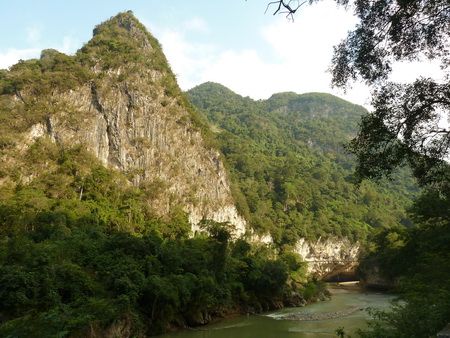 birthday in Nepal but we were in quite a positive surprise: they made mulled wine, and to be honest they made it very well! :)
Between Christmas and New Years Eve, we visited the most famous and maybe the one of the most wonderful sight of South East Asia, the Ha Long bay.
We paid 50 dollars each for a 3-day-tour which included the guide, food, one night on a boat, one night on Cat Ba island. It was fun although at first we found it hard to be part of a group and always do what our guide said. At the same time it was comfortable and easy because everything was organized, we just had to enjoy the trip.
First we visited a colorfully lighted cave. There were stalactites and stalagmites in a huge room which was amaiying. The cave had a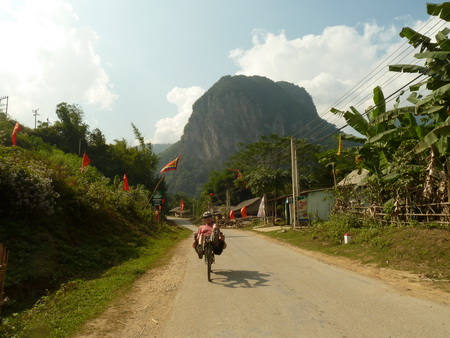 story which we found quite funny: there was a fishermen who followed a monkey through the rocks when he found one of the entrances to the cave. He immediately reported the whole story to the government and first they asked the fishermen about what he wanted from the monkey? :)
Next the boat has stopped at a floating village where we went kayaking around the rocks for a half hour. It was huge fun, we both enjoyed it very much. First we paddled through ourselves in the crevice of that famous rock isle which is also visible on the Vietnamese 200.000 Dong banknote. :)
The next day we went on a little trekking on the Cat Ba island, just up to the a rusty old view tower. It should be already closed down because it is too dangerous, but since we are still in Asia, here, everything is possible. :)
In the afternoon we got some "freetime" without our guide. It was our best time in Ha Long bay with Zita! We were both so excited,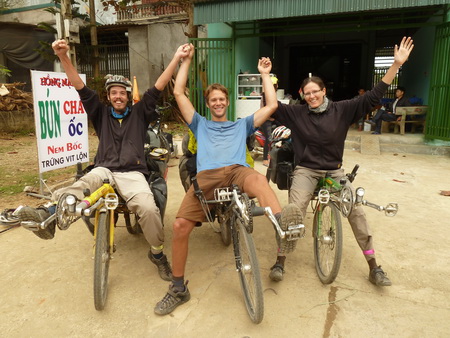 like children before Christmas, we just couldn't wait to get to the harbor and rent a kayak by ourselves. It was huge fun to go around those islands just two of us in the kayak. We paddled 8 kms and visited some uninhabited islands, where Zita was so happy to collect the seashells and other small wonders of the sea from the beach. We also visited the "Monkey Island". Not the video game but the real one. It gets the name because nasty monkeys live there. We have been not more than 20 minutes on one of the beaches of the island when we heard western people's shouting. A few monkeys attacked some girls and they robbed their bags for food. :) until we came and threw some rocks to them…
Sadly we had cloudy and cold weather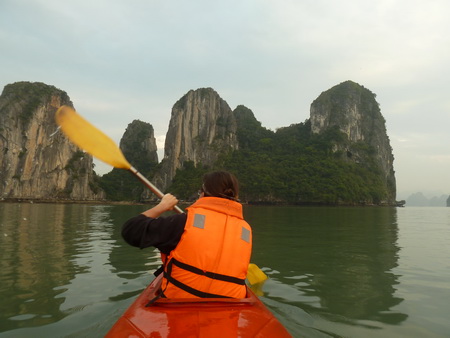 (it is also Winter here, sometimes 10 degrees Celsius!) in the Ha Long bay, but still we enjoyed it very much. Last day we just went back to Ha Long by the boat and then to Hanoi by bus.
In Hanoi we met with some very nice Hungarians, István and Csaba. They both live there and Csaba has a beautiful and smart Vietnamese wife. Once we had a coffee together while we had a very interesting talk about the differences of cultures. Backpacking is a sign of the low social layer in the eye of her Grandma. Sadly most of the hotel and restaurant owners over Asia believe the opposite and try to rip off from our small budget as they think the backpackers and westerners are all rich so they keen to give us much higher price then to the locals. :)
Finally,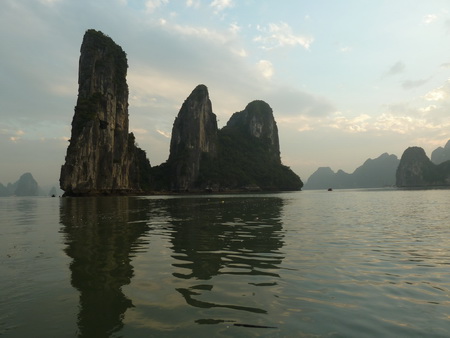 I have come to the last chapter in the story of 2012: New Years Eve! After having a coffee and dinner with Csaba and his wife we headed to the Backpackers Hotel, because we knew that there was be going to be some kind of party. We weren't wrong.
At 22:40 an unknown person from the crowd told to us: "Hello Arpi!" – We met with Andi and Csaba from Hungary, and we figured out we already emailed them about the Pakistani Visa this year. Soon a bottle of Unicum (our national herbal spirit with 40% alc.) appeared but we realized that the party is over at 23pm since it is a communist country and the police does not allow to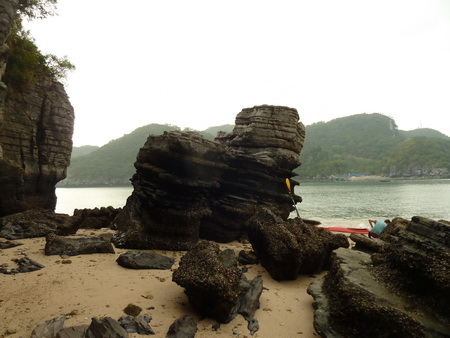 party at late night. Someone told us earlier that there would be a party somewhere else if the police came s when the crowd started to moved we followed one group to the street. We thought that someone in our group who leads would know this place. We crossed a highway and later we found ourselves in a little dead end street – maybe our group just followed a random local man going back home late night… :) Anyway, midnight came to us in a street corner under two palm tree, but we were very happy to be with each and four Hungarians in this Beautiful Small World.
This was our most amazing year ever, completely spent on the road. We must say a great thanks to everyone who been our company during this year, thank you so much for your kindness and friendship – you made our year unforgettable!
For more photos and videos, you can visit our:1st Picasa Gallery Set – From Hungary until Amritsar, India2nd Picasa Gallery Set – From India, Hoshiarpur until Bangladesh, Bogra3rd Picasa Gallery Set – From Bangladesh, Bagerhat until…Nepal, Annapurna Circuit Trekking GalleriesOnly the best photos (379+)Youtube Channel (224+)
…but please don't waste to much of your time with these, it's better to go out and hit the road, do it! Have fun and Enjoy the Ride!!! :)