This has been sent by e-mail to inform our Friends all over the world about what happened with us in 2011. Now we are going to publish it here, so everybody can read. :)
Jan-May – Wedding and preparing for the great honeymoon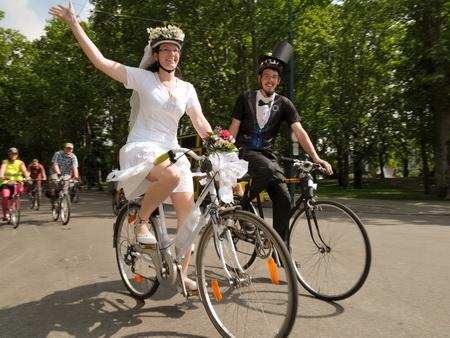 In the beginning of this year it was clear that we will get married on the 4th June and then hit the road for a Honeymoon Around the World bicycle journey. The first brave step was to tell Árpi's boss about our plan for the next years. This was the "point of no return" in January. Then the next few months passed away so quickly as we got the vaccines and applied the visas for the journey. It was a busy time since we also had to organize our wedding and of course some details of our not-so-ordinary honeymoon. Thanks to Zita's brilliant idea, we had a really unique civil wedding in Budapest. It was full of fun and joy because after the short ceremony we just hopped on our city bikes wearing our cycling-wedding dress and crossed the city together with our friends whose were also riding bicycles.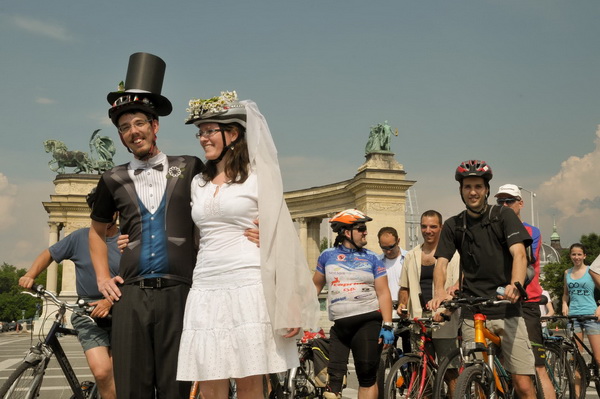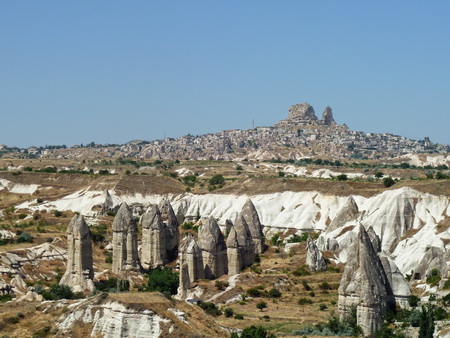 The religious wedding with the great party was just wonderful as we had the church ceremony in the countryside, in Vérteskozma. This is a little fairytale village in the middle of the Vértes mountains, with a lovely little church. We have a personal story about this place; that church was the first one we visited together with Zita, so that was the place where I asked her to marry me. She said yes, so we had our wedding ceremony in that church there. Our priest was one of Zita's friends from the University and the children's choir was from Zita's workplace where she educated those children. Thanks to Csaba – the priest, and to the children's choir, the ceremony was unforgettable. After this we had a party until early morning, then next day there was an afterparty with a lot of outdoor activities. It was a great idea because this way we could spend more time with our family and friends coming for the wedding. Two special friends were there among the others: Serge and John, Zita's Camino friends. Zita walked the el Camino de Santiago (900kms on foot with backpack) and on her journey she gained many kind and close friends.
Jun-Aug: Hungary, Romania, Serbia, Bulgaria, Turkey, Georgia and Armenia
One week after the wedding we started our long journey. There was a little crowd in the Hero's Square in Budapest at that morning, lots of people came to say goodbye to us. Since the first stage in Hungary was "opened", dozens of friends were cycling with us in the first days.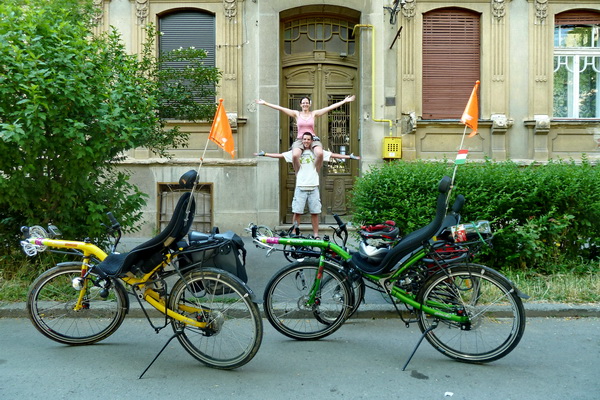 The first night we camped in the middle of Hungary, then on the 4th day we have visited the house in Timișoara where Árpi's grandpa was born. After this point, our team was decreased to 3 persons: the honeymooners and their 'buddy-guard', Daniel. He had the same type of bicycle like us (recumbent!) but even lower. We had really great time together during the first 3 weeks of our trip while we managed to cycle to Istanbul, Turkey through Hungary, Romania, Serbia, and Bulgaria.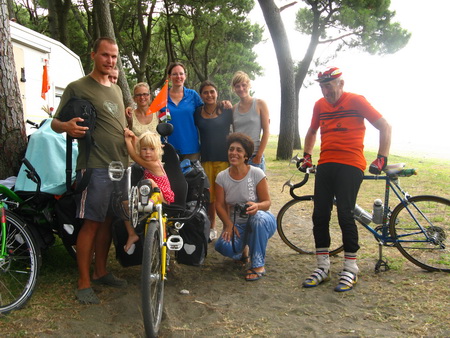 In Istanbul, we spent 8 wonderful days whilst we were waiting for the entry visa to Iran. We participated in a Couchsurfing boat party on the Bosporus with 400 passionate CS members.
From Istanbul, we were continuing like a classic honeymoon, only two of us. We spent 40 days in Turkey and we had a wonderful time there. The Turkish people were really friendly and hospitable with us. Near Ankara, we accidentally crossed some Kurdish villages and a Kurdish family invited us into their home and to a traditional Kurdish wedding. It was just an amazing experience. After visiting the great Salty Lake (Tuz Golu), we have visited the wonderful Cappadocia and then cycled on the Black Sea coast to Georgia. Arriving back to a Christian country was a delight, especially due the famous hospitality of the Georgian people. This way we had an unforgettable day in Batumi and after leaving the city, we met a 66 years old cyclist, Soso who rides his bike like a young man – for him the Bicycle is the Life. Next day we met a Hungarian family, Mariann and Peter. They are travelling with a campervan in Asia and their uniqueness is their lovely 3 years old daughter,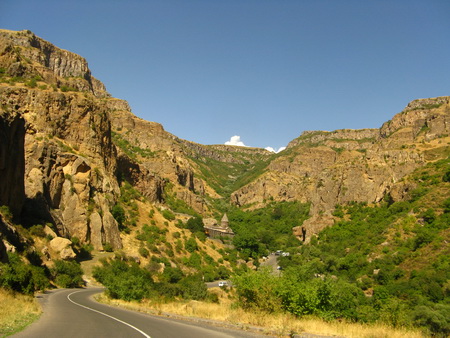 Ajsa, who travels with them during their out-of-the-way journey. This is a way of life we really would like to have maybe after 5-6 years. We could spend 4 days in the beautiful capital, Tbilisi, thanks to the Polish priest of the Catholic Church. The mountains of Armenia were a real challenge, especially for Árpi, since he had a diarrhea these days. But the sickness has gone and the joy has returned to the road, thanks to the unbelievable hospitality of the People of Armenia, we can say we will never forget these days. After visiting the famous Goshavank Monastery we stayed with a family. They had several kind of animals in the stable under their homes. The father is a beekeeper and the oldest son is a hairdresser by his profession, so Árpi's had his first haircut during our journey. Before the Sevan Lake we crossed a 2177m mountain pass – at the time that was the highest! :) In Jerevan we spent 8 days with Laci, our Hungarian friend – let say after this really great one week in the capital of Armenia. This rest was really appropriate that time and we enjoyed it so much.
Sept-Dec: Iran, Turkmenistan, Uzbekistan, Tajikistan, Kyrgyzstan, China, Pakistan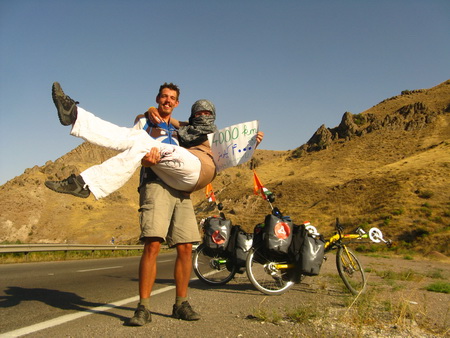 In Iran we spent 27 days, where we enjoyed the world famous hospitality of the Iranians. It has started in Tabriz and continued on the road to Tehran. We spent our nights in several family's home, which was a perfect way to get know more about the country and about their way of living. In Tehran we stayed with Neda and Alireza by CS. Our first meeting was in a police station, since we were so dumb and forgot to ask about the price of the ride when we hitched the last 100km on the crowded highway to Tehran. Surprisingly our driver asked 250 dollars when we tried to say goodbye to him on the Azadi (Friendship) Sq. We didn't pay that crazy amount of money to him so we ended up at the police station where finally we paid only 70 dollars – that was the price of the lesson: always ask for the price in advance! Regardless of this we had wonderful time in Tehran. Thanks to Abolfazl,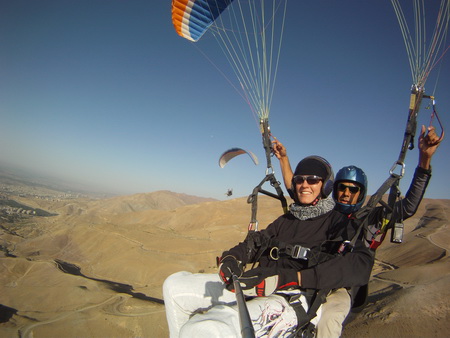 who was a crazy friend we've met on the road, we had a tandem paragliding flight above Tehran on Zita's birthday and the next day we've met two extremely kind guys, Hamed and Heshmat. They guided us through Isfahan as we were old best friends returned home. After this side trip to Isfahan, we hopped on our bikes and crossed the 2656m high Kendevan pass in a crazy traffic, due to the last weekend of the summer holiday the mountain pass to the sea was crowded by cars. In Iran the drivers have no clue about safe driving, we think that it's because they might have to follow so many strict rules by the religion in their everyday life so the people are going crazy on the road since the rules out there are not so strict. Anyway, we survived the traffic and spent some lovely and pleasant days with 3 different families on the coast of the Caspian See (25m below the "normal" see level). In Mashhad we were waiting 4 days for the Turkmen transit visa. As usually all over in Iran, we had lovely hosts. Their hospitality was gorgeous; they tried to make us to stay even after the 4 days… :)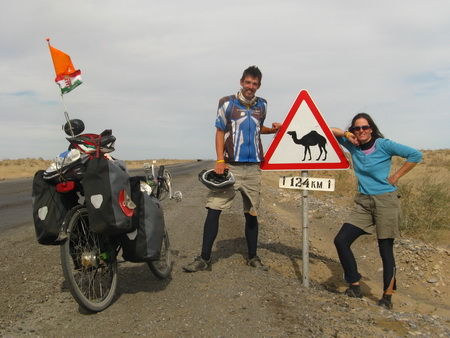 But the adventures called us, so we hit the road of Turkmenistan but only for 5 days due to our transit visa. First we stayed in the middle of the nowhere with some kind of neo-nomads, then we had headwind for several days. One of the most difficult challenges of our whole journey until now was the sandstorm before Mary. But then, as usual, we had really great time as we got up before the sun and we could see the sunrise in the Karakum Desert, cycled 137km in one day to reach the Uzbek border station half an hour before closing on the 5th day. Then we watched the sunset over the sand dunes and finally rescued a tiny little sweet kitty with hair growing out from its ears. Zita grabbed the cat and took it under her pullover to the next village where the kind local people offered a nice shelter. We hope even by now that the little cat has a good place there and give joy to the people around itself. In Uzbekistan, we have visited Bukhara and Samarkand, two of the historical Silk Road cities. We enjoyed them so much, although at that time Árpi had some serious problems with his teeth. Thanks to Bakhtiyor and his sister, finally we managed to solve the issue with a professional dentist.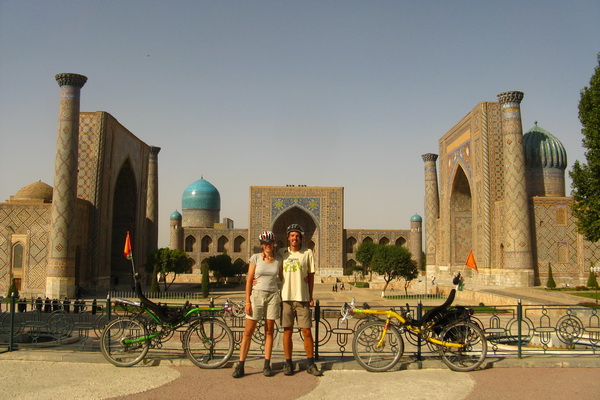 In Tadjikistan, we had to face a little problem at the border station where we originally wanted to enter Kyrgyzstan as the crossing was not open for foreigners. Since we had the special GBAO permit to the Pamirs, and there was no other way from Dushanbe to Kyrgyzstan, it was obvius that we will try to cycle the Pamir Highway which route ended up our most adventureus and beautiful hundreds of kms in our life. In Dushanbe we stayed with Raj, a superb CS guy from India. He managed to find a cheap jeep for us to Khorog, this way we gained some time for getting into the Pamirs before the temperature would drop under 0 Celsius degrees and having deep snow. On the "Roof of The World", we have met 4 cyclists from the UK and we enjoyed the wonderful company of Jill, Lee, Katie and Anthony for several days and kilometers. It's hard to write shortly about the Pamirs because we had so many extraordinary adventures there. The people live there a very simple life, they are very hospitable even if they don't have anything by the thinking of western people.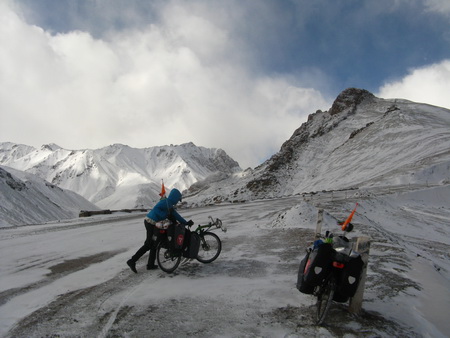 They live in simple, little houses, usually heated by dried yak poo. After we climbed the valley of Gunt, we stayed near the natural hot springs for acclimatization in Jelandy. Then we crossed our first really high mountain pass, the 4271 meters Koi Tezek. After this we had a 100km long day about 4000m asl. on the Pamir plateau, then we descended down the Murgab in a kind of blizzard, but luckily the wind came from behind us so it wasn't a big issue. Though a few days later, when we tried to cycle up to the the highest pass of the Pamir Highway, the 4655m high Ak Bajtal (White Horse) pass we got a cruel blizzard directly to our face, it was really serious. The only reason we continued forward was that we heard of a house with four people somewhere ahead. Finally, we found the house and survived with spending that night at 4400m asl. with a lovely Pamiri family. Next day we managed to cross the highest pass, then cycled through solid ice covered road to the lake of Karakul. The scenery was absolutely gorgeous, it would be hard to describe it by words. Snow covered mountains above 7000m, deep blue water… We really enjoyed it especially because we felt that we deserved it after all the challenges of the Pamirs.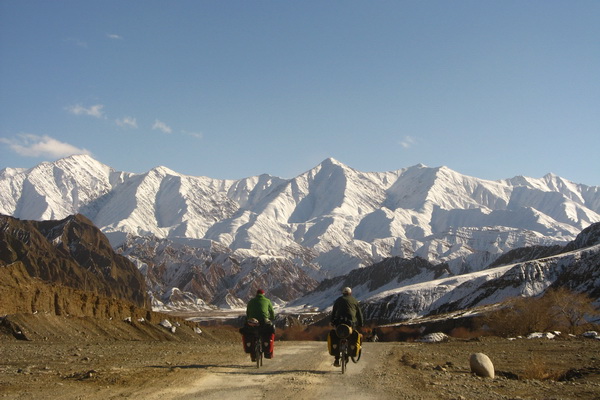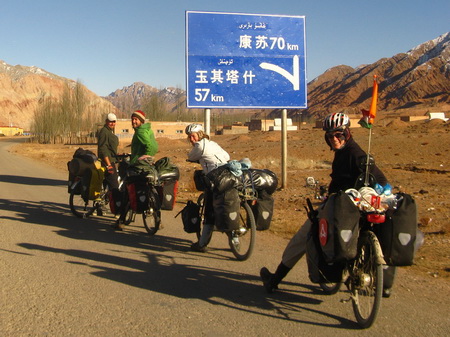 The last two passes to Kyrgysztan were covered by lot of snow so we had to hire a jeep with driver to cross these mountains. Luckily we were still in the company of six cyclists with our crazy English friends, so it did not effect our budget that much. After we stuck in Kyrgysztan for a few days of fun because the border to China was closed for a few days at that time. So we decided to cycle 260km to Kashgar and it was a good decision because we had really great time with our English fellows (a new pal, James, also from the UK joined us), the scenery was awesome and once we camped on 2000m high. By the morning not only our drinking water became frozen but our fingers too when we had to pack our stuff – we decided to camp never again above 2000m in wintertime. :) It was November this time. In Kashgar we spent 5 days with having internet connection and hot shower. We were in the lack of these things for long weeks so we appreciated it so much. Then we took a bus to Pakistan, Sost.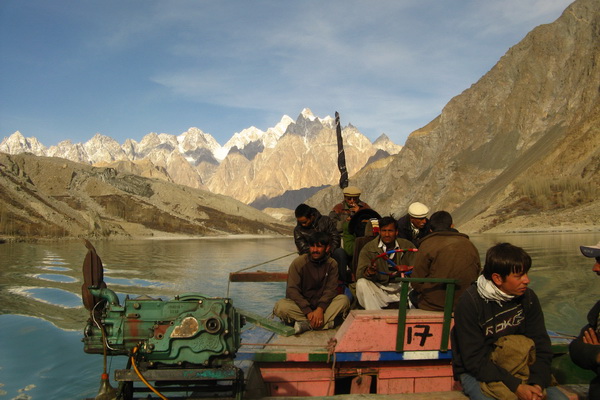 From there we cycled the Karakorum Highway (KKH) as much as we can. We found beautiful scenery among this famous part of the Silk Road, and the people were also awesome. In Hunza, Gulmit, we've found so much hospitality and friendship. This is the land of glaciers and the highest mountains of the world – and of course, the Hunza people. They were very nice and friendly, well educated folks speaking fluent English. We have been introduced to the Hunza culture by Qadir and Zahid in Gulmit. This little village near the Attabad lake was a piece of Heaven on Earth, the people are "smart" like people in any other western countries, though they are still living a simple, sustainable life so close to each other and to the nature and with respect towards their surroundings. Although we had so many difficulties on the KKH (diarrhea,
Árpi's teeth problem again, road under construction) this was one of the most beautiful part of our journey. In Karimabad Árpi climbed up to Ultar Meadow to see some famous peaks and an avalanche over the Ultar glacier. Later we met Nazim and his 92 years old grandma, who is still working on her land and cooking for herself as she is absolutely healthy taking into account her age. The KKH after Hunza was even more difficult, from Dasu until Abbotabad we had police escort all the way, though there were no serious security issues there, they just wanted to keep an eye on us. We can recall only one bad thing from this part of the journey; those stupid, little kids throwing rocks on us but fortunately they were not dangerous.
We arrived to Islamabad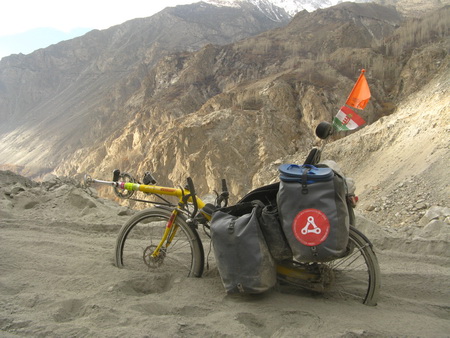 and enjoyed a very nice environment (thanks to Nazim), we met plenty of super people in the city, we even participated in a radio show, and we looked forward the coming days whilst we were waiting for the Pakistan Visa extension and for the Indian Entry Visa. So far we cycled 7000 wonderful kilometers, and we can say it was full of wonders because of the amazing people we have met on the road.
We Wish You All Merry Christmas and Happy New Year! :)
Zita and Arpi
http://cyclingthe360.com (English, not so up-to-date, but summaries)
http://360fokbringa.hu (Hungarian, more up-to-date and detailed)
http://facebook.com/cyclingthe360 (English & Hungarian, mostly photos, interesing & actual news, almost daily)
For more photos and videos, you can visit these:Picasa Gallery SetOnly the best photos Picasa Gallery
Youtube Channel