Good-bye Timişoara, Hello Serbia!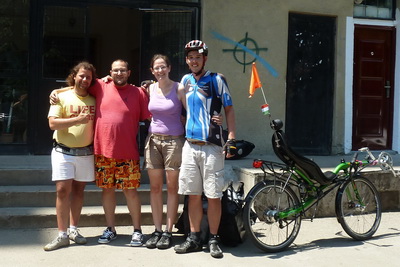 We only left Timişoara in the afternoon because the previous night Zita and Dani had a big Youtube party and I was writing the journal till 3am. We woke up late in the morning and took a while packing up our bikes. By then an elderly Hungarian couple arrived who are Dudi's neighbors. We had a good chat then they wished us luck plus Zita has received a necklace from the lady.
On the way out of Timişoara we stopped at a supermarket to buy some food, then we headed south. We had to stop frequently somewhere we found some shade because of the scorching heat. At the first stop we met this guy in a hat who must have had a heat stroke,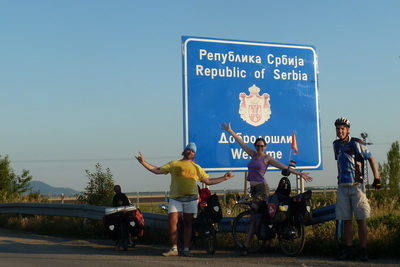 because he kept talking to us non-stop and he wasn't bothered at all that we didn't understand a single word he said. At the end he read us something from a book, maybe a chapter from the Bible. Our next stop was at a little shop. We bought some ice creams for 50 Bani each.
At the Serbian border we took over a 50m long queue and started to look for our IDs. We didn't want any more stamp in our passports that would have used more pages from it that we're going to need later. On the Serbian side the border guard came out of his booth
and started to tell something about turning back to Romania, cause in Serbia it's not good/not allowed to ride a bike. Read more…
Categories:
Europe, Serbia
Dolni Milanovac, Duna, Hotel Blagojevic, Hotel Garázs, Hotel Rönkház, Kazán-szoros, Kladovo, Mark, Poldi, Serbia, Vaskapu-szoros