Vratsa – Getting up in the Canyon and breakfast from CBA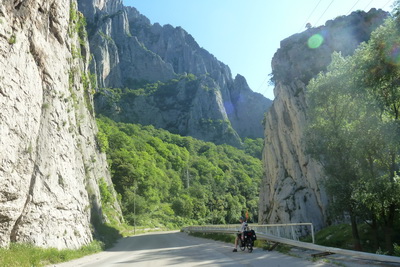 Dani as usual had got up by the time we got out of our tent near Vratsa, under the huge rocks. It was the first time we had seen the canyon in daylight, it was really wonderful, just as we had suspected at night, at the light of the stars. Dani had been sleeping just next to a board commemorating a young guys motor crash. The only fact that made it clear it was not his grave was that the Bulgarians do not bury people in such places. However, it was still a little bit morbid that Dani had been sleeping there. Of course, it did not disturb us at night, we found a place here, Dani found two trees, so we stayed here. There were huge rocks above our tents,
and it was a real experience to start from this place we only had to roll down in the Canyon, back among the rocks to Vratsa.
We purchased the breakfast in a CBA, yes, the Hungarian Shop Network in Bulgaria. Opposite the shop we found a grass-covered area, so we settled there to have breakfast. Dani had eaten so well that he even got down while we were gathering our stuff and bought some fizzy tablets in the pharmacy.