Beyond Sofia, over the hills – Love waits
We break the space-time continuum in our posts! First we publish the "yesterday's" stage, and then at some point we'll finish writing the Bulgarian border – Sofia stage. Till then here's this goat's story: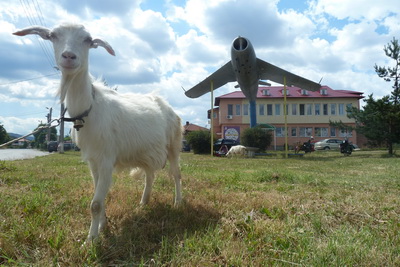 In Sofia we didn't wake up early, Zita snoozed the alarm as many times as possible. Our breakfast was the pastries we bought the previous day, and then we started to pack. It was a big job because the tent was hanging on the balcony to dry out. Zita and Dani put some music on to the Youtube which I didn't mind first, but then a "Let's find Stacey" sentence almost freaked me out, that this is it, but I counted till 10 and let them have fun, we won't gain much with those few minutes, plus my argument wouldn't do much good either. So everyone packed in their own pace. My bags were ready on the corridor first. Dani asked another 15 minutes, but looking at his stuff it was obvious he needs 2 more hours. Unfortunately I mentioned him this, so he decided to pack for 2 hours. Meanwhile I had other things to do too,
after Dani and I moved the bikes out I started to adjust Zita's pedal, she asked me to do for a while. It was a good idea I didn't do it somewhere on the road, because I had a major problem with the chain as I lacked of the routine and the appropriate tools. I had to extend the chain so I could push the boom forward. After putting the chain back together with Dani's help and washing off the oil, I noticed something funny on the bike. The chain was twisted… I can't be this stupid! :( I was fuming, was so angry with myself, I had to restart the whole thing. This time I was quite quick but got oil all over myself. While doing this Milos, our host had arrived, that was the first time we met. As soon as he exited the lift, he bumped into me fixing the bike. He had a real look
at the bikes, then started to talk all three of us. Who knows how long it would have lasted if he hadn't had to go to work by noon. While he had a shower we carried all our things to the ground floor. We took a jumping photo that wasn't great for the 6th time either, but still was fun. I imagined us form the outside. Three crazy Hungarians spends 2 days in a Slovenian guy's flat who they only meet for 1 hour, then at the meeting they dance and jump for joy for the camera. Total nuts. However, none of us felt it was awkward, on the contrary it was so natural, and we had a great time. Hopefully we meet next time, somewhere else…
We only did 200m when a Billa (shop) came along, where we had to buy food. While Zita and Dani were shopping, I fixed Zita's battery charger and now we can use both rather than charging via the Bike2USB. We only need
one more USB charger for the camera then we won't have to worry about where we can charge the flat batteries. Today we had a quite monotone day, and this turned out to be good as we cycled 86kms with an afternoon departure, I think we did well. The previous day I drew a map form the gpsies.com into my notebook, so we knew exactly when we're going to have the uphills and how steep they will be.
We stopped for lunch in a village center. There was a military plane in the middle of a junction hung up at 5m high. The wind was blowing its wings hard and there were goats tied up to the poles that hold the plane. This seemed absurd and we liked it very much so quickly sat down on the benches under the plane to eat.
We had a nice pace and suddenly we passed the 50km mark, of course this was very heartwarming for me. :) I always knew this group can go if there's a less exciting landscape, and we don't stop at every corner. Today was like this.
We actually made the day exciting by missing a turn. Dani was on fire and he kept surging ahead, when I missed the turn he was way ahead. I tried to honk or shout but he couldn't hear me. I told Zita to wait at the crossing we missed and I went after Dani, it took a while to catch him on the downhill and thankfully he also noticed something was fishy. We lost 100m elevation by the mistake, so both of us pushed hard to get back to Zita. These recumbents can go pretty fast if you push enough; we lost about 20 minutes with this. First I was angry with Dani then myself too, but a few hours later I put all behind.
We quickly found the right path which welcomed us with a 150m uphill. In the pass it was cool again as we reached 800m above sea level, not the first time on the day.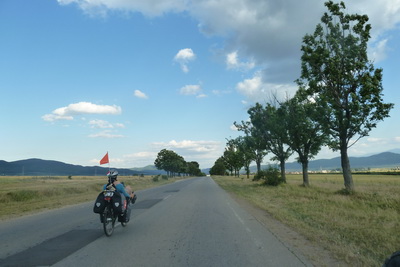 We found a castle ruin along the way we had a quik look as it was getting dark. We switched the light on than carried on downhill. It reminded me of my childhood videogames, where I had to go around the potholes, but this was so much better, the resolution is perfect, and any mistake can be fatal. We put on some long leggings because we had to carry on due to the lack of water and the nearest village was about 10kms away beyond a 100m uphill. There was a dirt road on the right where we stopped to check the GPS. I planned the route that way but that time of the day it wasn't suitable.
However the tarmac road takes us to the village even if it's a detour. But it's worth it because it's almost completely dark. It was a 3 house farm rather than a village plus there was no water available so we moved on to the next place, to Gorno Varshilo. Due to the darkness we didn't want to look for a campsite, so we knocked on someone's door if we could camp in their garden. We tried to explain the owner that the driveway would do too, he just shouted across to his neighbour who spoke little English. He made a call then disappeared. Then he returned and waved to follow him. Finally, we'll have a garden! We were happy. We went to a yard that seemed great.
We were pointing at the ground saying "palanki, palanki (tent)", but they said no, let's go in the house. Ok, maybe we have to drink snaps. But no, they told we have to sleep there! Wow, that's more than great. The sister of the gentleman, Svetla is a Lutheran minister, who owns that house. As a thank you we offered some Unicum, then started to unpack our food, when he waved and said "my house", pointing at Svetla who's preparing dinner for us. Few minutes later we got poached eggs with, home made goat cheese, nuts, and salad. We tried to communicate every way possible, then helped to clean up the table and started to make our bed on the floor in the room.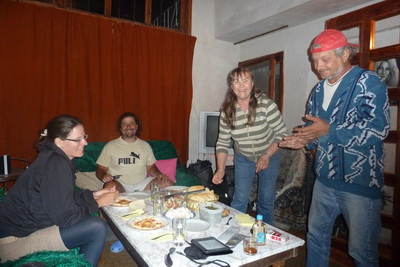 Cause it was around midnight that time. And again he said no-no, Svetla was making our beds upstairs, "this is my house", here you won't sleep on the floor. Well, thank you, what else we could do?! :) Dani befriended him, and we were really glad for it, because we were really tired plus he was a heavy smoker what we forgave because what he did for us. Here we are under a roof, again. I almost set up my tent in the middle of the village because of the tiredness. Being patient paid off again. Zita and Dani are already asleep, so it's time for me to rest too. I try to write every day from now, maybe it will be easier, and maybe the end product will be better too. The problem is I have to catch up with the last 5-6 days between the Serb-Bulgarian borders to Sofia. :) This should be our biggest problem. Also we pledged we will wake up early cause it's not fun riding in the dark.