Утунк Пловдивба – Long story of a short day
Dani woke us up at Svetla's around 8 in the morning saying the breakfast is ready. This felt embarrassing. They were too kind with us. George, who helped us yesterday was here too, told us how he has 3 heart attack and a surgery too, but he still smokes, drinks. It was great to see the way he was smiling, and enjoying life.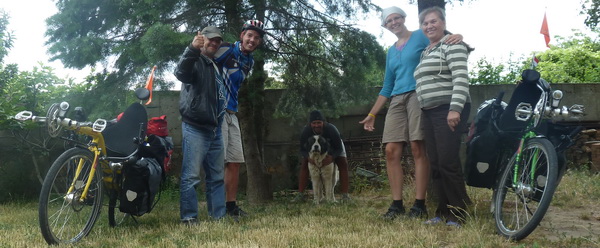 I will have really good memories of Gorno Varshilo, thanks to his joy for life. He spoke simple English, Every 5 minutes he said I'm happy, or I'm very happy, and my friends, also Love. :) He really liked us and we saw this on his face. I remembered those who we welcomed in Budapest, Henry and Jamie, who are in South East Asia now, or Előd and Lehel who have travelled across the entire Europe since. We tried to help them and make their time at Budapest be as good as possible, which made us happy too. We saw something similar on George's face, that made the farewell better. It's difficult to accept such love from a stranger, but it was easier as I remembered myself being hosts for other strangers.

We really enjoyed the undulating road on the next 10kms. Later we stopped twice to get some food and when it started to rain. While under cover we finished the remaining pies, and had a photo taken by a local girl. When she saw us firs she ran away, we're thinking how ugly we might look, but she just ran back for her camera. We also tried to give her a flier of the 360°bringa expedition, but it wasn't easy due to a massive ditch in the middle of the road. She was on the other side. They were building the sewerage system.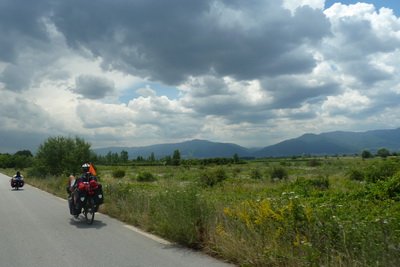 Later it started to rain again, at first we ran under cover. At one of the stops I took time to modify my bike a bit. I had trouble getting off the bike, I only managed to get off it safely when the road was flat. We put a string on the bike stand and now I can open it while sitting. From now on I don't have to worry about the bike falling cause of my balancing act. I still have to get use to the new invention, I keep forgetting it's there. The next stop was Pazardzhik, this town was half way to Plovdiv.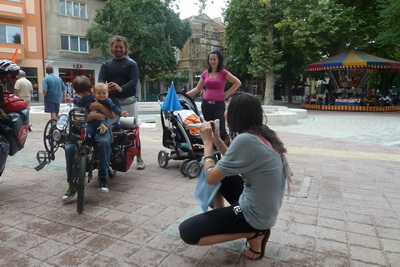 We stopped at the main square for a coffee/beer. The bikes were extremely popular. Lot of kids jumped on the recumbents to get a photo. We also give them fliers, therefore the second most like on Facebook is from Bulgaria. :) On the way out we stopped to buy some cherries, take photos, and I handled the curious people. It's great they don't touch our stuff, the respect out things, hopefully it will stay like this for long time. We had a great tailwind after Pazardzhik, so we arrived to Plovdiv in just over an hour. We followed the GPS in the town that turned out to be quite funny, first a pedestrian overpass, then an underpass.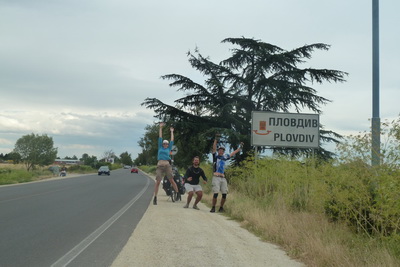 On the way back we chose the normal roads for cars. There's always something good in the bad, we found a really nice square next to a walking street where we started to cook. Meanwhile a Kurd gentleman noticed us, Ahmet who invited us to his table for a beer/coffee. He really liked our story, although his story was something too: once the Turkish police took all his belongings, has shot at his ribs, cut off his 3 fingers, and so on. Today he lives in Germany for 15 years, has 3 sons and 3 daughters, a politician for 3 years and represents the Kurds in Europe – if we understood well.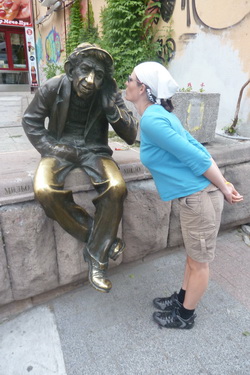 What's interesting and may be good for us is that one of his sons lives in Erzurumb, so it's possible that he can help us when we're there. Lot of people told us to avoid Kurdistan, the Kurd region as their people live under massive oppression. How lucky we ran into a Kurd politician. He was a really cool guy, he gave his e-mail address, we will contact him for sure, if for nothing but to translate our 10 important sentences about us, who we are what we're doing there.
After eating and finished talking to Ahmet, we moved north to Trud, to Petya who's a friend of Magdi. He translated us the 10 sentences to Bulgarian that we still use. So we're under cover again, and I'm the only person awake. We agreed to talk in the morning as all of us were really tired. Petya possibly knew in the morning what kind of day he'll have unlike us, who kept stumbling into more and more interesting people, adventures. We also had some trouble to find this house, so it wasn't a boring day.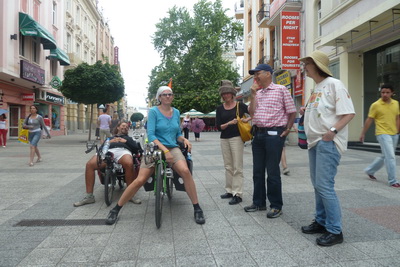 If we have boring days in the future, we'll probably make it fun too. :)
As I wrote before we had trouble to find this address. We should learn from this. There was a given address. The GPS doesn't recognize it, and we don't have map. We asked in a little shop, who showed the street after talking for a while in Bulgarian.


We were looking for house 32. We found the 26 and 46, but the rest doesn't have a number on them. We knocked into a few houses but they didn't know where it was. I was angry, why don't the know it, don't they live in this village? If someone came into my street I'd know where he wanted to go
even if he talks urdu or was a deaf. Then Zita lost the plot too, a biker came, who told us to follow. We went a km away from there where he put down his bike and invited us in. Ok. He's very kind – Dani was right – but where's the address? We had to wait an English speaking guy who was in the shower, when he arrived he just said "I don't know". We should be somewhere else and no one knows where that place is. Then I realized it! Shame on you Arpad! The reason people didn't get what we wanted and didn't know the address, cause it was written in latin rather than in cyril… We haven't thought they don't use latin letters here, we've seen so many words written in latin. And I even know the cyril alphabet but I lost my cool before thinking… I feel bad that we thought they are the stupid, but we were. It was a good lesson. We should keep the followings in mind: 1. Never loose your temper. 2. If everyone seems silly around you doesn't mean they are the silly, but you! At least in that circumstance. The end of the story: While we were waiting for the guy in the shower, Petya sent us a text which made me even angrier, so we left and went back to the previous place to meet Petya's dad who took us to a totally different location that we wouldn't find without them. But now we're here.
PS. It's unlikely there will be a post every day. It would be great to finish writing the previous stage.