From Plovdiv to the church garden
Lunch with Petya
On our rest day in Plovdiv we woke up around 9:30 when Petya was already at work, the rest of the family just woke up too and finally his little 4 year old son befriended us.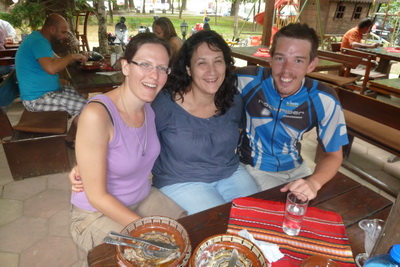 .
Stanimir couldn't make to be our guide but we arranged a meeting at lunch with Petya. We sat in a restaurant next to a tiny park and it turned out to be the jackpot. The place was very friendly and cheap and even the toilet was fascinating, we liked the design so much Zita and I agreed to make our future bathroom like this. We had a good time with Petya despite the short time.


He's an ex-collagegue of Magdi, who I went to College together, and she asked him to translate our 10 key sentences to Bulgarian. He also offered his hospitality straight away,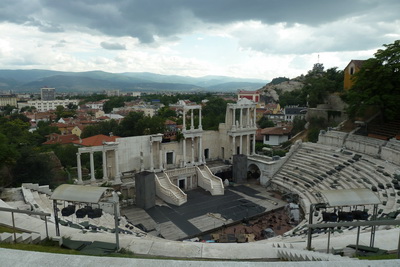 even though he already knew he'll have a busy week this time around. He told us how glad they moved to the village 3 years ago, because the life is so much better, it feels like they are part of a big family. We also told about our journey and our silliness yesterday. Of course Petya told us he could have given detailed description,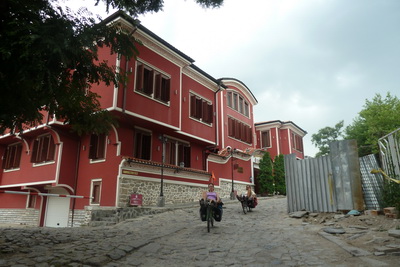 but we told it was better this way as we will learn our lesson. We're happy we met Petya in person too; he turned out to be the cool guy we imagined through his e-mails. It would have been shame if we missed the opportunity to see each other. Thank you very much for the hospitality, you made our stay in Plovdiv brilliant.
You WON – in Plovdiv
After lunch we went to town to do some things then we cycled up to the old town on the top of the hill.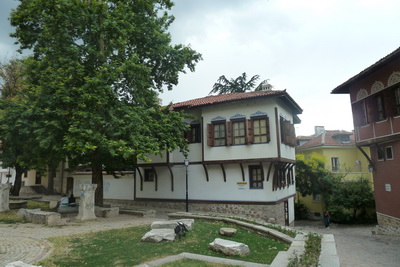 We had a look at the ancient theatre then strolled back to the center on a bumpy road thanks to the macadam road. The old town is the best district in Plovdiv for sure, the inner town is nowhere near that. We could spend days here with a guide like Stanimir and a good camera. A lot of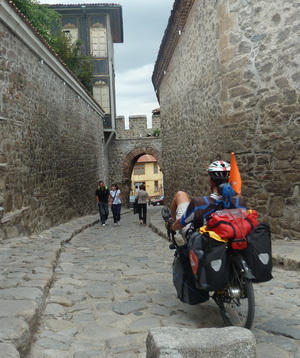 people did this way. The nice weather attracted more tourist than before, so we had even more admirers, curious people around which was not bad at all. So far we handle them very well, we have a few words with everyone who comes to us. Sometimes it feels strange having many people taking photos of us. :) But it isn't a problem, we knew this will happen. In the old town we met a Hungarian family too and Zita gave them a Sportszelet chocolate bar packaging. It was a "winner" paper that could be exchanged for another bar. We got that from a friend in Hungary,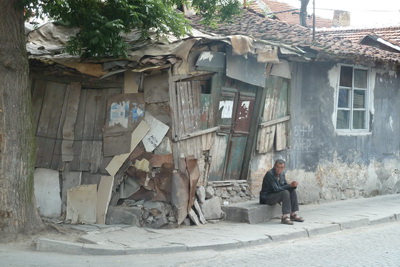 but had no time to exchange it so we passed on. :)
Camping Riverside Bugville*
It's good to be away from the busy towns and be out in the nature, we set our camp up 10kms away from Plovdiv along the river. We invited Dani it our tent as ha couldn't find a suitable place for his hammock, plus there were way too many bugs, mosquitoes around. While moving the bags out from the back of our tent
so all of us could fit in, I left the door open accidentally. This resulted an unwanted guest, a huge spider we've never encountered before in the wild. After the surprise we evicted the spider and burst into laughter as we moved Dani in from the bugs and spiders. Finally I could write without struggling, hopefully I will have more time to write from now on. There's a lot to catch up on. I hope we'll catch up with the miles tomorrow,
we made a 65km loss today according to the plan… The landscape doesn't look too exciting but we'll see. I'm not worried about the schedule, we'll get the invitation letter for the Iran visa when it arrives. Till then we'll discover Istambul, then play catch up with the lost time.
Breakfast with a group of kids
On the 20th day of the journey we woke up relatively late and by 8:45am we were on the road.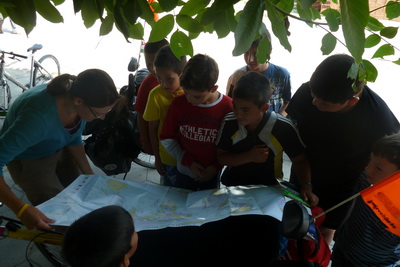 Dani woke up hours earlier and was walking around, met some local fishermen as he was waiting for us. We told him to wake us up next time – he wakes up around 5am. We stopped at a shope in the first village where we met a group of kids, who clearly enjoyed our bikes.
They escorted us on the way out with loud cheers. I noticed here that I left my military cutlery at the shop. Hopefully the shopkeeper lady found it
because she gave us watermelon before we left. I'm sad for the cutlery set as I have nice memories about it.
Lunch with Arman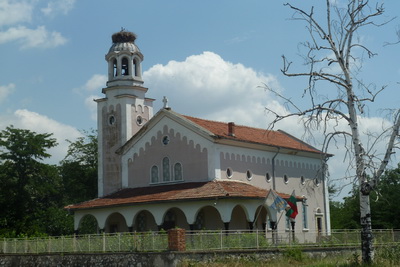 After breakfast we hit the road. Shortly after we lost Dani. He had some gear problems, so we stopped regularly to wait for him. At one point he appeared with a companion.
We met Arman, a French-Turkish lad who was having the same Ortleib bags on his trekking bike as we have. We stopped at the next marketplace along the road and started chatting. Arman was born in South Turkey but grew up in France. He studies to become a geography-history teacher,
but he had a gap year when he worked to have enough money to have a 3 month trip back home to Turkey. He told his story in a restaurant at lunch. We was excited to get home and was riding a much faster tempo than us, so we parted ways.
A carriage and a BMW on the same road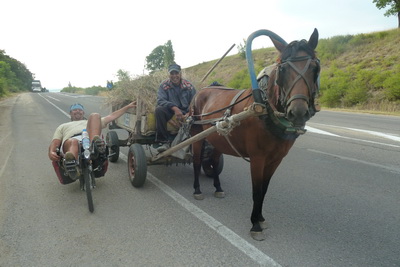 The miles gone faster than in the morning. The landscape was nice but not as exciting as on a lower graded road where we could meet more people and see more villages. We passed a happy man on a horse carriage, who we passed 3 times because we stopped to take photos. We waved each other every time and he responded with a smile.
I wonder how it feels like to be on a carriage when he sees expensive cars with people with different lifestyle in them passing by. Does he envy them? Who's happier? One thing for sure, it's less likely to get to know the driver who locks him in a black box and goes 70-80km/h.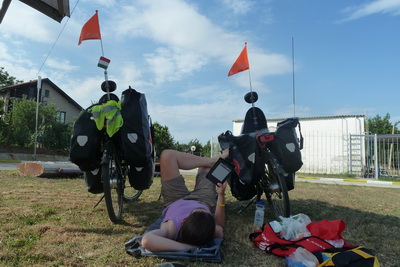 At a petrol station we had a break where we fixed Dani's bike while Zita enjoyed the Kindle.
Camping Church garden**
We finished the day in Podkrepa. When we left the nr. 8 road we spotted a church in the middle of a village. We found it's yard and got permission after we showed our Bulgarian travel certificate (thank you Magdi and Petya for it). We had a lagre group of kids who we got rid of by the help of some local adults, then we cooked dinner: spaghetti carbonara, with local goat cheese and wine, then we had shower; this was the first time we used our 10l Oertlieb water carrier with the shower head. It was brilliant, Dani even decided to get the 4l version for himself. We spent a bit more than planned, 3683HUF, but that included the lunch and dinner.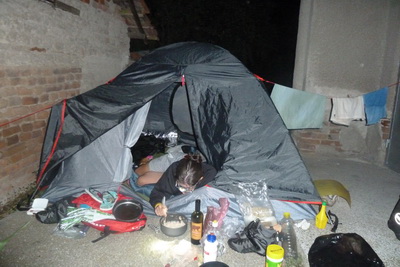 We could send less if we paid attention at the shopping. It happened a few times that we bought too much goat cheese (300HUF/kg) and had to throw out cause it's gone out. Or some other cheap food came along we couldn't resist. Also we carry lot of food for hundreds of kilometers. We figured we should only buy veggies at a grocery store and not in a supermarket. To sum it up, we have to improve our Food Management.
It was interesting when I torn my shorts – as always – and thought about what to do.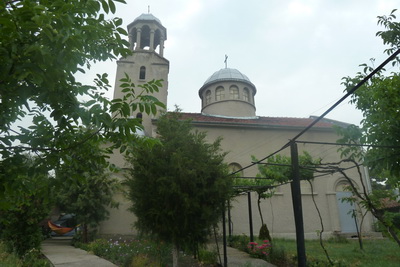 Should I throw it away and buy a new one that costs time and money, or sew it, but then had the winning thought. Tear it. It looks funny but still the best solution. If this wasn't a road trip but a normal every day with work, it would not look well. :)
In the next post you'll know how we got to Turkey.