We arrived in Turkey
Alexander, Lubomir and the story of the 100 km watermelon
The starting from the church garden wasn't so easy that we thought.
Dani woke me up and I started to pack, leaved Zita to sleep.
I packed the tent, so she was just lying down in a little blanket; only the outside sheet was there when she woke up. We had our breakfast in the park between the church and shop, the menu was bred with margarine and honey.
After the first hardest 10 km (when we are in the sleeping-bag yet in mind and our muscle are stinging) was everything quicker. Before the first top of hump, we met a pair with country bike and not so much pack, just one of them had a backpack. We started to talk with each other: they were Alexander and Lubomir, father and son, who were bicycling for 5 days from Sofia to Burgos and back. They are reeling 200 km per day which is very hard, even if they are doing this "just" for 5 days. We were talking just for few minutes, didn't want to retard them so everybody can go further to reach their goal. At the hump we started to laugh very much as just remembered that we are carrying a gift watermelon more than 100 km. We made also a video from this but as our camera is so new and made in HD version which is so big (more mega) – we cannot upload or play or to just over code with our notebook. The solution will be the following: we will use the old, spare camera for making videos. One of us will make the videos, the other one the photos.
:)
Way to the Turkish border – the kilometer cavalryman and his kilometers
After the hump we arrived with crunching wheels to one Lidl. This is the last chance to buy cheap and junk, western products. We didn't buy any competent thing: chocolate, ice cream, sweets, hazel fritter. Dani was tired; Zita wanted to wash so started to find a right place: somewhere where Dani could sleep (anywhere) and somewhere where Zita could wash (where can be found water) and where I can have an internet connection. The last would be the hardest work, but after 100 meters just find a free net connection. (we used to do the following: I'm going on front with my mobile to try to find the wifi and if we have luck, we just stop).
We just stopped in a restaurant near to a camping: we ordered a bear with Arpi, Zita went to wash and I started to use the net. The bicycle pair from the morning and Arman said as well that the road between Svilengrad (Bulgaria) and Edirne (the first town in Turkey) can be done by bicycle but I wanted to double-check. The first website shown by Google was Sofa's and Felix's blog. Zsófi és Félix They were here last year and choose the Greek side to Edime but find motorway. But just read that they choose the couch-surfing to Edirne.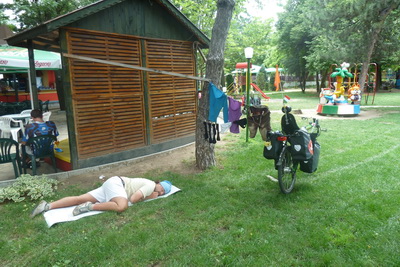 Why we didn't thing for that until this? I just wrote for few guys who were online not so long, maybe I can have some answer for the last minute couch request. Last minute, maybe we can arrive today evening to Edirne. As I knew that I can be online for a one more hour at least, I left time for the answer. I spend this hour to upload pictures and at the end, I got answer from Ali on coach-surfing: he is waiting for us in Edirne. Joy and happiness, I wake up Dani and Zita is coming back as well so we can decide: bicycle to Edirne and sleep in house. We were very happy for good news, we merit it.
Ali is waiting for us in Turkey and to arrive in a new country like this, will be a good feeling. Even so when I crossed the beach going to toilet and saw the pools, I was thinking to stay and take a rest,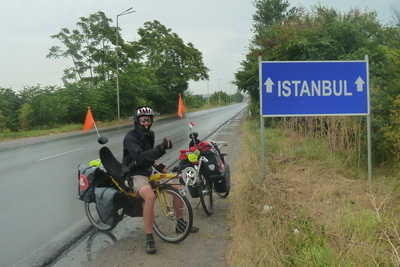 swim and write our memoir. I knew, Zita would love it and the cavalryman would excuse for his kilometers. If we would stay longer would cost 7 euro/person so we decided to go further, this will be better also for Ali. Was a good idea to carry on because later started to rain as well when we across Harmanli. Started mildly but at the end we had to take on our rain jackets, we were happy that didn't straw it away 7 euro/person for this weather.
Rainbow-gate to Turkey
As we could carry on with 30 km/h, the rain didn't disturb us too much. In Svilengrad we stopped to take a rest and to dry. Now Zita ordered a café for 0,8 Lave (about 100 Hungarian forint), we wrote some letter to Ali double checked the meeting place with him and carry on: go to the border. We stopped once more to change money. The border was monumental like a flight terminal. In a gas station Dani just stopped to upload his horn with bar and we outrun him.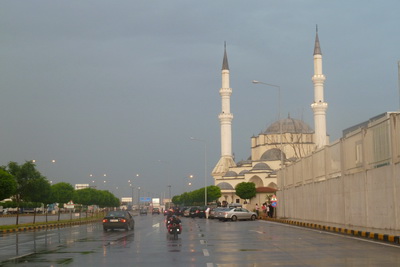 We thought that he already passed the border so we were "running" and we showed our passports and passed the first gates. We just went under the terminal terrace before the rain when Dani wrote us a sms that he is in Bulgaria yet and looking for us. We answered him and about 20 minutes later he arrived and got back our loyal itinerary mate.
Before Dani's eyes happened the guard changing, this is why he was late. At the Turkish gate we asked the Turkish visa for 90 day, it was 15 euro/person. After this we showed our passports twice at the Turkish gates when the immigration officer asked the bicycle's papers. We said to him, that it doesn't have engine so we could pass. We just started to go into the middle of rainbow, into Turkey. Because main time from Bulgaria the sun just woke up and made a big, full and from one side a double rainbow. It was beautiful and we had to pass this to get to Turkey.
Ali in Edirne, who knows exactly what we need
We felt the culture shock even at the border: huge mosques next to the gate, the Turkish songs are audible at the terminal; you can read the text about Turkey in LCD TV's.
We had 15 km more to Edirne. We were carrying on in the turn-out because the way it looks like a motorway without any overpass, we could turn it left just with lamp from the interior zone and wasn't rare the 30,40 km/h tables as well. In a word, there was a 2 meters bicycle zone at the edge of the road. Once we met 4-5 big, white dogs who were barking and chasing us. Wasn't nice t all! At the next gas station we stopped but felt the adrenalin yet. We didn't use the Dazer dog alarming until this, but after this Zita got it as her bicycle horn wasn't working. At the gas station we had a fight with the mosquitos so we carried on fast. We had to pass all Edirne until we met Ali and his friend at the meeting place. At this hurry I was very stressed, we were late, had to write sms, had to run, and were also traffic, slopes, and as the rain was very warm but didn't want to stop as we didn't want to be so late from Ali.
Ali and his friend were also by bicycle so we could go further together to Ali's flat, which was a 100 foursquare flat at the 3rd floor. We put the Ortlieb bags into the shower and washed the mud from it. Ali was very helpful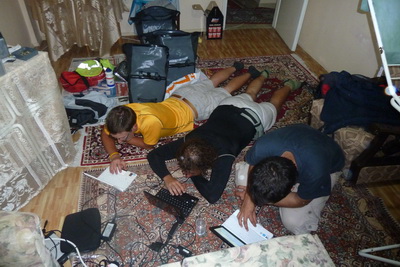 and as he is also a big bicycle man, he knows exactly what we need. We went together into a close restaurant and had dinner. After it we had showered, Zita went to sleep and we were talking a bit with Ali. It was very nice, this couch surfing is incredible. 1400 km away from home, you arrive in a nice place with a local guy who knows your problems, is good to speak with him and is very helpful. He posted about us in a Turkish bicycle forum, , helped us in the itinerary managing until Istambul, he narrowed a lot about Turkey: he said that if we would like to use our tent, we have to find a Apec gas station, as they have a grassy garden and usually they let people stay there, they are open all day which means that we can use the nice and clean toilets as well.
Ali offered us that we can stay longer if we would like and we decided to stay: we deserve a rest, to upload ourselves with energy, have time to write our itinerary report, wash our clothes, cook and eat a good and also to see better Edirne. Ali narrowed a lot from the city and at evening also got a correct guide in sms from Tamás Huber,
thanks him very much for that. Ali said that he knows that dogs who were chasing us, once he had the same and he also felt with the bicycle, but thanks for luck, the dogs stopped yipping and left him. He thinks that dogs get angry because of the moving of the wheels, and he also has that Dazer dog alarm which is very good, so he was salving us in the dog thing and also in Kurds. I showed him where we would like to go across in Turkey and he said that on that way won't be any problem with Kurds. End of soothing section for parents!
Ali left us alone in the flat as he has learning hours all day (he is a 5th year medical student, will be a chemist so he is a grave guy). Zita already switched on the washing machine, went down to the shop for some food, Dani blended the roundel cake from the rest flour bought in Temesvar and I cooked it while wrote this entry. Now we will eat and go to Edirne, at evening I will try to recover the behindhand entry about the Serb boarder and Sofia.
Categories:
Bulgaria, Europe, Turkey
Alexander és Lubomir, Ali, Bulgaria, dinnye, Edirne, Harmanli, kutyák, kutyariasztó, Svilengrad, Turkey