From Negotin to canyon – The first days in Bulgaria
We make up for the "lost" days now, so let nobody get frightened, we did not return to Bulgaria, just we do not publish the diary in chronological order. The events contained in this section and the following one happened to us
after Serbia
, and
before Sofia.
With one leg to Negotin
Last time I ended up at our arrival in Negotin, the last town before the Serbian Bulgarian border. This day, Zita lost from her shoe a screw that held her SPD cleat.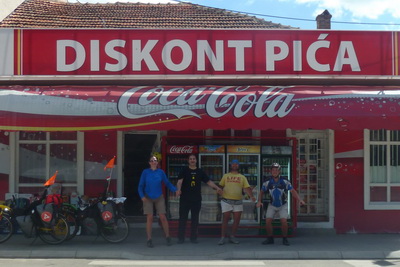 We removed the cleat so that it should not fall because of being held only by one screw then we changed shoes. So, I was riding to Negotin with one foot.
Just as we entered the city, we caught sight of a bike shop, I showed the cleat and explained that we needed a screw. The guy was very helpful, but he did not have kind of screw, only longer. He showed me to wait because a huge guy started to bargain for a motorbike. As I saw the situation, without understanding what they were talking about, it seemed to me tha guy wanted to buy a motorbike for the price of a croissant on credit. And he seemed stupid. Or it was only me who was angry with him, because he was just taking up the seller's time and mine as well, just when I was very hungry. Of course, as I had thought, I was waiting in vain, the seller could only advise me a mechanical shop some corners away, along the main road.
We were however so hungry, that I really needed to look for something to eat.
At the end of the main road, the kebab seller had already shut down, so we were looking for a pekara, that is to say a bakery shop. At this point I felt so hungry that I nearly fell off the recu. Int he pekara we had a good snack of the mini pizzas and the nature yoghurt, which made me feel somewhat better, but I still needed something. Some good rest at some good place and a screw for the shoe. We fancied the park at the end of the main road for a siesta, but we wanted to find a shop first. We realized a shop called Diskont Pića, which made us laugh. Dani had just said a few minutes before he did not like the place and wanted to go to the ass, so there we were. (In Hungarian, picsa is an ugly word for bottom.)
The shop itself was a discount shop for drinks, we even met the boss and took a common photo with him. We bought a lot of cola and beer and sat down in the park on a bench. Near the shop I found a bike service, but unfortunately it was closed so I knocked in vain. We opened the cola but did not feel any better. To make things worse, some gipsy kids arrived. After having chased them away, one of them stayed with us and almost managed to steal Dani's sunglasses. We realized it just in time.
After all this we thought we had better leave Negotin, this town was not suitable for an afternoon siesta. Just leaving the town, we found a screw shop, where we found the right screw, but not with an allen head. We purchased three spare screws and Dani bought a lot of duck tape. Such things may come handy on a bike tour. On the outskirts of the town we found a deserted industrial area where there were some rusty tanks. This place, I do not understand why,
really fascinated Dani, we did not only stop there to piss and brush our teeth but also to take some photos. I laughed well at what places Dani wanted to be photographed. Well, he is not the typical mass tourist, that's sure. While other people want to be photographed in front of famous sights, he asks me here, very enthusiastically to take some photos about him. He even asked me to do it in a way so that the rusty tanks be visible.
After Negotin there was only one more village before the border. At the edge of it there was a cemetery, which was really different from the ones at home. There was no fence around, the graves were right by the road, the majority in marble, with the photos of the deceased person and with plenty of artificial flowers. In the village we spent the remainder of our Serbian money on food and set off towards Bulgaria.
We quickly reached the border where we got through without any difficulties. Bulgaria was a completely unknown country for all of us, Zita was here at the age of 1 or 2, but she does not have any memories, she was only told stories about it.
We arrived in Bulgaria
We really fancied Bulgaria at the first impressions, at the petrol station we managed to fill up our horns with air and the restroom had high standards, although it was in the Balkan style. The road from the first village was wide and of good quality. We chose Vidin as our destination for this day, but already halfway we went off the road at Gamzovo to try our luck.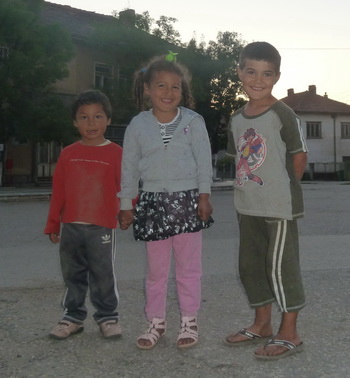 We asked a lady for water, then tried to ask some local people at the main square where we could put up our tents, but we did not manage to make ourselves understood in any language. Otherwise the whole village was just like one in a Kusturica film, which we really liked. We did not find any site for our tents, however we made the local youths very interested. It wa here that we started the unga-bunga, I tried to take a photo of three kids, but they were just standing there very stupid, the elder took the younger by the hand, they were just looking at me, as if I had come from another planet. I thought "csíííz" would not work here so an "Unga-bunga" came on my lips, which had great success, the kids laughed at once. Some teenagers followed un as far as the end of the village, that is the top of the great hill. One of them, the most talented one was riding by us sitting on the handle bar of the bike, looking backwards and riding forward, which was in fact backwards for him. All this on a steep climb uphill. He looked a really talented guy, was very interested, but we could not talk to him in any languages.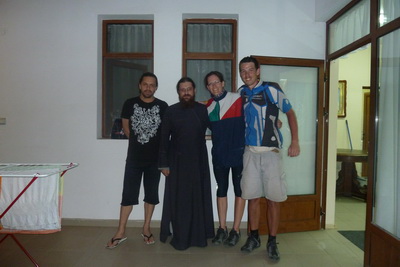 While riding by him, Zita and I were thinking of the fact that he looked really talented, would he succeed in life starting from this small Kusturica village? Would he become an important person orr would he live all his life in this village as supposedly his parents did? It was slightly sad to think that no matter how talented and hard-working this guy looked all he could succeed in was to ride on one wheel and ride backwards without grabbing the handle bar. This guy accompanied us almost as far as Vidin. After the long uphill there came a long descent, at the end of which he disappeared from our eyes from in a moment. We wanted to give him a reflective stripe, on the one hand to have some gift from us, on the other hand for him to be visible on the way back to his village, because it was really getting dark then.
Parish Hotel*****, Vidin
We were driven by the stimulus, so we decided to ride as far as Vidin, although it was already really dark. At the diversion we were also driven away, so we could not ride straight on, we had to turn one avenue later. However, right on this way we found a church with a garden at high standards and a parish behind. Zita knocked and soon we were invited in, not only in the garden, but we were given a whole room in the house, we slept on the carpet of the dining room. We were even given a shower, a restroom and a kitchen,
we were wild with joy. Dani lay down on the carpet, I connected all our gadgets, Zita made a good lemonade (we had al least a kilo of lemons) then we took a shower one after the other, then we collapsed in our sleeping bags. It was a long and tiring day, we all were very pleased to have ended in such a good place under a roof..
The following morning we found the priests nowhere when we left. We hung a letter of thanks on the door handle with some vanilla roods. In Vidin we saw another rider on a recu, but unfortunately he did not catch sight of us, so we could not talk, although we would have fancied. We did not think we would meet other riders on a recu here. We exchanged money then sat in a place to use the net and sent the Couch Surfing requests to Sofia, since we did not know where and how we would put un in the capital of Bulgaria.
Siesta with Stephanie, good-bye frisbee, good-bye Danube! :)
We left Vidin in the direction of south at noon. We were riding along the Danube. In the beginning, the landscape was not to our taste, we did not even see the river and we had to climb a hill with our tired muscles,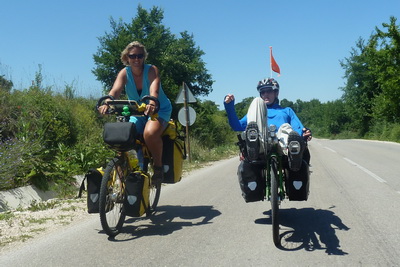 then to go round the machines at a construction site with half the road closed. Right when this stage was over, we met Stephanie, who is a rider having travelled to Australia and India, all alone. We had a great talk by the road, she examined our lying bikes and we listened her with great enthusiasm as for what she had gone through and how many places she had been to by bike. In fact she is approaching the end of her two year long trip and if we look at it on a world scale, after Australia, Germany is really near, almost in the neighbourhood. We managed to persuade Stephanie to turn back and come a few kilometres with us, to have lunch together and to swim together in the Danube. This was how she greeted and how we said farewell to the Danube, since we were riding in the opposite direction.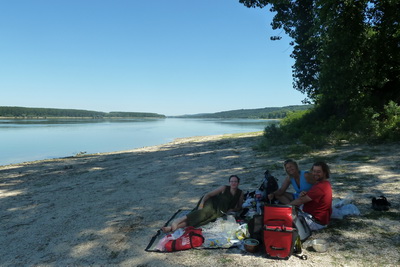 Stefanie was right coming from where we were going so she could tell us what landscape to expect as far as Montana. While the spicy-tuna pasta was cooking, she told us about Australia and India and about her journey. Being a German, she could get a visa very easily, so she could travel spontaneously, just going where and when she wanted to. It was only in Pakistan where she was refused the visa. Despite all this, we would give everything to get a visa so easily. She also told us about Iran and she also started the sentence like this: "The best country in the
World…", so we are really curious. With all this, she made even Dani very interested in Iran, he even thought over whether to come with us after Istanbul. :) Lunch was followed by swimming in the Danube and we played with Dani's huge and world record breaking Frisbee. Only until the first shot, since it sank in the Danube. :) Stefanie was the doer, although she could not know the Frisbee was not floating on the surface of water, not it is all the same, we had a good laugh, we have a Frisbee in the Danube and Dani would have a date with Stephanie somewhere for playing Frisbee, at least this is what they agreed on.
A rewarding slope after a tough climb
After swimming we said farewell to Stephanie, we continued our road along the road, then southward among the hills. We stopped to look around in another Kusturica village where practically all the inhabitants were in the street, we remarked they probably did not leave their social life on Facebook. Which is not a problem, on the contrary! We entered the village because of the church, but we could see it was in vain, it was fenced around, the door closed and surrounded by weed. We found however an OTP Bank and we took a photo of it.
We cannot even think what the local people could think of us. Three extraterrestrial creatures on strange vehicles taking a photo of the local bank…. :)
As we left the Danube, the landscape became steep and we faced a really long, 10%-os climb. It was really tough even in the smallest gear but we got on top of it in 20-30 minutes after some breaks. On top we waited for each other then came the reward downhill ride, since on the other side it was a slope, not that steep, instead longer so that we could enjoy it for a long time.
Hay Hotel** – Smirnenski
We ended up in a village called Smirnenski. We asked for water in a house and asked where we could find a site for our tents, the latter by gestures. We let our guy think, soon he understood so we went to the local "stadium". The latter turned out to be a meadow used as a football pitch at the end of the village. At the end of the gravelled road we turned left and there we were. There was an old building in ruins there, it might have been a changing room now it was used for hay storage. We chose it, but in the meantime the guys with the trumpets arrived from the village.
It was a gipsy family, they were kind and reserved, they did not touch the bikes, they were just interested their eyes were shining. The grandfather explained that the small girls was his granddaughter, they were talking about a lot of things that we did not understand and told us to go to them if we were hungry. After all this we took it easy, especially that our man told us morgen, magazin, kafé, – that is to say the following morning we could buy coffee and breakfast in his shop. Should we have any problem, we just could go to him.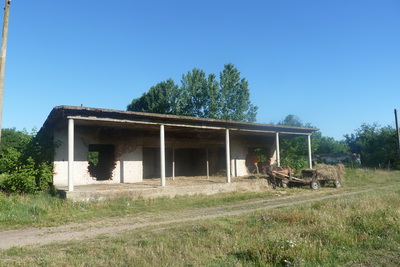 Our greatest problem was how to stretch Dani's hammock under the roof, but we managed to solve it. We did not even take off the bags from the bikes, we put them in a rear room where one could only go by climbing over the three of us. We made a tea, wrote the NRE then went to sleep.
The next morning we were woken up by a horse neighing, I had never seen Zita wake up so happy, I even thought I should learn to neigh. A local man brought hay on a chariot to put under the roof and he found us there but we did not have any problems of this. We did our bags and went to the shop along the main road, bought tasty bakery products and coffee for Zita. The locals looked at us carefully.
The shopkeeper gave us some wheat drink or I do not know how to call it. It was some interesting liquid, at first sight it reminded of cocoa, until one tasted it. It had a really wild flavour, we had never drunk anything similar.
Doktor Yosifovo – The man with the honey and of course Tim and Mat, who ride to Kenya daily 200kms
Still in Smirnenski we found a post office but they did not have any postcards, so we only used their restroom. Two villages and two hills later we arrived in Doktor
Yosifovo. I chose this place for its name the previous day, but we reached it only then. We even have a story for this funny name, since we stopped there to ask for water after a tough climb. We could see a man work in his garden, we talked to him and to our surprise, he talked a bit in English. We did not even get water, but he showed us around in his garden and showed us the vineyard, the fruit trees and his bees. In the end he gave us a jar pf honey. We took our bread and started to eat bread and honey.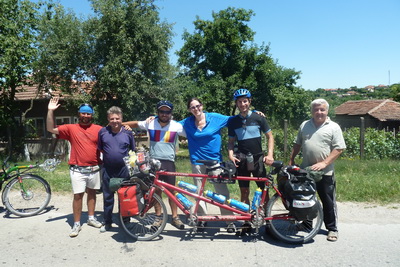 In the meantime he told us that it was only the summer hut, otherwise they live in Montana, the next town where we were heading to.
While we were having a siesta, two guys appeared on a huge tandem bike. We rushed out and greeted them. We met Tim and Mat in Doktor Yosifovo. They are doing a Charity Adventure Race from the UK to Kenya. We call it a race, because they have to cover 200kms a day to get there in time. 200kms a day are much even on a one day trip, not in Africa for several months! So all our appreciation for the guys, we hope and wish them to succeed with their plan, which will be a great sporting performance. We tested each other's bikes, but it was not easy for us. Zita and I had great difficulties to sit on their bike, we somehow did not find the balance, so we did not try for a long time. We knew that with 200kms to cover a day they did not have much time to waste, so we let them go, wishing then back wind and great luck.
Shopping in Montana – Parajlibatop extract
Our next stop was in Montana.
We went in the local Kauflandba to do some shoppint. Looking back, I must admit that seeing the low prices we purchased awfully lot. For instance the two packets of half a kilo pasta were completely unnecessary, I do not know what we thought. Di d we think maybe there would be no more shops that we bought two at once? Not to talk about the two likos of onion. As for the ayran, the adulterated salty youghurt, we came to like it, just like the halva, which is different from the one at home, less sweet, contains more sunflower seeds, very tasty, easier to store, does not go off, healthy and is full of calories. In one word an ideal food for bikers like us. However, we discovered something interesting on the packaging of the halva purchased in Montana. The ingredients were also written in Hungarian, (betűvel) among others the parajlibatop extract. As for what it can be, we do not have the ffaintest idea. :)


After shopping, we stopped at the edge of the town to take a siesta during the warm afternoon hours, we used the net in an inn, we tasted the really tasty draught beer and Zita drank a coffee. We got an answer from a certain Milos form the CS from Sophia, he said he would not be at home but his girlfriend would let us in and would give us a key to the flat. We burst out in joy how someone can be so kind.
Camping Canyon** – The Vratsa Mountains
(Vracanska Planina)
The landscape changed after Montana we followed a superior road to the South-East and we had to cover a 600 – 800 level difference. We were going up and down. On our right we had the Vratsa Mountains (Vracanska Planina) with their rocks,
making it clear to us that in the following days we would have to climb an awfully lot. We arrived in Vratsa after dusk we had to climb at a height of almost 850 metres. We filled water at a petrol station then asked for help from the children around us in order to find a site for our tents.
None of them spoke any foreign language, only Bulgarian, but in the end we managed to make ourselves understood, so one of them led us to a place. We had ridden almost as high as 900m, to the canyon to the south of the town. It was already dark, but it was clearly visible that we were in a marvellous place, among lovely rocks. We thanked for the help, then put up our tents. We had some slices of bread, took a bath in the creek then went to sleep after this long and tiring day.
Categories:
Bulgaria, Europe
Bulgaria, Camping Kanyon, diskont pica, Doktor Yosifovo, Duna, Hotel Széna, Montana, Negotin, Stefanie, Serbia, Tim és Mat - Kenya, Vracai-hegység, Vratsa