Our journey in the Iskar Valley to Sofia
Vratsa – Getting up in the Canyon and breakfast from CBA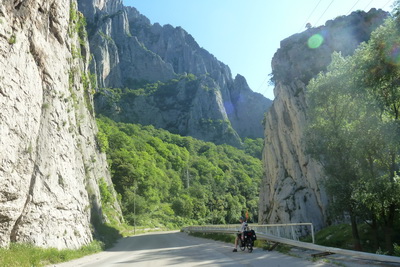 Dani as usual had got up by the time we got out of our tent near Vratsa, under the huge rocks. It was the first time we had seen the canyon in daylight, it was really wonderful, just as we had suspected at night, at the light of the stars. Dani had been sleeping just next to a board commemorating a young guys motor crash. The only fact that made it clear it was not his grave was that the Bulgarians do not bury people in such places. However, it was still a little bit morbid that Dani had been sleeping there. Of course, it did not disturb us at night, we found a place here, Dani found two trees, so we stayed here. There were huge rocks above our tents,
and it was a real experience to start from this place we only had to roll down in the Canyon, back among the rocks to Vratsa.
We purchased the breakfast in a CBA, yes, the Hungarian Shop Network in Bulgaria. Opposite the shop we found a grass-covered area, so we settled there to have breakfast. Dani had eaten so well that he even got down while we were gathering our stuff and bought some fizzy tablets in the pharmacy.
Arriving in the Iskar Valley
After Vratsa we followed a road that was indicated as a highway on the map, but do not be afraid, only the two lanes were true of this, anybody could ride on it, a chariot, a bike or a dog… Until Mezdra we were only rolling, except for a shorter climb. As we turned South, we arrived in the Iskar Valley. Here we got frightened a bit, since the trucks were just as numerous as earlier, but now only on one lane, which was not pleasant at all. But as we left the main road Nr 1, circulation diminished considerably,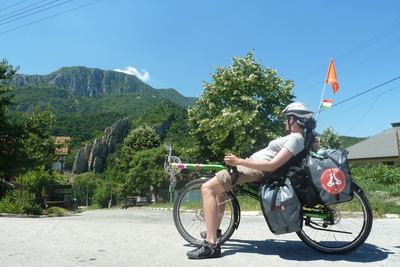 and we felt completely differently on the asphalt. For some reason I did not remember we would have to leave the main road there, I was a bit frightened seeing the great traffic, I would not have fancied riding to Sofia an such a busy road. The first village was very nice on this small side road. We missed the rural atmosphere, after Montana we were riding along busy roads that did not go through small villages. The Iskar valley also contributed to the beautiful landscape, we were surrounded by mountains, on the right we recognized a really strange rock formation, first it looked like the Great China Wall, but getting closer we could see it was created by Nature.