In Serbia – The first impressions of the Balkans
Good-bye Timişoara, Hello Serbia!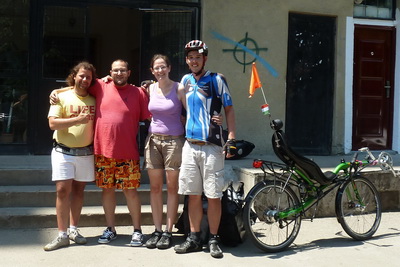 We only left Timişoara in the afternoon because the previous night Zita and Dani had a big Youtube party and I was writing the journal till 3am. We woke up late in the morning and took a while packing up our bikes. By then an elderly Hungarian couple arrived who are Dudi's neighbors. We had a good chat then they wished us luck plus Zita has received a necklace from the lady.
On the way out of Timişoara we stopped at a supermarket to buy some food, then we headed south. We had to stop frequently somewhere we found some shade because of the scorching heat. At the first stop we met this guy in a hat who must have had a heat stroke,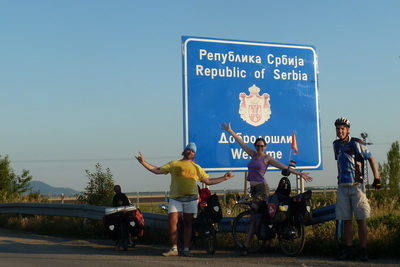 because he kept talking to us non-stop and he wasn't bothered at all that we didn't understand a single word he said. At the end he read us something from a book, maybe a chapter from the Bible. Our next stop was at a little shop. We bought some ice creams for 50 Bani each.
At the Serbian border we took over a 50m long queue and started to look for our IDs. We didn't want any more stamp in our passports that would have used more pages from it that we're going to need later. On the Serbian side the border guard came out of his booth
and started to tell something about turning back to Romania, cause in Serbia it's not good/not allowed to ride a bike. We didn't understand exactly what he wanted, cause we didn't get his hand gestures neither what he was saying. All we saw was he didn't ask for our passport and he walked back to his colleagues. We were worried a bit, but looking behind we thought we arrived at the time of shift change.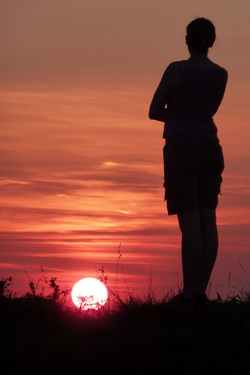 After a quarter an hour wait, it seemed our concern was pointless, a new guard came and he let us into Serbia without any problem. Where there was no problem about cycling, neither with the traffic nor the roads before we entered the country. The grumpy border guard probably hasn't ridden a single kilometer on a bike in his country.
Camping Acacia*
We didn't cover much ground on this day in Serbia. After passing the border we got some water (it was the first time we used the 10 liter Ortlieb water carrier bag), then we found ourselves an ideal place nearby to camp out on the top of a hill: we set up our tents on the right side of the road at an old mine in a little acacia wood. Dani cleared up the area a bit so he could set up his hammock while we were pitching our tent. We had a few looks towards NW where the sun was setting; it was glowing in beautiful red on the horizon. A little bit later when we were sitting under the stars on the other side the moon was rising and gave us light. It was so bright all the shadows were symmetric.
Balkan feeling
In the morning, like the beginners, we woke up pretty late and had to break down the camp site in the heat. Although we really liked this place the previous night, we promised us that from the next time we only set up a camp if there's shade too.
The previous night we noticed a huge black smoke not far from the road. The smoke was still there in the morning and getting closer we were sad to see a big junk yard burning. This isn't the first time I see this in Serbian You can see it from miles and the terrible smell spreads quick too, I don't understand why people don't do anything against this.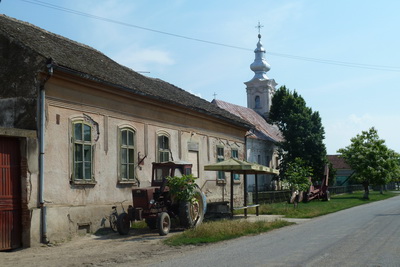 We had our breakfast at the main square of Vrsac, we had scrambled eggs of 6 eggs. It was really delicious meal thanks to the seasoning we picked up at Reni's and also those that Dani carries with him. The water we got from the gardeners in the park was full of chloride, like the water in a pool, so we decided to invest into a 5 liter water bottle. Since then this is Danis water carrier, that he uses to bring us water for the dinners and the thirsty kilometers.
We left Vrsac in the afternoon and rode the undulating country side to Ram where we had a ferry to catch at 1600. The sights were showing the real Balkan, we stopped many times to take photos.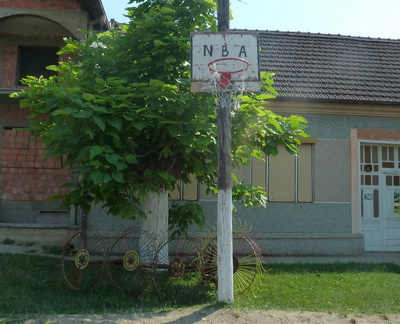 Actually I wanted to rush to catch the ferry, Zita on the other hand turned back a few times to capture some moments. I got angry of course, which I regret by looking at the images. You wouldn't think of how much beauty is in a little poor village.
After crossing the Danube at Ram, we had a little swim then we continued our way – with a steep uphill. On the top of the hill we carried on a bit further along some wheat lands then we stopped to have dinner in a village. Here we had our first culture shock, a laminated A4 size papers pinned on poles, which were notices of the deceased. In front of the little shop were the elderly people having beers; we also bought some things then joined them at the table next to them to have our dinner.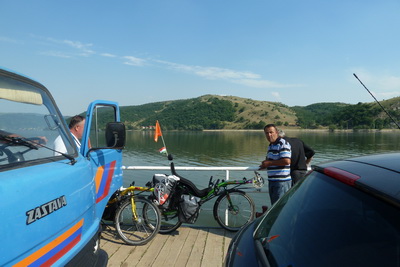 We lost out on the shade but this time the sun wasn't too strong. While we were eating tractors were going up and down, the village came alive. Everyone got surprised; we had a few words with them, what were mostly the "Dobre Dan" and some hand gestures. A bit later the local youth arrived too, they already spoke some English. The bravest, wearing blue shorts with flowers and sunglasses even sat into Dani's recumbent. We started to have a good time there, but at the end we had to move on. We wanted to go a few more kilometers on the day.
Hotel Loghouse**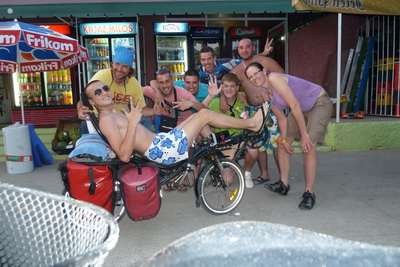 As our friends have told us before the Eurovelo 6 bicycle route turns left a few meters after the village center and goes downhill to the Danube and carries on the flood bank of the river. By this time the sun had gone but the horizon was still red providing an excellent background for the Danube. We reached the next town in dark and the Eurovelo markers confused us a bit (it has excellent marking – almost – everywhere along the route), because one was missing, but at a petrol station we realized we were at the right place. Our accommodation was in a log house along the road. It's possible it's the frame of a future hotel, it had roof, rooms, but nothing else. It was the perfect place for the night.
Dani hung his hammock on the beams and we put our tent to the backroom. We placed our bikes with the bags on them behind the tent so if anyone wanted to steal anything had to climb over the tent first.
We didn't sleep well, Dani's mobile kept beeping cause the battery was flat, there was some animal around the house making some noise, plus the lights of the cars reached the house. Despite all these we caught some sleep and we were up early to hit the road. We reached the bench next to the house… where we had a big breakfast. We made tea form different leaves we picked up either at Reni's or along the road. When we were ready to go a police officer arrived, stopped and then walked upstairs without noticing us, but he had a real look at the ceiling there. We have no idea what he was looking for, but it's funny he didn't care a bit that we were there.
Arriving to the Iron Gate gorge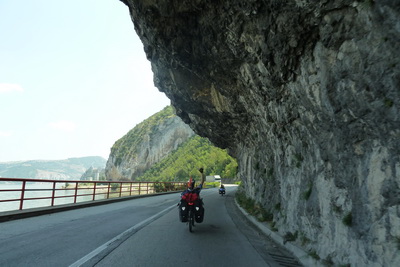 Our first stop was in Golubac where we did some shopping then we laid down to the river bank. The real adventure was about to come, we headed into the Iron Gate gorge where the Danube narrows down, suddenly there were cliffs hanging over us while going uphill, downhill, via tunnels and so on … The scenery was amazing, we were either sweating uphill or enjoyed the breeze downhill, at places we wondered why is it so dark in the tunnel?!? Oh, forgot to take the sunglasses off … :)
In the afternoon we stopped in Dobra. Dani was struggling so much, he wanted to stop to have a bite to eat, but I convinced him to carry on, we will find a better place to have lunch than the curb.
I was right, despite we left 50% more there than the daily budget, but we don't regret it. We had lunch in the garden of a pension. We enjoyed the 37C afternoon in the garden while having nice soup, stew, doughnuts and a real coffee from the Balkan, one where the spoon stands still in the dregs. The coffee was accidental, Zita wanted only one but they brought 3, so we decided to taste them as we were the fools plus we don't drink this at home either, so why not. We admired this place, the hosts were really friendly. Imagine that while we were chilling in the garden, the great-grandparents were pealing the peas next to us, the grandmother served the food, and who knows who cooked for us, it's likely what we had was the family's lunch too.
Hotel Wellness Blagojevic***** – Donji Milanovac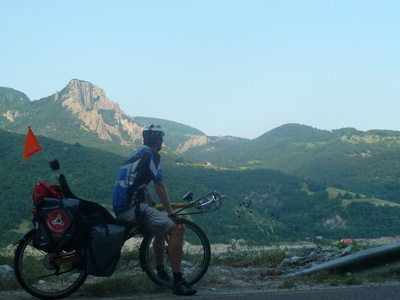 After we moved on the EuroVelo signs tricked us. They sent us off the main road for about 50 meters to get to a restaurant. Then we returned to the main road and carried on. We arrived to Donji Milanovac at sunset; we bought a few beers and ciders and sat out to the river bank. There was some live music in the background coming from a bar while we were admiring the water and were remembering the beautiful for the miles we left behind. When we finished with the drinks we switched on our lights and started to find a place to sleep. Passing the town we found a gravel road that took us to the Danube. I walked down but didn't find any suitable camping place. However, Zita noticed an old man who we said a loud "Dobro veče", then the activity started.
Soon the Veroljub Blagojevic appeared who speaks very good English, and our campsite was provided in fornt of his garage. There were many bikes in the garage next door, we fixed one of them, we pumped up one of the bike's tires.
We can only remember with a smile what happened next. Veroljub came down from the house with some stools to talk, we drank wine, Unicum, his home made snaps. (Made by the Fun Machine…) While talking, Dani taught me to make a pie on a camp kitchen. We received home made cheese for it, a cheese I cannot even describe how good it was. You should have seen Dani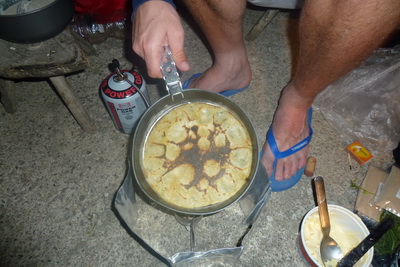 when he was returning with Ver from the kitchen and when grating the cheese. You wouldn't get this in any shop for sure. He invited us to the bathroom, so all of us could get refreshed which significantly raised our comfort. That's when I realized I left my towel at the afternoon rest station. Little loss, from now on I will use Zita's spare towel and will carry a bit less weight. Veroljub also promised to set up the internet; he needed to switch on the wi-fi on the rooter upstairs. I lent a hand for this as this is my expertise… Of course all of us got stuck in front of the computer and at the end Ver invited us into his guest room, as this is a honeymoon, and we deserve it… :) I tried to be stubborn that we have our bed ready downstairs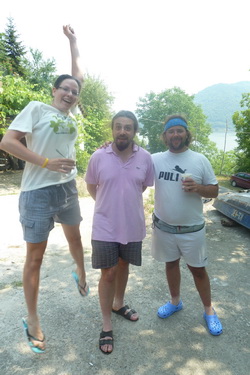 and all our stuff are there too, Ver was adamant, so we gave in and took up all the batteries to charge. This was something I was really happy because we were too tired to care about where we sleep. Dani become very enthusiastic and they stayed up a few more hours, and even a guitar turned up. Ver didn't have an amplifier, he used the door frame instead.
Following these we couldn't depart early as we wanted to, but it was worth it. We got some nice squash in the morning and walked around their land, I helped carrying some fodder bags, had a look at their animals and their well – we had lot of water from it -, and the snaps making machine too.
We discussed before the start that we try not to spend any money that day as we spent so much the previous day and got some home made bread and cheese form Ver. Zita suddenly asked "Not even an ice-cream?" Ver didn't hear this cause he was far from us (plus he doesn't understand Hungarian), but half minute late he came with 3 cones of ice-cream. We laughed and quickly gave him a big hug that no way he's a mind reader. When we said bye the grandfather arrived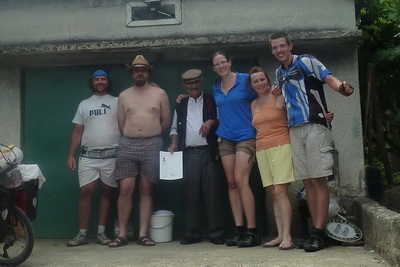 on his pumped up bike and proudly showed us his sailing permit, we even had to take a photo of it.
The hospitality hadn't ended even after we left. On the other side of the bay we stopped for breakfast and noticed a loose screw on Zita's handlebar. Unfortunately we didn't have the right size of Allen key, so after I finished eating I unmounted her bike and rode back to Blagojevic's. I found Ver quickly and he gave me a right size hex key to tighten the screw. …and guess what happened? Ver's mum made a cheese pie in the morning and if we had left 10 minutes later we could have eaten some too. However, because of the loose screw, the fresh pie was ready and was heavenly; we received 3 big slices from it. Who knows, maybe the screw got loose so we could have some of the pie too …
Meeting Mark and Poldi in the Kazan gorge
Ver told us that the remaining distance in Serbia is about 100kms and mostly flat, except the rocky part.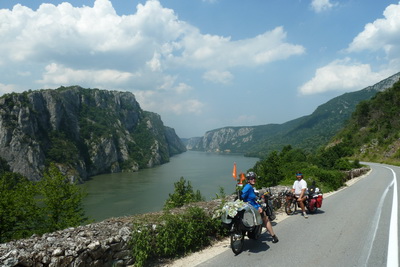 This rocky part was the Kazan gorge and it wasn't flat at all. We had to climb up about 200 meters and go through a tunnel to the entrance of this beautiful gorge. We just stopped at a bench to rest when Dani saw a fully packed cyclist passing by. He followed him and from the next tunnel we were riding together with Mark Tomlinson. His story is the following: he loved cycling and traveling all his life. At work people were made redundant, which starts by asking if there's any volunteer to resign. Mark took the chance,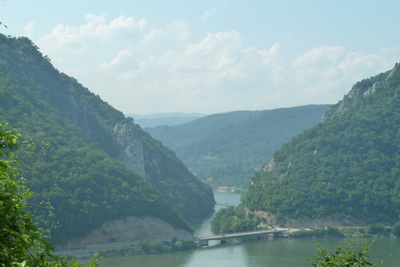 quit his job, and I think he can easily cover his trip to China via Russia and Mongolia form his redundancy payment. He also has visa restrictions so he needs to take the train at some stages. He visited Hungary along the way, spent a week with his father in Visegrád. He had great maps of the cycle routes along the Danube, which he shared with us – we took photos of them.
We cycled with Mark to the end of the Kazan gorge where we parted from each other cause he was riding a bit faster than us.
On the way down from the gorge Zita and I stopped when we saw a lady pushing her fully packed bicycle uphill across the road. We had a few words with her. Poldi is 68 years old, and cycled over 6000kms, all her stuff got stolen in Athens, but despite all she's still on the road with a smile on her face. If we find the tour hard, we'll think of her. We are young, full of life and enthusiasm. If Poldi, can do this much at her age and as a woman, with all her troubles and still enjoys it, then we shouldn't have a problem with our honeymoon around the World no matter how much difficulty we're going to have!
Uphill on recumbents, kilos and km/h-s
When we reached a flat ground again, we stopped for a short swim in the Danube, the cold water was really refreshing after the uphill battle. To climb 200 meters on a recumbent isn't much fun. It's possible that I still think,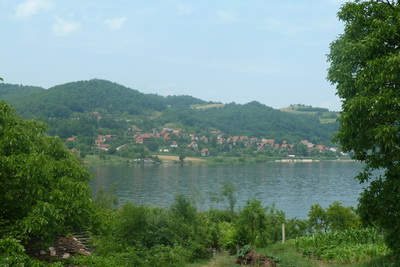 I have the fitness I had after riding 8400km, but I'm far from it (yet!). The other fact is the recumbent. On the uphill we can push ourselves in the seat to have more pedal power, but that's just pure muscle force, there's no help from the gravity. Our bikes are 17-18kg with the lamps, racks and the Rohloff. Plus my 37kg gear and I haven't added the food and water and my own weight either. So I have to push up around 145-150kg to the hill while pedaling in front of me rather than under me. It is very hard if you aren't used to it. The 10% gradient hills are ok in a low gear, and with 6-7km/h we go up the hill patiently without much effort. It's almost as if we were riding with 28km/h on flat, you just have to accept the fact that it's 6km/h and uphill. Over 10% would be a really strenuous for the thighs especially if it's a long uphill. In this case we put ourselves together and push as hard as we can in the lowest gear and we're happy to go with 6km/h. In one word, the outdoor business is a though job!" :) It's not easier for Zita either, she weighs a less than me and her bags weigh around 30kgs, so she's about 110-120kg all together. Of course it will be better later after throwing away/eating some of our things, plus we'll get fitter. Especially that we've only done 2500kms on recumbents with bags on them. That's all about the kilos and the km/h-s. I just wanted to describe the feeling we had when we got to the Danube to swim.
Experiences vs. kilometers – how to live in the present?
During the swim the sky became cloudy what we didn't like at first, but as soon as we hit the road, we felt is's useful, because of the tailwind.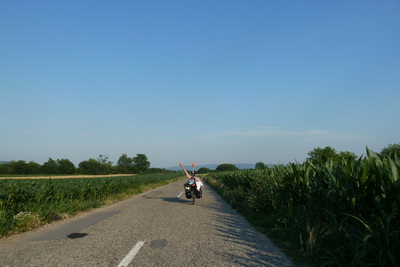 We were lightning fast on this stage to Kladovo. We had a very good speed, but we also had some serious arguments. I haven't mentioned before that Zita and Dani didn't enjoy me pushing them all the way. Too many "let's go"-s. I only do it because I like to get over with the day, or just finish the days predetermined distances. We struggled to fulfill this every day so far, usually we stopped around dusk and we don't always complete the day's mileage. I thought the 70-70km/day won't be much, in fact, I hoped we can go even farther so we could gain 1-2 days extra we can spend in a town or just adding some detours. But by this time we felt that the 70-80km will be too much, and not just because we're not fit.
Being with the locals, see, smell, taste, capture everything that's interesting – these things can take all day. It can be a butterfly, a landscape, a person, a plant – there are so many things that can draw attention, take time. Zita looks at all these things, smells them, takes photos, and I become grumpy about it at the beginning, cause we have to go, otherwise we'll miss the ferry, won't do the planned distance and cause it's going to be dark… At the end I have to admit she's right, we have to live the tour not just do the tour; that's why we are here, to enjoy it, to live every moment, not to rush through the whole thing. It's hard for me to be in the now, the present, maybe because of working as an engineer for 6 years or else, but Zita and Dani can live the now on the road easier for sure. It's more difficult for me, I worry too much about things, want to stick to the plan, even though there's only one thing certain about this trip this scale, that a lot of – in fact, most of – things won't happen according to plan. It's better if I get use to it and start to chill out. Maybe this will result in hitch-hiking a few "empty" stages or taking a train, and for now, it's hard to write it down, but Zita's right.
We haven't started a simple hiking tour, but a honeymoon. We don't just want to cycle around the World, but want to see, feel, smell, talk to, taste as well. This requires time, lot of time. Especialy if you want to capture this, share with others via a journal and a colorful blog… To sum it up, sometimes we feel, the 70-80km/day is too much. I also started to chill. Zita and Dani is the witness, today I tolerate an afternoon departure or a long siesta more than a week ago. I have to accept this as the part of the tour. The talks with the locals or the long meals with a nice rest. Even if the nice place and the cool local isn't at the end of the 75km but after 10, we will rather spend hours at the latter. Now this is what I can digest the least. I used to complete the daily distance then it's time to party, relax. Zita and Dani are the opposite, they may be right, because the road won't provide fun and games at the end of every day, but can be there during. It's always the best there and then. It's easy to write it down, to feel that way not so much, but I'm improving. I shouldn't worry about the conflicts as we discussed everything nicely between us and this will be the case in the future too. What we should improve is the morning wake-up. It's advantageous to get up early so the day can be longer and finish it earlier, so we could relax in our tent by darkness and not looking for a place to stay. But back to Kladovo.
Hotel Garage*** – Kladovo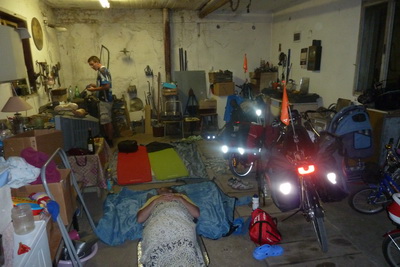 We arrived in a little duststorm where we immediately found the main street with a better pizzeria with affordable prices, and Mark at one of the tables. Quickly we took a seat around the table then we ordered too. It was an interesting place that's for sure. Dani's olive pizza only had 1 olive on top, and this was the first place that didn't have a water closet, just a hole. Dani got really excited about this, he even took a photo, that I don't understand! :) The staff was kind though, we could even charge the batteries there. We said good bye from Mark after dinner (See you tomorrow!), who booked a room in a motel, then we went to look for an accomodation. First we rode back a few hundred meters to some abandoned buildings,
which we didn't find suitable, so we went back to town. Meanwhile the weather got worse, the rain started to fall too. We all thought it's better to find cover quick. We started to make our way on the road we wanted to continue the next morning.
We noticed a driveway. Getting closer we found an old lady, who didn't understand a word we said, but her daughter came out shortly who spoke some English, and guess what, a few minutes later we were in their garage. I have to say this garage had a feeling too. We slept next to our bikes, we didn't even take the bags off. This was perfect, just what we wanted, not more, not less, just a cover over our heads. Inside it was very hot. Outside it was already cold, but the garage walls kept the heat inside so we had to open the door for the night before we all caught fire.
Coffee-snaps combo for breakfast, then tailwind to Negotin
In the morning we met the grandfather too, so we got 2 snaps along with the coffee. We had the breakfast on a gardentable in front of the garage. The grandfather returned for something, which scared us a bit, but we knew the limit so he only brought us water. The snaps had some effect when Dani said we won't leave until we see a maritime permit for the Danube – we were rolling on the floor from laughter for minutes.
Just after we left we had to climb a nice hill, gained a few hundred meters, then on the other side of the hill we reached the Danube again.
On the top of that hill Mark caught up with us who joined us for a few kilometers this day too. We stopped at a tottering busstop. It looked so bad we had to take a group phto. A bit later the Eurovelo signs directed us off the main road. This was before a steep uphill, so we followed it despite what Mark's map said. It indicated a low quality road, thatt turned out to be a gravel road alond the river. It wasn't the best with the recumbents, so we retreated. Had no choice but to climb that hill, on a good qualiy road. That was a good choice thanks to the tailwind that pushed us uphill; during this we crossed a few viaducts with gorgeous views.
To be continued…
Categories:
Europe, Serbia
Dolni Milanovac, Duna, Hotel Blagojevic, Hotel Garázs, Hotel Rönkház, Kazán-szoros, Kladovo, Mark, Poldi, Serbia, Vaskapu-szoros