Balaton-Bakony cycle tour
To make the long weekend useful we grabbed our existing equipment and decided to go for a short tour. Shame on us but neither of us have cycled around the Lake Balaton before so we thought we won't miss this chance. The long weekend allowed us to taste a bit of the Bakony so our route was the following:
After we mounted our bikes with the brand new Ortlieb bags and the GPS with the USB charger we departed from Siófok on Saturday around noon.
Day 1. Siófok – Várvölgy, 99km – every beginning is difficult
The planned distance for the first day was 92km, we did 99 instead. Our first major pit-stop was at the sphere lookout in Balatonboglár on the South coast. We struggled with the short but steep uphill.
On the top it was really pleasant to lie in the grass and bake in the sun. The lookout was under renovation but despite the fence only those didn't go up the top who didn't want to so we walked up to see the sights. By the time we reached the southwestern corner of the Balaton it turned into night time. I should have realized that it was too much for the day to go an extra 15kms to Várvölgy with gaining a fair amount of elevation from Keszthely, but at that point I haven't thought about it. When we arrived to Keszthely around 7PM it was pitch black. After the town we stopped at a petrol station for a breather before we climbed the neverending hill. Neither of us cycled during Winter so it was a tiny bit much this time… We arrived to the accommodation around 21:30, mentally and physically totally exhausted. You should know that basically we carried the same amount of gear that we'll carry on our honeymoon.

We had everything we're going to carry on the tour except the tent,the matrasses and the sleeping bags. A week before this trip they talked about 0-6C and I didn't think it's smart to jump into the deep water when both of us are tired from the weekdays work, so I booked accommodations (village tourisnm) and the tent was left behind. The big mistake was choosing locations. I misjudged the distances, big time.
After this issue we we decided on the day where and how long wee should ride and we booked the accommodation in the morning for the night.
Day 2. Várvölgy – Kapolcs, 32km – The feast of the fish in Lake Malom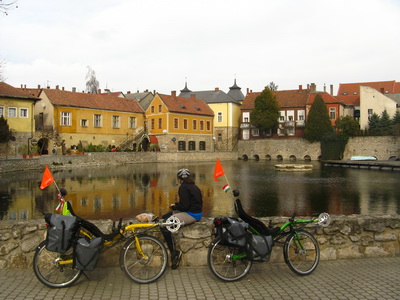 On Sunday, the 2nd day a Várvölgy – Kapolcs stage was waiting for us. Since I was tired too – not just from the previous 100kms – and I promised Zita a long weekend together when we have time to relax, I didn't force the touring any longer. So we departed around lunch time on Sunday. I didn't mind this at all because by that time my desire for the kms and the mountain passes was growing. I work very hard at my workplace; we'll have enough time to relax later I guess. :) As soon as we got over the ridge after Várvölgy, a beautiful sunny day saw us in the Tapolca Basin.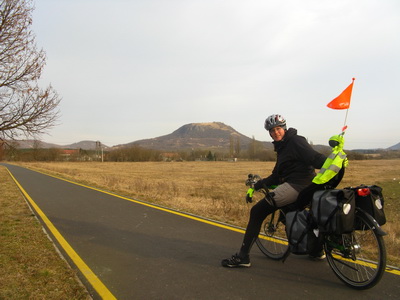 Zita stopped with screeching brakes on the slope and for a few minutes we just admired the scenery.
In Tapolca the girl spread about half kilos of bread for the fish in Lake Malom with much pleasure. It was great to see Zita feeding the fish with such a childly joy, I was a bit envy, but in the mean time I was happy she is able to find joy in these things. When going out of Tapolca we stopped to eat a garlic soup served in a loaf in one of my old favourite restaurant, then bought food in a local store so we could leave the basin with the witness hills in the background and arrive to the village world. We enjoyed the hospitality of József Pajer's in Kapolcs. József admired our recumbent bikes so much he sat us down to the kitchen table with a glass of home made red wine;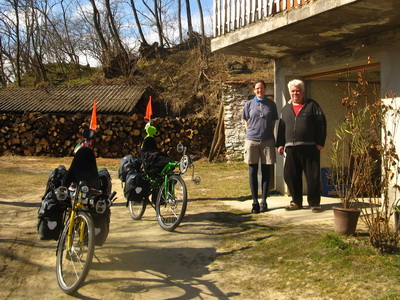 while drinking we talked about the bikes, then he about his exciting life how he turned into an engineer from a member of a boat crewon the Danube, then a miner, while being one of the founder of Valley of Art. We also received a delicious dinner, which wasn't included – as I wrote before we were welcome by a great host, we left József's house with warm heart the next morning. Thank you very much for everything!
Day 3. Kapolcs – Hárskút, 49km – To the Bakony!
On Monday Spring was raging on us,therefore we kicked-off in shorts first to Taliándörögd then to Öcs. We really enjoyed the scenery especially without the headwind. We had a smaller uphill after Öcs, but we rode up easier this time then in the previous days.
We continued further on the North side of Kab-hill using forest trails including some smaller uphills. We were flying on the asphalt towards Herend. The fact is that the uphill is a bit miserable by recumbent until you get used to the new rythm, but it's also true that once you reached 30km/h it's not hard to push it up to 40, and I cannot imagine what we could do if we didn't have so many packages.
We had some pleasant meetings in Bánd és Márkó, in the latter Erik, a 2-3 years old boy who we sat into Zita's recumbent. The little man needed 30-40cm more to reach the pedals therefore football will be his favourite for the next few years for sure.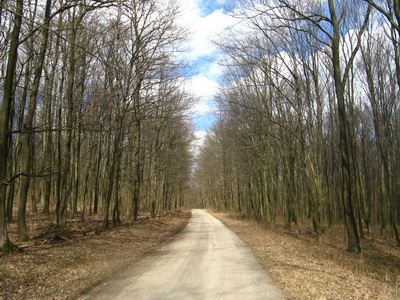 After Márkó we had to ride up to 509m, to the highest place in Bakony, Hárskútig. Just around half way Zita got a bit upset, because she thought she saw the top of the hill, although that was only the beginning of an even steeper hill. She sat down in the grass, built a tiny stoneman, then after the short break she was easy to convince to continue.
In Hárskút after we arrived to our accommodation, a well equipped little wooden house (called Gyertyán) at the edge of the forest, we ran back to the garden of the pub on the main street to admire the sunset while drinking cola. We deserved this, we rode up with these monsters.
Day 4. Hárskút – Siófok, 68km – Riding on trails
It happened on the last day, on Tuesday that we tried out the recumbents on trails. We had a few choices: either towards Zirc with a huge detour with more uphills or back where we came from and continue on the main road nr. 8 to Veszprém (where it's commonly known that it's dangerous and illageal), or we roll down to the town on a "military trail". We chose the latter and I have to say we were pleasantly disappointed of the behaviours of our recumbents. Of course it's not like a MTB but we didn't even expect that especially because of the bags. Despite of this we had a great ride on the muddy and rocky trail. I was sorry for the Schwalbe Maraton Plus tyres, which did a great job but, might have been damaged pretty well because it wasn't designed for off-road. Zita has a sweet spot for off-road biking so she just loved this stage. I told her we're going to ask triple amount of bikes form Evobike, and we'll try to
cycle around the world only off-road. Because this really damages the bikes.
In Veszprém everything was closed during the public holidays but we had a bit of luck to find the only open burger place in town thanks to a friendly couple where we had a nice snack, we also received two contact numbers for the local TV from a courious man. We continued towards Lake Balaton via Szentkirályszabadja, we highly recommend this cycle path, it was a pleasure to ride along while checking out the lovely scenery. All that was left was to ride along the lake to Siófok.

We finished in the dark again thanks to the late departure but on the last day we didn't even mind it. These 4 days were full of great experiences, we were very lucky with the weather, and last but not least we learned a lot from this tour. My main moral is that I shouldn't stick stubbornly to the originally planned route, it's worth a lot more to enjoy the passing kilometers. The other thing to know is that we lost our fitness we gained on our previous tour. I think the healthy way will be to consider the first few legs of the honeymoon as a fitness improving stage for the future. Nice and steady.
The first 10 days will be excellent for this, riding in flatlands,
with a break every 4 days, with average daily 75kms (and hopefully many partners!!!:)). This could easily happen, because according to our calculations, we might not have any chances for a multi-day trip before the long journey (wedding organisations and other preparations). We didn't want this crazy hassle, but we got caught up working 24/7 too, and I think we can't complain at all because soon we'll leave all this behind.
A tour in numbers
As you read before we stayed with locals in villages all 3 night, deliberately not around the Balaton. We did one shopping before departure – and cooked along the way – and once during the trip. We also bought ready meal twice and had ice-cream a few times. The entire trip cost us less then 30000HUF, that means, it wasn't 4000HUF/day/person our "consumption", I think that's really good considering the previous parameters and the gained experiences.
If we take away the accommodations it's only 12790HUF, that's almost under the planned daily 5EUR. The moral: it's worth to carry that tent! :)
…and now we're talking numbers: the tour was 248km long with 1400m elevation. We only struggled with the latter, but with enough fitness any mountainpass can be conquered with smiles on our faces, no matter how heavy our bags are.
I'll mention the equipment later in a different section, for starters our impressions are great. ;)
The best photos of the tour
2011.03.12-15. Balaton-Bakony kerékpártúra