Experiences from the Bringaexpo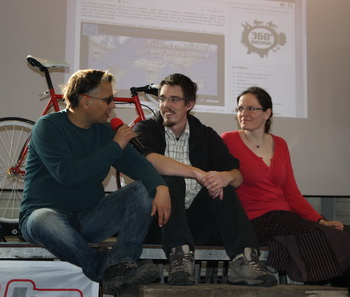 The 4-day exhibition has finished. Well, it was busy, and very eventful for sure. My head's still buzzing from the lot of experiences, and I will also be busy for a few more days with all the business cards I've received. I'm not only pleased that we met a few potential sponsors, but that we managed to talk to a lot with people with similar mindsets of ours, whom we shared ideas and exchanged experiences. We also talked to visitors a lot, handed out 200 flyers and we received lots of encouragement in return – and some business cards, because even I couldn't believe it but there were visitors who offered their assistance. These and the lot of encouragement we received from the visitors made us feel great. We would like to thank everyone their ideas, every conversations and encouragement. Special thanks to Aunt Katie (Zita's mum, the world's best future mother-in-law) for her completely voluntary and spontaneous, but the strong and very effective marketing activities!
Let's not forget Evobike, who, in addition to help us with the recumbent bikes and Ortlieb bicycle panniers, also provided a little corner for our tour on their stand.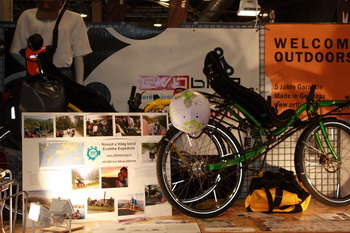 We were on the main stage every day to give some interviews to Adam where we presented our route plan, the recumbent bikes, the brave ones from the audience could have a test ride. On Saturday we held a half-hour presentation of last year's tour to Rome, both of us thought that it was a little bit flat cause of the too many photos, the poor lighting and weak projector, so we're sorry about that, but next time we promise we will be more entertaining. ;)
Also thanks to Zoli Bujna for the talks and the many useful and interesting information, that he unselfishly presented to us in an excellent style. He is the one who cycled to Tehran (and back) in 2005, and even wrote a book about it with the A Biciklis Dervis title.No wonder, that he provided a lot of fascinating stories which will also come in handy down the road. Likewise, a need to mention Gyorgy Matulai, who will start his tour to Darjeeling withLéna on 9th April; we discussed a lot with him, since our trip to Turkey is going to be very similar.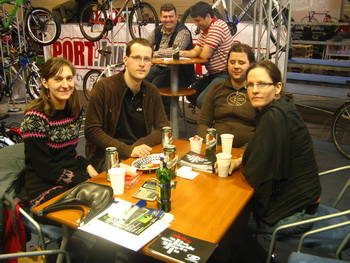 We have a new partner for the road in Dániel Geszti, who will accompany us to Istanbul after becoming a proud owner of a new recumbent bike by successfully bidding on it, from there he will return via Greece, Albania and Montenegro. I think this is already a very good adventure and will be an unforgettable experience, not to mention his dreams of reaching South India one day, for which this is only the initial warm-up.
Do not leave off the list Tamás Kovács, who has his own expedition, and in addition he'll also organize a travelogue in Esztergom, and do not forget Gyula Horváth, who's also hooked on something: as being disabled he will ride with one leg to the 2012 London Olympics with a special company, his then 11 year old daughter. We wish you all the best, no little courage and determination needed for such a challenge!
So, as you can see, the pavilion "B" was filled with lot of daredevils and great visitors. It was great being among you. Thanks everyone and Go for it! :)