Our first day in Armenia
Our planned itinerary was that in Armenia to Yerevan: after the Georgian border up to the mountains, Noyemberian, Idjevan, Chambarak, beach of Lake Sevan, Sevan peninsula, Yerevan. You can watch that on the section level:
The time is short. We don't like rushing and we couldn't go much faster, but we mustn't be late, otherwise our visas will expire.
Zita's grandfather was an Armenian, from Gyerszószentmiklós, so it was obvious for us, we would visit this very interesting country, too.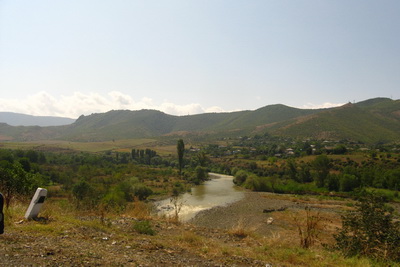 We payed for the two visas 10 dollars per person, we got it our passports and we could go to Armenia.


We met 4 cyclists few kilometres after the border. Margaret, Silvia, Samanta, and Bartek made a cycling tour and we changed our maps.


The landscape was beautiful. We came across less villages, mountains were standing around us, we found ourselves on the peek at 1090m, from where wasn't more ascendant.

We were happy because we wheeled down. That ascent was really hard.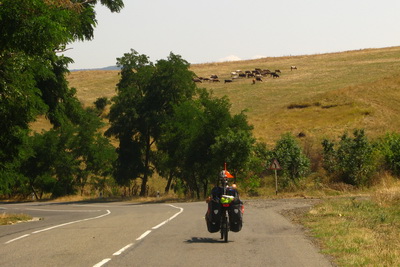 While we were relaxing in the shade a cyclists stopped by us, Alexander from Switzerland.
We met two girls, Lia and Manan, and their father, David. After I reached Zita on the top of ascendant, I got know we were invited by them for lunch. The two girls spoke fluent in English so we could easily tell them our story. We enjoyed talking to them and we got lots of useful information about Armenia. Among other things, we learnt some Armenian words, we expanded our vocabulary from 5 to 30 words.
The ghat was higher than I remembered.
The GPS registered 1168m when we reached the top.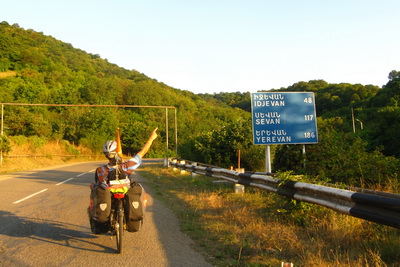 We were Mushavank's guests in Jujevan. He laughed when he understood we would sleep in tent in his garden.
It was happy to saw him, how he laughed, he was really glad. Finally we slept in room in their house.