Two days culture shock in Edirne
Edirne's roundel made by Dani
Recently I finished when we arrived to Ali in Edirne, who was very nice with us; we spoke all night and he told us a lot about Turkey. He gave us not just good advices but also his flat key. Next day he had learning lessons as he is studying chemistry, but I think we already said this. During Ali's lessons about the medicines, we slept until early afternoon. When we woke up to eat something we just find that water melon which was carried on by Dani in the last 170 km. We made a lunch from the rest edibles.
Dani blended the roundel cake from the rest flour bought in Temesvar and I cooked it while wrote this entry. Hurry we just drop up the pancake in the air so didn't scratch Ali's pan. For stuffing Dani made bulgur, which is a type of Turkish rice (boiled Turkish wheat): spiced with everything and cut a lemon in that + vegetables and cream cheese. We made such a big portion food that everybody was eating this also in the night. Somebody asked the roundel's recipe. So here it is (I's very simple): water, flour, spices. You have to make a pan cake and to sauce (we used to use the followings): pepper, garlic, sage, balm, mint. But you can use also ramsons (bear's garlic), the taste will be genius.
A Turkish wedding at the building estate
At the afternoon we went out to see Edirne's sights but just get a sight of a turkish wedding among the panel houses. We stopped and the childrens came to us and also the adults asked us to go with them for dance.
It was incredible: among 4 panel houses, the Turkish music is on,
the Turkish people are dancing in a big cycle: with expanded arms they are chucking and stepping and they are enjoying it very much.
After the dance they invited us to also eat with them: the place was very close, not a restaurant just a cellar of a closer panel house, among the store house and boiler room.
We went down in a rickety wood plank to sit in plastic chairs and tables for lunch. We got some white soup and stew with potato in a throwaway trays. And also Ayran. All this with a lot Turkish people, who were very kind and curious.
Outwardly this could be very scary that we left the bicycles outside and went with strange Turkish people in a boiling room of a panel house, but this wasn't scary at all. These guys knew each other and they didn't let anybody to touch our bicycles.
The big surprise was Ali who just appeared. He just came home with his bicycle from the university and saw our bicycles so asked where we are and came to see us.
We had to dance a bit more, got again some sweets, the half of wedding guest made photos with us so at the end we could leave the weeding place.
They were so nice and kind; in my opinion we never met so many kind Turkish people. They were happy for us, but at the end I get so flurried because a few of them were curious about us and not the married couple, this wasn't our scope just wanted to peep them; but they got more curiosity about us and we were compassed. This Turkish wedding was very interesting for all of us.
Tea in Edirne's centre
Four of us, together with Ali we went to the city centre and find again an expensive place where Ali find the cheapest item at the page which was the cay; this is a tea and was 3 lira, which is about 340 Hungarian forint. The other drinks were more than 1000 Hungarian forint which was very scary but we didn't have to be disappointed in Ali again. We had a nice talk along the tea and then went "home". On the way we met some guy with bicycle (Ali knows them) who were very curious about the reku bike so they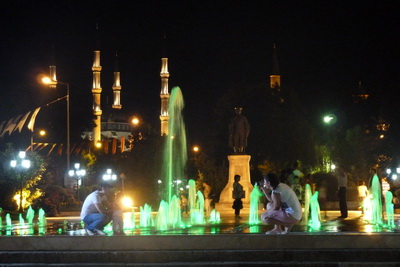 followed us until Ali's flat and they tried these bicycles in the parking place. After this we had a long talk with Ali in the night, I can't really circumscribe but I think this couch surfing is a real miracle. People meet each other, talking, exchange of view, raising new ideas in the other one, or just find a common ideas. One of them is at home who is dining the other one; they never met before but the ghost of couch surfing is also in all of them.
This is very gorgeous and is good to notice again and again. Ali went to sleep and with Dani's offer we watched a film, called ˇ"The Way Back Home". As was very enjoyable, we are offering for everybody.
Sms fromTamás about Edirne – Thanks for the Rudas bath Sinan! :)
Ali detained us to stay longer and we didn't see yet Edirne, decided to stay 1 more day. We got a perfect guide in sms from Tamás Hujber (Thanks very much for that!). I have to show you this long and particular guide:
"As I can see you arrived to Edirne. I know that Turkey is big, but this is just the entry. You can find already an extra here! From 1362, over 91 years, was the direct city too of the young Ottoman empire (from the Hungarian history known as Drinápoly). Many people thinks that here can be find the most beautiful mosque in the world, which was built by Mimar Koca Sinan (Mimár Kodzsa Szinán) during 6 years. The build was started in 1569 when he was 80 years old (he leaved 98 years), his statue can be found on front of the mosque. He also reckoned this mosque for his classic even he built further 123 mosques, 50 colleges, 31 baths, 27 palaces, 18 türbes, 18 khans, 17 poorhouses, 7 libraries, 7 bridges, 6 hospitals and etc. (In Budapest he build the Rudas bath.) Four, one by one 70 m high, three-balcony minaret stands in the corner of the building; the prime bell start in 43 m, diameter 31 m (bigger than Hagia Sophia's in Istanbul). – Tamás –"
What can we say for this perfect guide? Thank you so much!
And of course after this text message we couldn't just pass before to see this mosque.

But before all of this, while Ali was at the university, we went to RIM to shop. Ali offered us, he said this is the most cheapest shopping centre in Turkey. And yes, we checked and is really cheap, like Penny in Hungary: not so many products like in shopping centers, but enough. Everything was in boxes, very frugal but good price. We were very happy; most products were unknown for us. :)
Circumcision party in the park
We just got home; Ali arrived as well so we could go out together for a walk. In the park next to Ali's home we saw several interesting thing: once we saw an outdoor trainer…it was like a gym; everywhere engines and we could try them. The place was beautiful: at the long hill was a nice park with running track and kinder garden, a nice lake with bridges, ducks and swans.
I think this park was built by a grave estate contractor, so he could sell the flats nearby for a higher price, but maybe the government was asking it from the contractor.
The third thing was the most funniest for us: this was a ceremony. Many people came with noisy and decorated cars; two of them were making music with dram and wind instrument. The people started to dance, in the circle a 7-8 years old boy was dancing,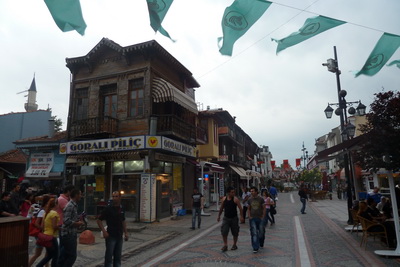 who was wearing a gold-white fancy cloth and wasn't expansive at all. We are describing: this was a circumcision party. This is also a rule for religious Islam Turkish people. They start with this ceremony and then they go to a hospital where a doctor does the operation. Ali describes us the circumcision so now we understand it, the question is why they need to do this like that and for so young boys? For us this is a nice experience but for those kids it is absolutely negative.
From the park we went to the town by bus and walked through a bazaar (Zita was very happy for that), in some old streets, 2 mosques (the second was the Selimiye one, which was mentioned by Tamás. Was beautiful and monumental also from inside and outside)
The lunacy of Islam and other culture's, how I see…
Few words about islam, how I see as an outside viewer. They pray 5 times a day, those times are different in every day of the year; recur yearly and are counting from the standing of the stars. When this time comes – 5 times/day – the Müezzin's voice is audible from the horns of the mosque tower's. This is very brutal when you hear at the first time. On Ali's opinion this is like "God is great", but the sound is very sedate. For our ears this song is very loud and un-understandable. Before the prayer, the believers are washing their hands, legs and faces in the water of wells founded on front of the mosque (we, tourists have to do this also before the entry of a mosque).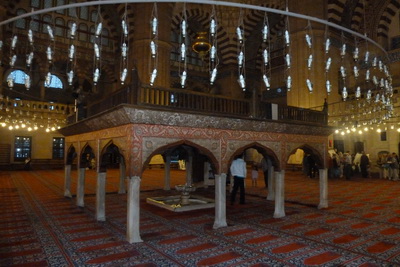 They go into the church, where cannot find any benches (like in our churches) but a big carpet which covers everything. Is painted a equal model on the carpet for everybody, where can kneel down and lean towards Mekka while the pope (or I don't know how is called in islam religion) is speaking, singing, standing back of the believers also leans towards Mekka. While we were kneeling on the carpet in Selimiye mosque, just spoke to Dani, that we should write a Müezzin program for mobiles which remember us for the prayer 5 times a day with the melody, shows the relevant prayer, moreover if the mobile has GPS, it could show also the way to Mekka.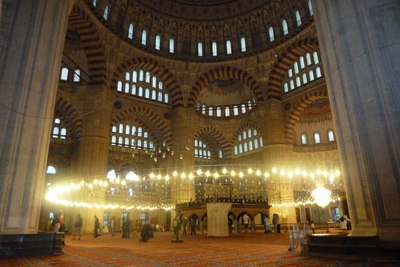 The only problem is that probable somebody already did this and gets reach. Never mind! We have the 5 euro/day party and low budget – high fun bicycle tour. Which is also interesting, that in effect women are properties – like jewels – this is why her faces and everything are hided. The way like this any other man can't get closer to them and can't seduced, can't see them just their husband, because they are their properties, just theirs. This is a bit brutal but Dani just explained us: when they marry they get a flat from the parents of the husband. In the wife side, her parents help to buy the furniture. So it's like they bought the women, but this is very weird.

We never saw boys and girls group together, in the pubs there are only men drinking tea (nobody is drinking alcohol); the women's place is at home washing, cooking, making clean and raising children. Or don't know what they do, even cannot see them, they are praying in a different place even in the church. So islam religion is very weird for us, like our can be for others. For example: why we spend our more month salary at the end of the year to buy more expensive products to our family,
which will be throwing away a few years later as they are going wrong, obsolescence or because the neighbors have nicer or more expensive. This is stupid! This is why I'm working all year? Or just to buy a car so I can get 30 minutes quicker to work, where I can work for the petrol which needs the car and also for the taxes. And if I have luck, maybe I can buy the plasma TV at the end of the year. Oh no, this is already obsolesce, the LCD is the hip now. But enough, I went far away.
In the next part you will know how we could get from Edirne to Istambul. 4 days with lots of adventures, it is good to remember…
Categories:
Europe, Turkey
bazár, dzsámi, Edirne, park, Selimiye dzsámi, Sinan the great, töltött lepény, török esküvő, török körülmetélés, Turkey