Dzs vitamin against the rain –On the shore of the Black Sea
From here the next four days to Trabzon area bit of a haze, because the countryside was very monotonous, the sea to the left, mountains and towns to the right.  On 2 and half days out of the 4 it was raining, which we put up with quite well to start with, but not so well later and finally we were happy when it stopped.
On the first day we managed to cover 77km. At the end of the day we were looking for somewhere to camp. We put the tent up in the garden of a family, and then went to have a nice dip in the sea.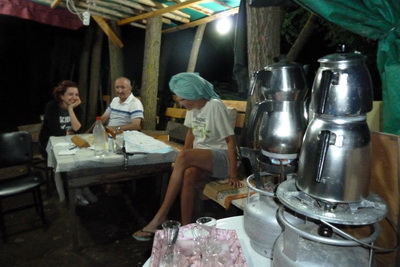 We were planning to have an omlette for dinner, but the family had beaten us to it.  As it was Ramadan, they could only eat after sunset, but then they usually had a big feast.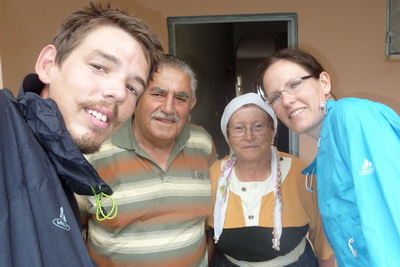 This time we were offered food from this feast, we got csorba and dolma.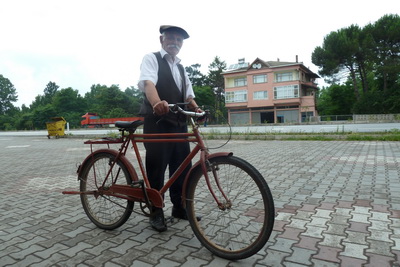 It rained all night and it carried on in the morning, so we had to start the next section in the rain.
In the afternoon I found something fairly large and metallic embedded in my front tyre.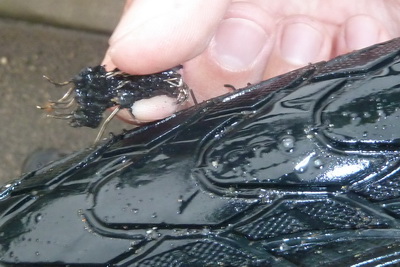 We rode through the longest tunnel in Turkey ( 3820m).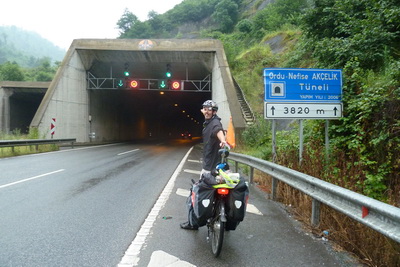 Once we arrived in the town of Ordu we did some shopping, then we started the search for shelter for the night, as we didn't want to stay outside in all this rain.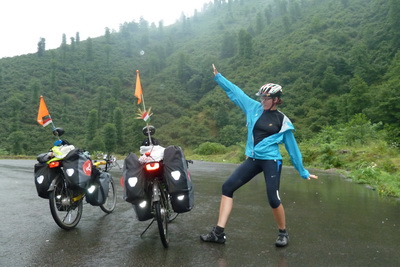 We chose a half built house, which seemed ideal. Next door there were some people living. We received not only water, but an entire evening meal from them.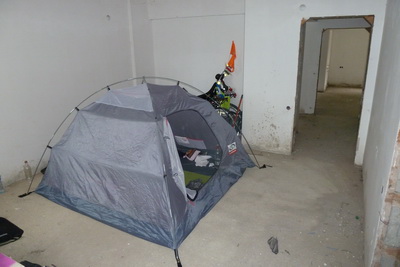 15 year old  Irem made us a beautiful little postcard.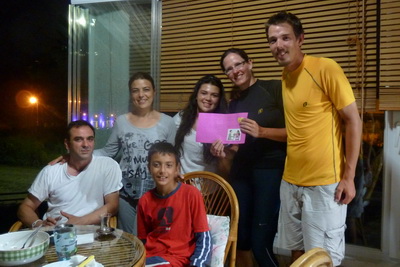 For breakfast Irem made us a sausage omlette.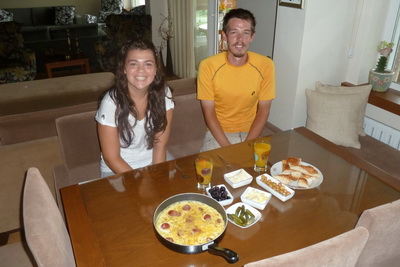 It rained all day this day too, but we made good progress – 70km – along the shore of the Black Sea.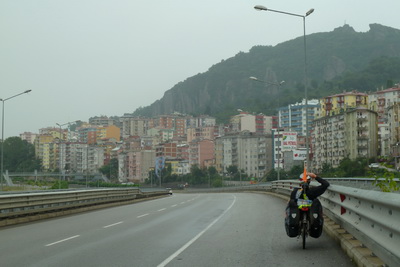 Our evening was again spent showered with endless Turkish hospitality. As we were rained on all day, we would have liked to spend the night under cover, and we spotted a house being built for this purpose.  This one was in a village.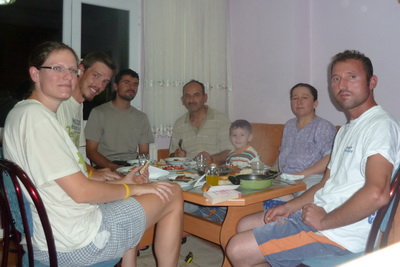 We were showing them the need for a roof, and sleeping, and bycicle, and in no time we were packing the bikes into a boat building workshop and were invited to sleep on the living room floor. I am sure that if we let them we would have received a bed and bedding too, but that would have definitely made us feel like we were imposing on them.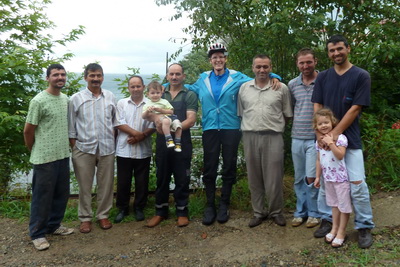 Us cold, European folks were not used to this enormous hospitality that we had day after day in Turkey… :)
And in the morning there was no chance of getting away without breakfast, they didn't let us, we were treated to a big breakfast, followed by some packed up food, so we were exremely well provided for.