Garni and Geghard
We devoted one day to visit two churches east of Jerevan, Garni and Geghard. We didn't know much about them, but all the maps marked them as great tourist attractions.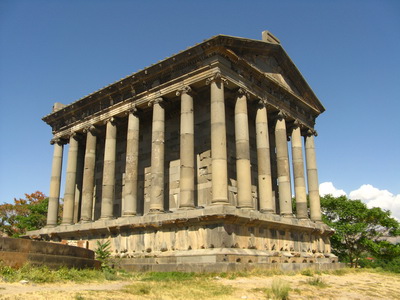 We took Marschutka, which is the vehicle of local public transport.
The small bus out of the town, along the beautiful, barren mountainside as far as the town Garni.
The church itself looks like the Parthenon in the Acropolis in Athens and it's setting is fascinating.
It is on the edge of a steep valley and if you stand beside it you have beautiful views in all directions of the valley and the surrounding mountains.
The Marschutka does not run from Garni to Geghard, so we took a taxi.
Already as we turned into the steep, rocky valley we saw that the side where the cloister stands is unique.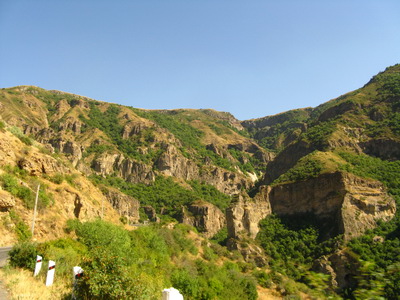 The main church built opposite the rock face is relatively new.
The older churches are hollowed out from the rock, and they open from the main temple.
The symbol of Geghard is the lion in the company of an eagle.
There was another temple on a higher level, we could enter it only from the outside climbing up a small flight of stairs.
As we were going up these stairs, we heard the sound of a choir singing.
If you go to Jerevan, you must visit the Geghard Cloister, because it is enchanting.